It's New Year's Eve – and also just a bit over a year to go until the 2022 Olympic Winter Games in the Chinese capital of Beijing.
It will be an Olympic of firsts. For the first time a city will have hosted both the Summer and Winter Olympics. Ice hockey will be played in two great arenas that were built for the 2008 Summer Olympics and will be transformed for our sport.
A record number of ice hockey teams and players will participate at the Olympics. While the men's tournament stays with 12 teams, the women's tournament will be extended to 10 teams, same as in the IIHF Ice Hockey Women's World Championship.
Today is also the day the sport pictograms have been released – another step in the preparation for the big event.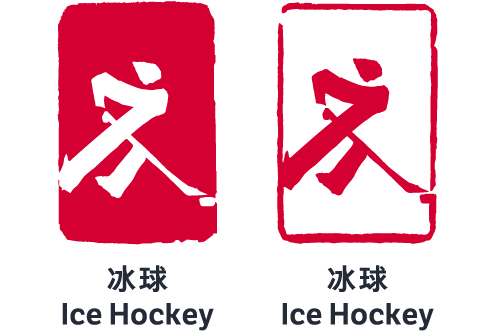 The Beijing Organising Committee for the 2022 Olympic and Paralympic Winter Games used the pictograms as an important carrier to convey the host country's culture. The long history of the Chinese characters represents a rich cultural expression and are represented in the logo that reminds of seal carving.
The combination of the Han Dynasty seal and athletic movements demonstrates the unique charm of strength and speed of winter sports. The alternation, based on traditional Chinese aesthetics of emptiness and reality, makes proportional relations perfect.
The ice hockey pictogram available in white or red is one of 30 pictograms depicting sports during the next Winter Olympics and Paralympics.
Hockey teams and players coming to Beijing 2022 from the following countries have already qualified:
| Men | Women |
| --- | --- |
| Canada | USA |
| Russia | Canada |
| Finland | Finland |
| Sweden | Russia |
| Czech Republic | Switzerland |
| USA | Japan |
| Germany | China |
| Switzerland | |
| China | |
While most teams for the ice hockey tournaments have already become known, three qualifiers on the men's and three on the women's side will be determined in 2021 (
see overview
).