World Girls' Ice Hockey Weekend 2019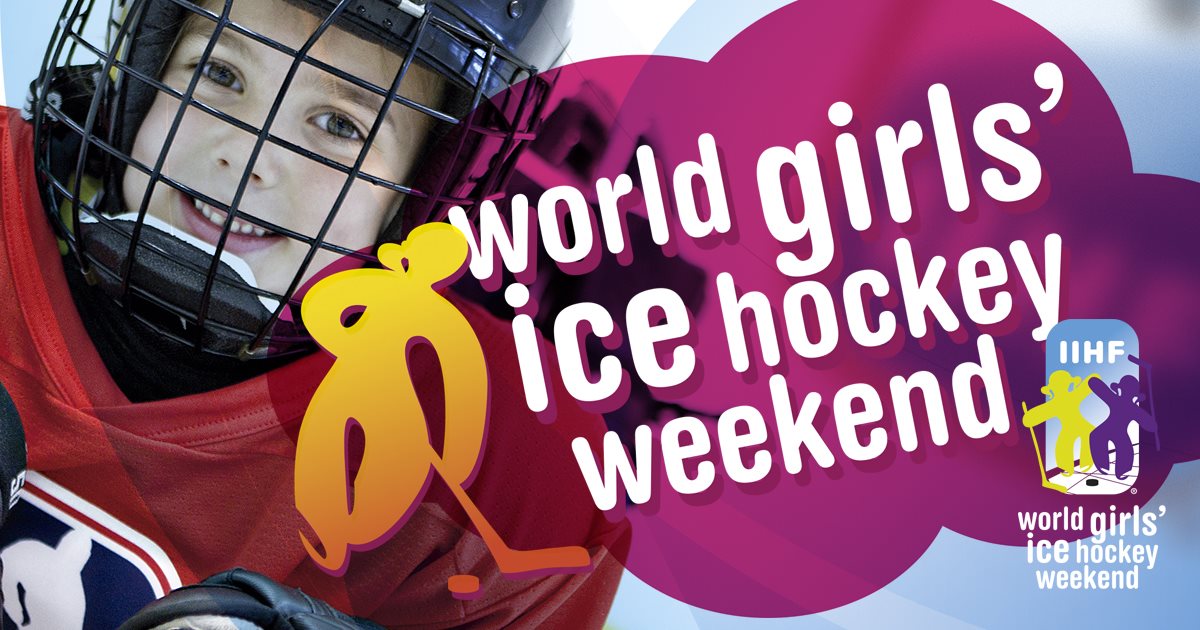 The World Girls' Ice Hockey Weekend is back after a one-year break due to the pandemic. The 2021 edition is set for 15-17 October 2021 with organizers in over 30 countries and on four continents!
Follow the Tracker during the weekend and many more pictures in our photo gallery on
Facebook
where you can help women's hockey by sharing them. You can also follow our activities on
Twitter
and
Instagram
, please use the hashtag #WGIHW and tag @iihfhockey when posting about the event.
Organizers please send the
Reporting Form
and photos to
[email protected]
as soon as your event is over to be included in the tracker during the weekend.
List of #WGIHW events
| | | |
| --- | --- | --- |
| Country | Venue | Organizer |
| Australia | Melbourne | Melbourne Chargers (video conference) |
| Belarus | Bobruisk | HK Bobruisk |
| Belarus | Gomel | HK Gomel |
| Belarus | Minsk | Belarusian Ice Hockey Association / Dynamo Minsk |
| Belarus | Pinsk | Pinsk Hawks |
| Belgium | Bekkevoort | RBIHF |
| Bosnia & Herzegovina | Sarajevo | HSBIH - ZHK Lavice |
| Bulgaria | Sofia | Bulgaria Ice Hockey Federation |
| Bulgaria | Sofia | Vanesa Georgieva and Stefani Stoyanova |
| Canada | AB | Camrose U9 Wildcats |
| Canada | AB | Fort Saskatchewan Fury U11 and U13 |
| Canada | AB | GHC |
| Canada | AB | Girls Hockey Calgary U9 & U11 skill development |
| Canada | AB | Leduc Minor Hockey Association |
| Canada | AB | Manning Minor Hockey |
| Canada | AB | Okotoks Raiders |
| Canada | AB | Oyen Minor Hockey U11 Girls Team |
| Canada | AB | Peace Country Female Athletic Club |
| Canada | AB | Wetaskiwin Minor Hockey |
| Canada | BC | Abbotsford Female Hockey Association U18 C1 Team |
| Canada | BC | Capital Region Female Hockey Association |
| Canada | BC | Capital Region Female Minor Hockey Association |
| Canada | BC | Cowichan valley minor hockey |
| Canada | BC | Cranbrook Minor Hockey Female Development |
| Canada | BC | Creston Valley Minor Hockey Assocation |
| Canada | BC | Elk Valley Wild Minor Hockey |
| Canada | BC | GTMHA |
| Canada | BC | Kerry Park Minor Hockey Association |
| Canada | BC | Kimberley Minor Hockey - Sparklers |
| Canada | BC | Penticton Minor Hockey Association |
| Canada | BC | Prince George Minor Hockey |
| Canada | BC | Revelstoke Minor Hockey |
| Canada | BC | South Coast Women's Hockey League |
| Canada | BC | Summerland Minor Hockey |
| Canada | BC | Sunshine Coast minor hockey association |
| Canada | BC | Tri-Cities Female Ice Hockey |
| Canada | BC | Vancouver Female Ice Hockey Association |
| Canada | MB | APHA Female Polar Bears |
| Canada | MB | Hockey Brandon |
| Canada | MB | Lac du Bonnet, Manitoba Hockey Association |
| Canada | MB | Melita Minor Hockey Association |
| Canada | MB | Morden Minor Hockey |
| Canada | MB | Parkland Minor Hockey & Grand Plains Minor Hockey |
| Canada | MB | Thompson minor hockey, Thompson tigers |
| Canada | MB | Winnipeg Storm Female Hockey |
| Canada | NB | Associaition du hockey mineur de la Péninsule acadienne - Lamèque-Shippagan |
| Canada | NB | Dieppe-Memramcook Pantheres |
| Canada | NB | district 3 female and district 2 female |
| Canada | NB | EDZA South |
| Canada | NB | Fredericton Youth Hockey Association |
| Canada | NB | Fundy Female Hockey Association |
| Canada | NB | Grand Manan Minor Hockey Ass |
| Canada | NB | Greater Miramichi Female Hockey Association |
| Canada | NB | Miramichi Minor Hockey Club |
| Canada | NB | Restigouche North Minor Hockey Assocation |
| Canada | NB | RVSJ Womens Hockey |
| Canada | NB | Sackville Minor Hockey |
| Canada | NB | SEFHA - South Eastern Female Hockey Association |
| Canada | NB | Tri-County Minor Hockey Association |
| Canada | NB | Western Valley Female Hockey Association |
| Canada | NB | Woodstock Lady Thunder |
| Canada | New liskeard ON | Vanessa Paterson |
| Canada | NL | Bay arena Minor Hockey Association |
| Canada | NL | Bonavista Trinity Minor Hockey Association |
| Canada | NL | CeeBees minor hockey |
| Canada | NL | Channel Port aux Basques Minor Hockey Association |
| Canada | NL | Clarenville and Area Minor Hockey Association |
| Canada | NL | Lab West Minor Hockey |
| Canada | NL | LMXMHA |
| Canada | NL | Marystown Minor Hockey Association |
| Canada | NL | Northeast eagles minor hockey association |
| Canada | NL | Southern Shore Minor Hockey |
| Canada | NL | St.John's Caps Minor Hockey |
| Canada | NL | Trinity placentia minor hockey |
| Canada | NL | Twillingate/NWI Minor Hockey Association |
| Canada | NS | Cape Breton Blizzard FHA |
| Canada | NS | Chester Minor Hockey Association |
| Canada | NS | Halifax Western Capitals U18 AAA Female Team |
| Canada | NT | Tulita minor hockey |
| Canada | NT | Yellowknife Minor Hockey Association |
| Canada | NU | Iqaluit Amateur Hockey Association |
| Canada | NU | Rankin Rock |
| Canada | ON | Ayr Rockets Girls Hockey Association |
| Canada | ON | Brampton Canadettes Girls Hockey Association |
| Canada | ON | Clarington Girls Hockey Association |
| Canada | ON | CYGHA house league team |
| Canada | ON | CYGHA U15A Panthers |
| Canada | ON | Gananoque Girls Hockey Association U9 Royals |
| Canada | ON | Kemptville District Girls Hockey- Kemptville Storm |
| Canada | ON | Kitchener Minor Hockey Girls Local League U18 Red #2746 |
| Canada | ON | NGHA U15A (Nepean Girls Hockey Association) |
| Canada | ON | NGHA U18A2 |
| Canada | ON | North Shore Hockey Club |
| Canada | ON | Skills Sessions/Recruitment |
| Canada | ON | Temiskaming Shores Minor Hockey Association |
| Canada | ON | Tillsonburg Girls Hockey League |
| Canada | ON | U13 AA CYGHA Panthers |
| Canada | ON | West Northumberland Girls Hockey Association |
| Canada | SK | Flin Flon Minor Hockey |
| Canada | SK | Nipawin Minor Hockey Association |
| Canada | YT | Whitehorse Minor Hockey |
| China | Beijing | Beijing Ice Hockey Association |
| Czech Republic | Ostrava | Czech Ice Hockey Association |
| Czech Republic | Teplice | Czech Ice Hockey Association |
| Denmark | Kastrup | Saara Hernesniemi-Lindemann |
| Estonia | Tallinn | Estonian Ice Hockey Association |
| Estonia | Tartu | Estonian Ice Hockey Association |
| Finland | Lappeenranta | SaiPa Lappeenranta |
| Finland | Teerijärvi | Terjärv Ungdoms Sportklubb |
| Germany | Mannheim | EKU Maddogs Mannheim eV |
| Great Britain | Nottingham | National Ice Centre |
| Greece | Athens | Flying Chicks Athens |
| Hungary | Budapest | Hungarian Ice Hockey Federation |
| Iceland | Reykjavík | Skautafélag Reykjavíkur |
| Iceland | Reykjavík | Fjölnir Íshokkídeild |
| Italy | Bolzano | EV Bozen 84 Eagles Südtirol |
| Kazakhstan | Nur-Sultan | Women's Hockey Academy |
| Kuwait | Kuwait City | Kuwait Winter Games Club |
| Latvia | Riga | ICE Academy Team L&L |
| Mexico | Huixquilucan | Club Pinguinos, Mexico Ice Hockey Federation |
| Mexico | Mexico City | Monica Trejo |
| Mongolia | Ulaanbaatar | Mergen Hockey Academy |
| Netherlands | Heerenveen Thialf | Jenny Goessens |
| New Zealand | Upper Hutt | Wellington Women's Ice Hockey |
| Norway | Haugesund | Haugesund IK |
| Norway | Hønefoss | Ringerike Ishockeyklubb |
| Norway | Oslo | Furuset ishockey |
| Norway | Oslo | Grüner Ishockey |
| Norway | Oslo | Hasle-Løren IL |
| Norway | Oslo | Manglerud Star Hockey Bredde |
| Norway | Stavanger | Ishockeyklubben Stavanger |
| Oman | Muscat | Oman skating sports committee |
| Romania | Bucharest | CS Triumf Bucuresti |
| Russia | Chelyabinsk | Belye Medveditsy |
| Russia | Krasnoyarsk | Biryusa |
| Russia | Nizhni Novgorod | SKIF |
| Russia | St. Petersburg | Dynamo-Neva |
| Serbia | Novi Sad | Serbian Ice Hockey Association |
| Slovakia | Banská Bystrica | Banská Bystrica |
| Slovakia | Bratislava | HC Slovan Bratislava mládež |
| Slovakia | Brezno | HK Brezno |
| Slovakia | Detva | Detva |
| Slovakia | Košice | HC Košice |
| Slovakia | Martin | MHK Martin |
| Slovakia | Michalovce | Ženský hokejový klub Michalovce |
| Slovakia | Levice | HK Levice |
| Slovakia | Poprad | ŽHK Poprad |
| Slovakia | Považská Bystrica | HK ´95 Považská Bystrica |
| Slovakia | Prešov | ŽHK 2000 Šarišanka Prešov |
| Slovakia | Skalica | MHKM Skalica, n.o. |
| Slovakia | Spišská Nová Ves | HC Spišská Nová Ves |
| Slovakia | Trenčín | HK Dukla Trencin |
| Slovakia | Žiar nad Hronom | HK Sporttrend |
| Slovakia | Žilina | MsHK Žilina |
| Slovakia | Zvolen | ŽHKm Zvolen |
| Sweden | Enköping | Enköpings SK Hockey |
| Sweden | Gävle | Brynäs IF |
| Sweden | Höör | Frosta Hockey Polar bears |
| Sweden | Jönköping | HV71 |
| Sweden | Kungälv | Kungälv hockey |
| Sweden | Mariestad | Robert Medin |
| Sweden | Oskarshamn | IK Oskarshamn |
| Sweden | Stallarholmen | André Westerlund |
| Sweden | Stockholm | Sundbybergs IK |
| Sweden | Norrköping | HC Vita Hästen |
| Switzerland | Kreuzlingen | Thurgau Indien Ladies / EHC Kreuzlingen-Konstanz |
| Switzerland | Neuchâtel | Neuchâtel Hockey Academy |
| Turkey | Istanbul | Istanbul Paten Sporlari Dernegi |
| USA | Amherst, MA | Amherst Hockey Association |
| USA | Ann Arbor, MI | Ann Arbor Amateur Hockey |
| USA | Apple Valley, MN | Apple Valley Hockey Association |
| USA | Bedford, MA | East Coast Wizards |
| USA | Bend, WI | Washington County Youth Hockey Association |
| USA | Bloomington, IL | Central Illinois Girls Hockey Association |
| USA | Bowling Green, OH | Bowling Green Youth Hockey Association |
| USA | Brainerd, MN | Brainerd Amateur Hockey Association |
| USA | Brewer, ME | Maine Inferno Girls Hockey Association |
| USA | Buffalo, MN | Buffalo Youth Hockey Association |
| USA | Buffalo, NY | Buffalo Regals |
| USA | Byron Center, MI | Fox Motors Hockey Club |
| USA | Columbus, OH | Columbus Ice Hockey Club |
| USA | Darien, IL | Chicago Hawks Hockey |
| USA | Detroit Lakes MN | Detroit Lakes Youth Hockey Association |
| USA | Detroit, MI | Little Caesars Farmington Hills Girls Hockey |
| USA | Detroit, MI | East Side Bulldogs Hockey Club |
| USA | Eden Prairie, MN | Eden Prairie Hockey Association |
| USA | Eugene, OR | Oregon State Hockey Association |
| USA | Farmington Hills, MI | HB Hockey Club |
| USA | Glen Ellyn, IL | Admirals Hockey Club |
| USA | Hallowell, ME | Skating Association of Maine |
| USA | Hartland, WI | Arrowhead Youth Hockey Association |
| USA | Highgate Center, VT | Missisquoi Amateur Hockey Association |
| USA | Houston, TX | Houston Girls Hockey Association |
| USA | Kittanning, PA | Amateur Armstrong Hockey League |
| USA | Las Vegas, NV | Vegas Jr Golden Knights |
| USA | Lewiston, ME | Maine Gladiators |
| USA | Macomb Township, MI | Macomb Hockey Club |
| USA | Malone, NY | Malone Minor Hockey |
| USA | Manitowoc, WI | Sheboygan Blue Line/Manitowoc County (co-op) |
| USA | Medford, MA | Melrose Youth Hockey |
| USA | Midland, MI | Midland Amateur Hockey League |
| USA | Milwaukee, WI | SHAW Youth Hockey |
| USA | Minneapolis, MN | Minneapolis Hockey |
| USA | Monmouth Junction, NJ | Princeton Tiger Lilies |
| USA | Northbrook, IL | Wilmette Hockey Association |
| USA | Northfield, MN | Northfield Hockey Association |
| USA | Oakland, CA | Oakland Bears |
| USA | Parma OH | Cleveland Barons |
| USA | Paynesville, MN | River Lakes Stars |
| USA | Prairie du Sac, WI | Sauk Prairie Youth Hockey |
| USA | Rochester, MI | Rochester Hockey Club |
| USA | Rockport, ME | Midcoast Recreation Center |
| USA | San Jose, CA | San Jose Jr. Sharks |
| USA | St. Paul, MN | St. Paul Capitals Hockey Association |