There have been over 40 countries participating in the World Girls' Ice Hockey Weekend over the years. Hockey giants like Canada, Finland, Sweden and the United States host dozens of events while many IIHF member nations with a smaller ice hockey family have run events from Argentina to Morocco to Hong Kong and New Zealand.

Just one country that's a top-20 nation both in men's and women's ice hockey has been a white spot on the map, the largest in Europe: Italy.

Italy comes off from a successful season. The women's team earned promotion to the Division I Group A. For the first time in 14 years, the team will be playing among the top-16 in the world. A few weeks later the men's team achieved the same by qualifying for the 2019 IIHF Ice Hockey World Championship.

And yet, the women's hockey family with 429 registered players had to watch during the World Girls' Ice Hockey Weekend events being hosted in much smaller countries, anywhere but in Italy.

Not this year!

Linda De Rocco and her colleagues from Alleghe Hockey wanted to change that for the 8th edition of the World Girls' Ice Hockey Weekend. The small mountain village has become the country's epicentre of women's hockey for the weekend.

"We had a lot of fun with the girls. We don't have so many events just for girls. It was a pity we haven't had any event like this before in Italy, so we decided to do this for the first time. There are so many countries, even small islands doing it. We said: 'Let's try!" We are really proud," De Rocco said.

"We are a really small town in Italy, so to host such kind of events is really good. We were the first team that made it despite being a small mountain village."

Even many Italians may not spot Alleghe on the map. The 1,200-soul village is located in the Veneto region, about a two-hour car journey up the mountains from Venice.

Tourists come there for trekking in the summer and skiing in the winter. It lies idyllic at the Alleghe Lake, which has a dark history as it was formed about 250 years ago by a landslide from the adjacent Mount Piz. It buried several of Alleghe's neighbouring villages and the rocks and debris prevented the Cordevole River from flowing, flooding other villages while Alleghe stayed.

Outside its borders, the name of Alleghe is carried to other parts of Italy through ice hockey. Until the '70s the game was played on the lake until the 2,500-capacity ice rink was built in 1975. The club was founded in 1933. While it has never won a national title in men's hockey, it was in 1993 the surprise champion of the Alpenliga, a competition that included the top club teams from Austria, Italy and Slovenia and where Alleghe had upset wins against the Devils Milano and HC Bolzano in the playoffs. The men's team doesn't play among the top clubs of the country anymore but the Alleghe Hockey Girls play in the top league – also due to the fact that there are only six women's hockey club teams and one league in the country. In 1991 and 1995 Alleghe was the national champion in women's ice hockey.

"We practice like two, three times a week and play one game a week. We are growing because this year we won the Women's World Championship Division I Group B in Asiago. We are growing fast and there are more and more girls in Italy. We can do more in the future. We also have now the U18 women's national team," De Rocco said about the state of women's ice hockey in Italy.

And if anybody knows that, then De Rocco. The 32-year-old is not only organizer of Italy's first World Girls' Ice Hockey Weekend but also a long-time national team player who had her IIHF debut at a Women's World Championship qualification tournament in the Romanian capital of Bucharest as a 15-year-old in 2001.

"I have been playing for 26 years, first with boys, then in the women's championship. I'm now one of the oldest. I did a course for coaching, so when I stop playing I hope I can do coaching," she said.

For six years she captained the national team and has the 2006 Olympic Winter Games among her best memories when the team was qualified as host in Turin.

"It was amazing. One of my best experiences. I was 20 and at that time and couldn't really understand what I did and where I was. After all the years I realized it and am happy. It's a dream of any player," she said. "We met all the famous hockey players, were in the same village. We saw Wayne Gretzky and famous female players like Hayley Wickenheiser."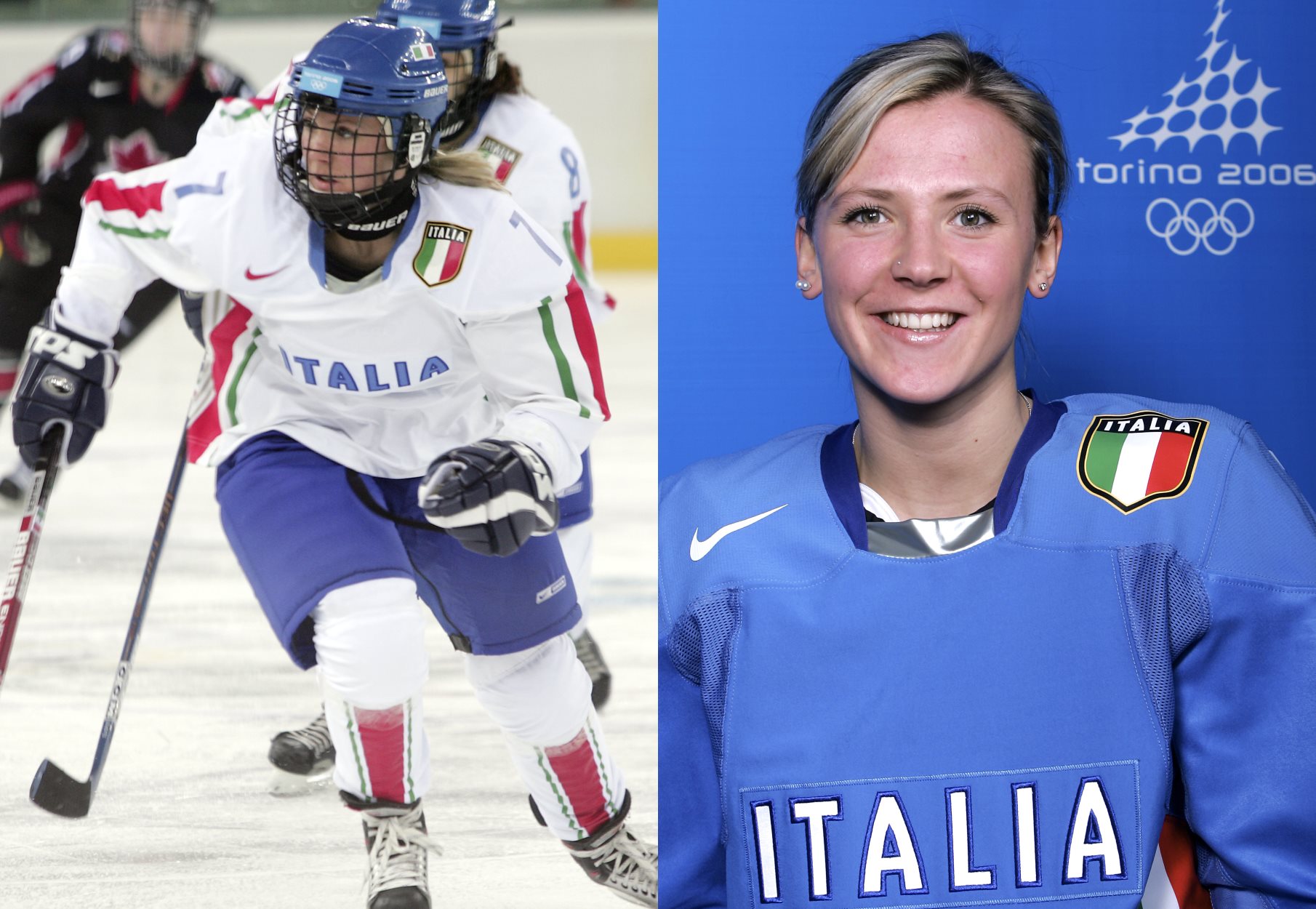 Best hockey memories: Linda De Rocco played at the 2006 Olympic Winter Games on home ice in Turin. Photo: Jani Rajamaki / Europhoto
De Rocco is still playing and returned to Alleghe, not far from her native town of Belluno. Similar like on the men's side, ice hockey happens in the north of the country, mostly in the alpine region. Playing against the five other women's teams of the country, she regularly returns to Turin to play against the Torino Bulls, three teams are from South Tyrol (Bolzano, Neumarkt and newcomer Toblach) and then there's Como close to the border with Switzerland. The season for her team starts in two weeks with a 10-game regular season until January followed by the final round. Last year Alleghe made it to the final but the Bolzano Eagles became champion for the ninth consecutive time.
The Belluno province with Alleghe and other towns has been a hotbed for women's ice hockey in Italy when the first championships were played in the '90s, even though other towns like Agordo and Feltre don't play in the league anymore. Italian hockey historians credit Alleghe as the host of the first women's ice hockey game long time before that, in 1972.
Now the village wrote history again with De Rocco and her colleagues working on the future of women's ice hockey in Alleghe and Italy.
"It was really good. We started at 9:00 in the morning with 20 girls. They were from 7 to 10 years old. It was our first time, so we didn't know exactly how it will go, we just invited girls close to our area but it was really good. We had two hours off-ice activities and then two hours on the ice," De Rocco said. "We were eight coaches and two of them national team players who took part at the 2006 Olympics."
Her women's hockey team is part of the local hockey club. The team has its own logo with a more feminine owl than the one on the men's teams' jerseys. The girls have played junior hockey with the boys' teams until they are 16, now the regulations were relaxed so they can play until 19. Or join the women's senior league.
The first World Girls' Ice Hockey Weekend event in the country will hopefully be a symbol to recruit more girls for ice hockey in the country.
"We hope to keep the level we have. It's always hard for us, we don't have so much money, we have to pay to play a season, for the equipment, to drive to games," De Rocco said about the future.
"We hope to get more and more girls and grow together because we are just six teams. We hope to have more than just one league in the future."
Click here to access the #WGIHW tracker with more stories from the World Girls' Ice Hockey Weekend.
2018 World Girls' Ice Hockey Weekend