The International Ice Hockey Federation (IIHF) has released the 2021 IIHF Men's World Ranking and with this the groups for the 2022 IIHF Ice Hockey World Championship have become known.

The groups for Tampere and Helsinki are based on the World Ranking taking into consideration organizational wishes by the 2022 IIHF Ice Hockey World Championship Organizing Committee.

Host Finland will play Team USA, the Czech Republic, Sweden, Latvia, Norway, Belarus and Great Britain in Group B in Tampere where the new Tampere Deck Arena will serve as main venue for the event.

Helsinki will host Group A that includes defending champion Canada, the ROC team, Germany, Switzerland, Slovakia, Denmark, Kazakhstan and Italy.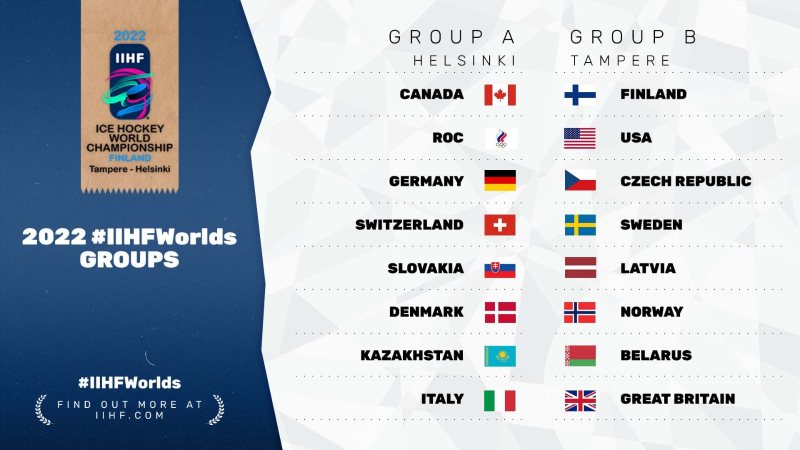 The 2022 IIHF Ice Hockey World Championship will take place in Tampere and Helsinki from 13 to 29 May 2022. Day tickets for the group in Helsinki will go on sale on 2 September. For the group in Tampere the right to buy day tickets will be allocated in a draw starting the same day. Single-game tickets for games not sold out by then will go on sale in February 2022.
Click here for more information.
Canada stays first in World Ranking
The best two teams at the 2021 IIHF Ice Hockey World Championship are also the best two teams in the 2021 IIHF Men's World Ranking. New world champion Canada defended first place while silver medallist Finland overtook Russia for second place.

The United States and Germany both went up two spots and come in fourth and fifth place respectively. For Germany it's the highest placement since the introduction of the World Ranking that takes into consideration the results for the World Championships and Olympics of the last four years.

The Czech Republic (6th) lost one spot while Sweden moved down from fourth to seventh place.

The places 8-12 are taken in the same order as before by Switzerland, Slovakia, Latvia, Norway and Denmark.

Kazakhstan (13th) and Great Britain (16th) both moved up three spots at the expense of other teams in this region of the ranking following their performance in Riga.

For many teams outside of the top division there haven't been IIHF Ice Hockey World Championship tournaments for two years due to the COVID-19 pandemic that caused tournament cancellations. For a fairer ranking and point distribution, the IIHF Council decided that the points for 2021 in case of tournament cancellations are given according to the ranking position of each team in the 2021 Pre-Championship Report – taking into consideration the results in 2018, 2019 and 2020 – rather than by seeding as in the past.

The same rule will also be applied for the 2021 IIHF Women's World Ranking that will be determined with the conclusion of the 2021 IIHF Ice Hockey Women's World Championship in Calgary, Canada.
2021 IIHF Men's World Ranking
| | | | |
| --- | --- | --- | --- |
| Rank | Country | Points | Movement |
| 1 | Canada | 3235 | 0 |
| 2 | Finland | 3125 | 1 |
| 3 | Russia | 3050 | -1 |
| 4 | USA | 2945 | 2 |
| 5 | Germany | 2905 | 2 |
| 6 | Czech Republic | 2895 | -1 |
| 7 | Sweden | 2880 | -3 |
| 8 | Switzerland | 2815 | 0 |
| 9 | Slovakia | 2670 | 0 |
| 10 | Latvia | 2560 | 0 |
| 11 | Norway | 2490 | 0 |
| 12 | Denmark | 2470 | 0 |
| 13 | Kazakhstan | 2365 | 3 |
| 14 | Belarus | 2320 | -1 |
| 15 | France | 2295 | -1 |
| 16 | Great Britain | 2280 | 3 |
| 17 | Italy | 2280 | -2 |
| 18 | Austria | 2185 | -1 |
| 19 | Korea | 2140 | -1 |
| 20 | Slovenia | 2085 | 0 |
| 21 | Hungary | 1980 | 0 |
| 22 | Poland | 1885 | 0 |
| 23 | Lithuania | 1850 | 0 |
| 24 | Romania | 1820 | 1 |
| 25 | Japan | 1785 | -1 |
| 26 | Estonia | 1705 | 1 |
| 27 | Ukraine | 1675 | -1 |
| 28 | Netherlands | 1590 | 0 |
| 29 | Serbia | 1540 | 1 |
| 30 | Croatia | 1515 | -1 |
| 31 | Spain | 1385 | 0 |
| 32 | China | 1335 | 0 |
| 33 | Australia | 1265 | 2 |
| 34 | Israel | 1240 | 0 |
| 35 | Iceland | 1200 | -2 |
| 36 | Belgium | 1100 | 0 |
| 37 | Mexico | 1065 | 0 |
| 38 | Georgia | 1035 | 0 |
| 39 | New Zealand | 965 | 0 |
| 40 | Bulgaria | 935 | 0 |
| 41 | DPR Korea | 825 | 0 |
| 42 | Turkey | 745 | 0 |
| 43 | Luxembourg | 690 | 0 |
| 44 | Turkmenistan | 660 | 1 |
| 45 | Chinese Taipei | 605 | -1 |
| 46 | South Africa | 540 | 0 |
| 47 | United Arab Emirates | 505 | 0 |
| 48 | Hong Kong, China | 460 | 0 |
| 49 | Bosnia & Herzegovina | 380 | 0 |
| 50 | Thailand | 340 | 0 |
| 51 | Kuwait | 305 | 0 |
| 52 | Kyrgyzstan | 225 | 0 |
| 53 | Malaysia | 140 | 0 |
| 54 | Philippines | 105 | 0 |
| 55 | Singapore | 40 | NEW |