There are some names that are hockey royalty in Latvia. Arturs Irbe. Helmuts Balderis. Sandis Ozolins. And, of course, Sergejs Zoltoks.
Zoltoks died on November 3, 2004, during a game between his Riga 2000 team and Dinamo Minsk, in Belarus. He suffered a cardiac episode at the bench, was taken to the dressing room, and died. He was 31.
He and good friend Darby Hendrickson were playing for Riga 2000 during the NHL lockout. They had gotten to know each other the preceding three years as teammates with the Minnesota Wild, the fifth NHL team Zoltoks had played for since starting his career in North America in 1992.
But at home, he was a legend. He had played in two World Junior Championships with the Soviet Union, in 1991 and 1992, winning gold and silver, but more important he played at five Men's World Championship with Latvia starting in 1997 and ending in May 2004 (as well as the 1994 Worlds when the team was still in B Pool).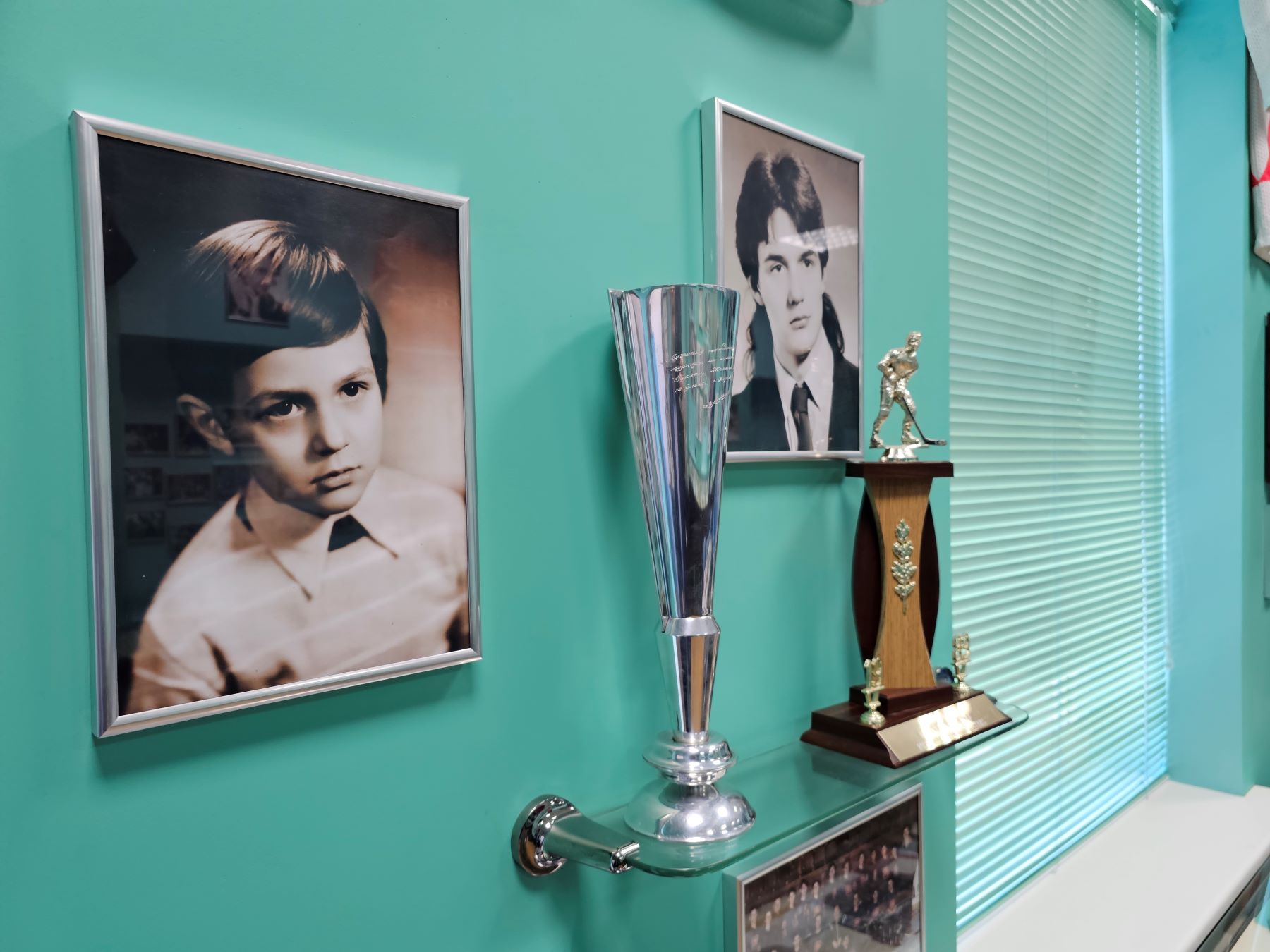 At the time of his death, he had a wife, Anna, and two sons, and soon after his tragic death his father-in-law decided some sort of memorial was needed to remember Sergejs by. He found a room in a school in Riga, near a local hockey rink, and petitioned family and friends to contribute memorabilia, photos, trophies, anything.
Thus was born the Sergejs Zoltoks Memorial Room, which opened on November 1, 2007. It's only one room, but it's packed with the treasures of one man's life. Circling the room are sweaters from many of his club teams, everything from the Providence Bruins, for whom he played much of 1992-95 as he worked to establish himself in the NHL, to his ill-fated Riga 2000 days.
There are photos and trophies of a small boy, whose early success prefigured greater things to come, as well as many newspaper clippings of his rise to fame, both in Latvian and English. There is a Montreal Canadiens sweater signed by everyone on the team, and below it two pucks—well, a puck and a half, really. One puck, with an Edmonton Oilers logo, represents his first goal with the Montreal Canadiens, in Edmonton, on December 29, 1998.
Beside it, comically, a similar plaque with half a puck, for his 100th point. That came in Montreal. It was a goal, and assists went to Dainius Zubrus and Jesse Belanger. For Zubrus, it was his 100th career point, so the players decided to share the puck the only way possible—cut it in half!
There are two guest books on a table in the middle of the room. One is full, the other well on its way to like status. Bob Hartley, who coached the Latvian national team from 2017 to 2021, signed one page, as did George Nagobads, who was born in Latvia and served as USA Hockey's doctor for many years. He passed away this past March at the age of 101.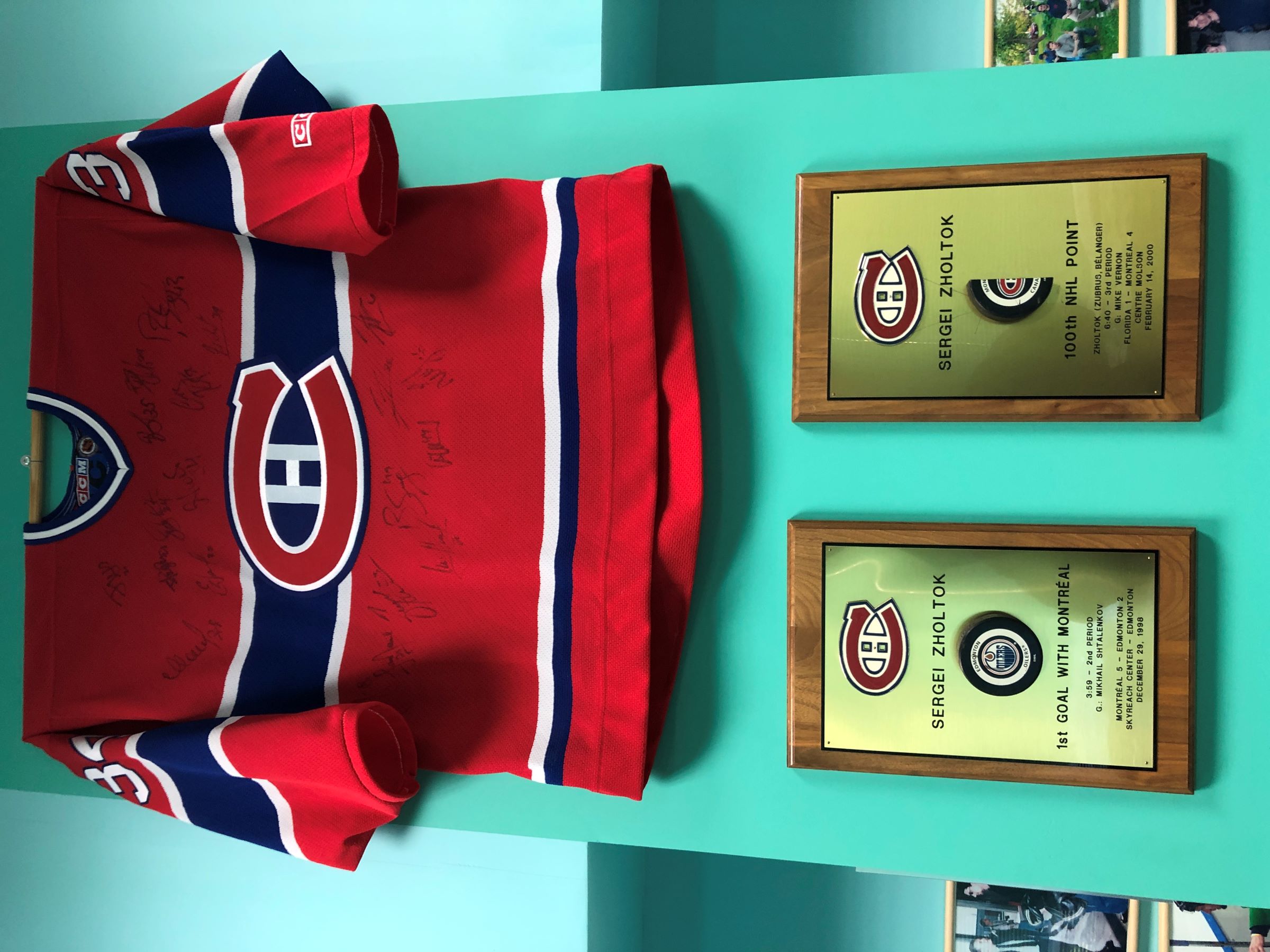 Zoltoks played for his country during the most exciting times, after Latvia became an independent nation once again. It had played at IIHF events in the 1930s—four World Championships and the 1936 Olympics—before being forcefully amalgamated with the Soviet Union in the early days of the Second World War.
The IIHF took Latvia in as a new member on May 6, 1992, and the small nation had to start from the bottom, playing in C Pool in 1993, B Pool 1994-96, and finally A Pool in 1997. Zoltoks played in 1997, 1999, 2001, 2002, and 2004, during which time he had 15 goals and 25 points in just 30 games.
The Memorial Room is free for anyone to visit who makes an appointment. It's small, but poignant, a memory of a great player and even greater person who helped the Latvian program of today get to where it is.