There were many reasons to be riveted by play at the recently completed 2023 IIHF Ice Hockey World Championship, none the least of which is we had two medal games that have never happened before. Canada and Germany did play for gold once before—at the first ever Ice Hockey World Championship in 1930! And when Latvia won the bronze in dramatic fashion, rallying in the third and winning in overtime against USA, it turned the streets of Riga into a festival of hockey that continued until the nation's President declared the next day a national holiday!
The combined attendance in Tampere (34 games, 275,230) and Riga (30 games, 166,655) was 441,885. It could have been slightly better, but it showed the IIHF had come out of COVID in good shape and the fan base across Europe was as strong as ever. Last year, in Helsinki and Tampere, attendance was 356,955. In 2013 (Stockholm, Helsinki) it was about 428,000. Back in 2006, when Riga was solo host, that number was 331,626. Tampere was hosting for the seventh time, but we can now safely say Riga is a city that can expect to host with some regularity. We have always known the Latvian fans travel well, but now we know they can host, too.
And when they host, they do so in record fashion, it seems. The Fan Zone in both cities tallied 316,502 visitors over the tournament, including 220,000 in Riga. That averages out to more than 24,000 per day, making it the most popular sports festival in the history of Latvia.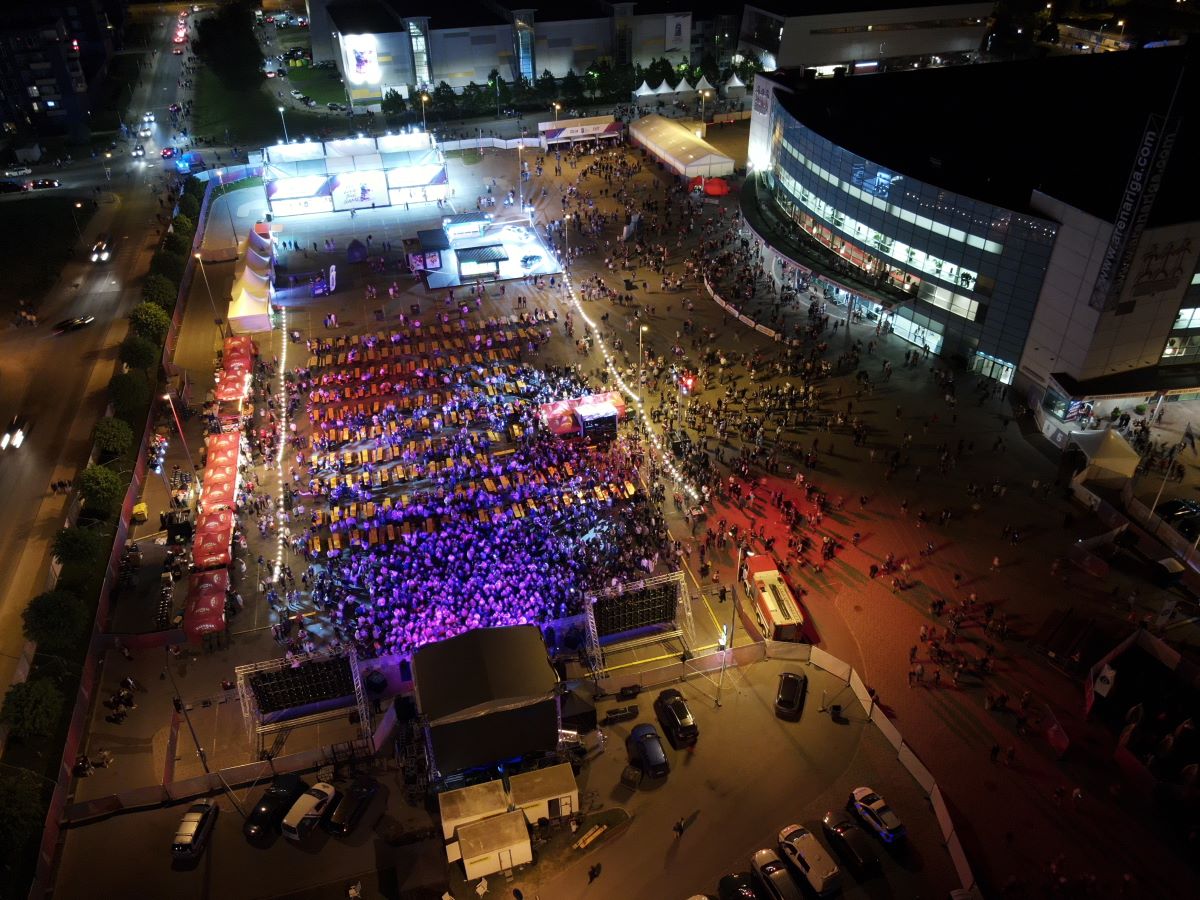 Aerial view of the Official Fan Zone in Riga. © Organizing Committee
The games were close across the board. Except for a couple of blowouts, the numbers show that 47 of the 64 games were decided by three goals or less. And comebacks were common, not rare. Consider the very first game when the host Finns scored first against the U.S., only to see the Americans rally for a 4-1 win. The U.S. in turn, suffered two heart-wrenching losses via comebacks later in the tournament, missing out on the gold-medal game when the Germans scored late with an extra attacker and then won in overtime. Just 24 hours later, the Latvians did the same.
In between, comebacks accounted for an astounding 25 wins in the 64 games played. No first goal was safe; no close lead was safe. The tournament showed a parity in the game we haven't seen for a long time, and although Hungary and Slovenia under-performed and were demoted, even they showed fight in most games and competed in most games. The question of whether 16 teams belong has one solid answer these days—yes.
Players, too, contributed to the stats pages. Andres Ambuhl extended his record for top-level tournaments (18) and games played (131), while one of the heroes of the tournament, Latvian goalie Arturs Silovs, played 601:00 in goal, the second-most in IIHF WM history. Silovs was named tournament MVP, the first time this honour had been bestowed on a Latvian for any top-level IIHF tournament. Indeed, he is the first Latvian to be named Directorate Award winner or named to the Media All-Star team, any position, any year, any event.
The IIHF's new tracking system also proved exciting in its own way, showing the game in a new light and producing some interesting numbers of its own. Consider that three of the top five fastest skaters were Canadian, starting with Jake Neighbours, who clocked in with a top speed of 37.63 km/h. Right behind him was Slovakia's Viliam Cacho (37.59 km/h), Joe Veleno (CAN, 37.31 km/h), Peyton Krebs (CAN, 37.24 km/h), and Czechia's 37-year-old marvel, Roman Cervenka, 37.2 km/h.
Notice something about those names? All played in Riga's Group B. Something in the water? Same goes for the hardest shot, except the top shot was recorded by Finland's Nicolas Matinpalo (Group A), who blasted the biscuit 164.64 km/h, the fastest in the tournament. Not far behind was Switzerland's Gaetan Haas at 163.69 km/h and two Slovenes, Jan Urbas (163.22 km/h) and Robert Sabolic (162.76 km/h). Rounding out the top five was another Swiss/Group B player, Andrea Glausser at 160.52 km/h.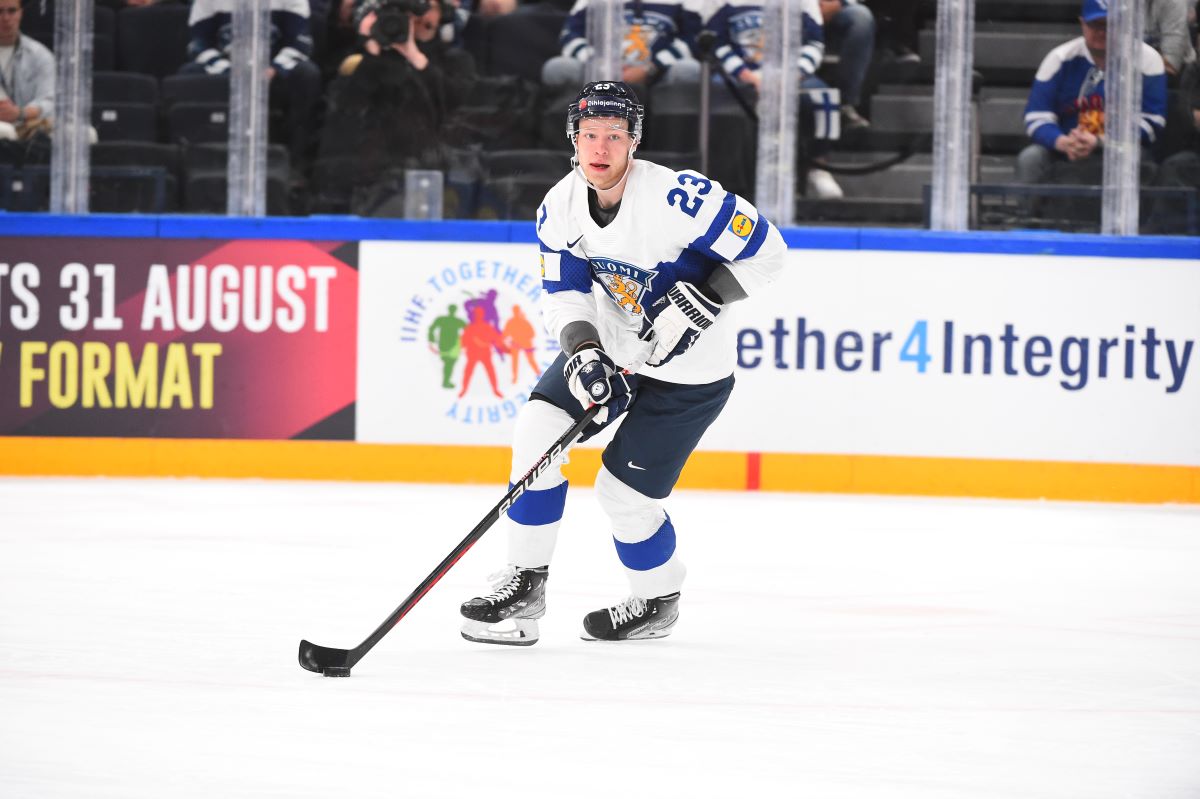 Nicolas Matinpalo from team Finland. © IIHF / Matt Zambonin
Not surprisingly, the best passers were all defenders, starting with Germany's silver-medal-winning superstar Moritz Seider. The 22-year-old converted an astounding 391 passes in ten games, an average of 39 per game! He was way ahead of the second-most prolific passer, Sweden's Henrik Tommernes, who went tape-to-tape 296 times. At 295 was Latvia's Uvis Balinskis, and fourth in this category was Canada's MacKenzie Weegar (290), followed by American Scott Perunovich (277).
Defenders also dominated the time-on-ice stats as well. Veteran Dane Jesper Jensen Aabo clocked an average of 25:13 per game, requiring an amazing level of conditioning, to be sure. Second was Norwegian blueliner Johannes Johannesen at 24:05 and teammate Emil Lilleberg, 23:10. Fourth was Weegar, 22:51, who helped Canada win gold in his first ever tournament for Canada, and fifth on ice time was another Dane, Markus Lauridsen, 22:48.
In all, the 64 games that comprised the 2023 IIHF WM were broadcast to 154 countries. The Finland-Sweden game achieved a market share of more than 70% on MTV and C More, which translates to 1.5 million viewers. Four of Czechia's preliminary-round games had one million viewers on Ceska Televize. On social media, the numbers were off the charts. The IIHF had more than 187 million impressions and grew its coverage in virtually every area during the tournament.
And last but not least, the numbers that perhaps mean the most—volunteers. Riga had 550 volunteers and Tampere 750. These 1,300 fans took vacation time from work, worked long hours for the IIHF, the players, and the organizing committee to ensure the tournament went off without a hitch. Without them, there is no Ambuhl record, no fastest shot, no millions of viewers.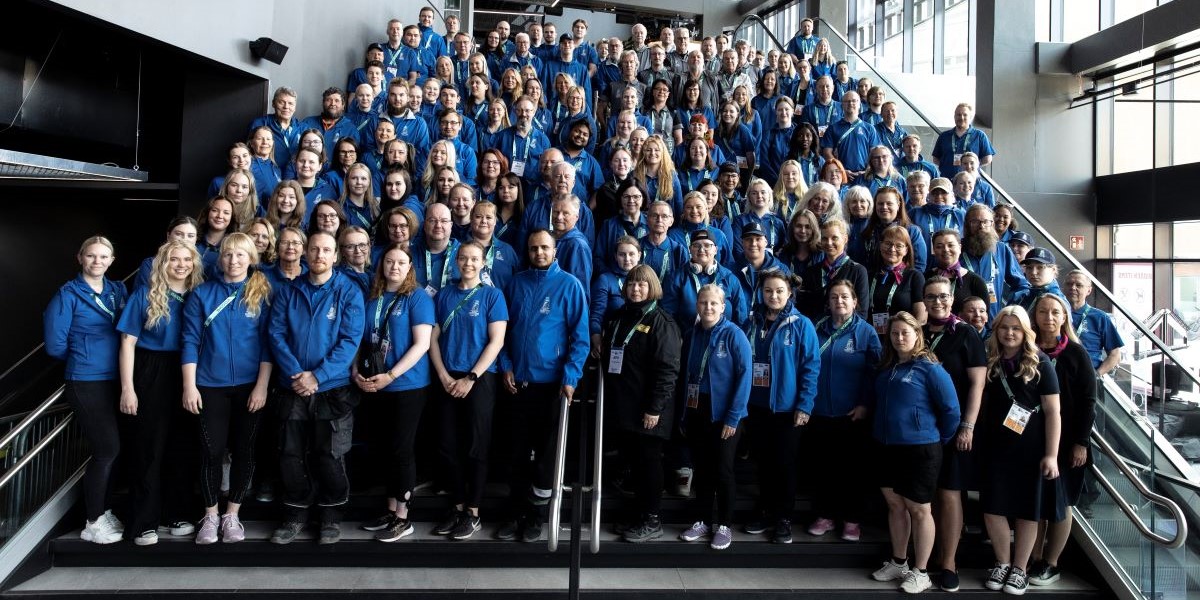 Volunteers at the Nokia Arena in Tampere, Finland. © Organizing Committee
The 2023 IIHF Ice Hockey World Championship was a success on ice and off, and these are the numbers to prove it.