IIHF Hall Of Fame Induction 2023
Cristobal Huet
Player
Born St. Martin d'Heres, France, September 3, 1975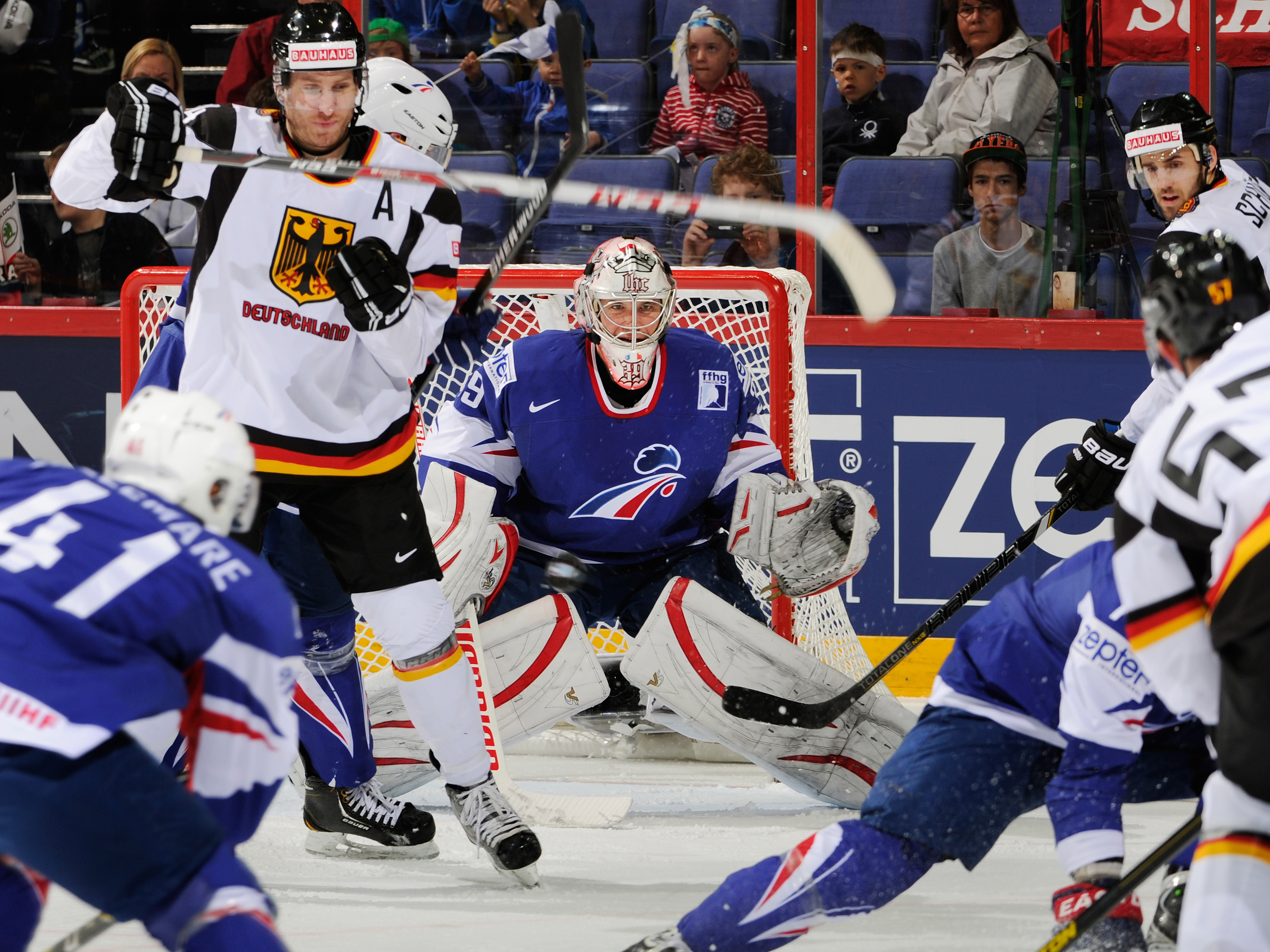 Huet played internationally for France for two decades, retiring on home ice when Paris co-hosted the 2017 IIHF Ice Hockey World Championship. © International Ice Hockey Federation/Richard Wolowicz
By the time goaltender Cristobal Huet retired in 2017 at age 41, he had left a mark on French hockey that will forever remain significant. Skilled, gracious, competitive, he is the finest puckstopper France has ever produced, and he proved his worth on both sides of the Atlantic.
Huet first refined his skills in the French league with Bruleurs de Loup in 1995, but it was four years later when he joined Lugano in Switzerland that his fame really began.
He helped Lugano win the National League championship in his first year, and in 2001 he was selected 214th overall by Los Angeles in the NHL draft. In 2003, he made his debut, thus becoming only the second Frenchman, after Philippe Bozon, to make it to the NHL.
After two seasons and the lockout, he was acquired by Montreal and in 2005 played well enough to unseat Jose Theodore as the number-one goalie for the Canadiens, a dream come true for anyone of French heritage. After two and a half years, however, he was traded to Washington but again played well enough to take over the starting role from Olaf Kolzig.
At the end of that 2007/08 season, Huet was a free agent and decided to sign a four-year contract with the Chicago Blackhawks. Over time, he lost the starter's role to Antti Niemi, but in 09/10 the Hawks went all the way in the playoffs, winning the Stanley Cup and making Huet the first Frenchman to have his name stamped on the silver chalice. Before the start of the next year, business got in the way of skill, and the Hawks loaned Huet to Fribourg in Switzerland because of salary-cap issues. He never made it back to the NHL, ending his career with Lausanne after the 17/18 season.

Huet represented his country whenever he was asked. His first appearance at the top level came at the 1997 IIHF World Championship. It was to be the first of an incredible 13 appearances in WM play. He also played at the two most recent Olympics for France, in 1998 and 2002. During those 13 World Champion- ships, France played 80 games, and Huet was in the blue ice for 54 of that number, wearing his long-familiar #39.

Along the way, there were several memorable games for the goalie. Huet recorded one shutout during his career, and that came 5 May 2015 in a 2-0 win over Austria, a vital result that kept France in the top pool for 2016 and demoted the Austrians. A year earlier, he was in goal when France stunned Canada, 3-2 in a shootout, stopping all three shots and outduelling James Reimer for the historic win. In 2014, Huet beat Slovakia, 5-3, in a game that qualified France for the playoffs at the expense of the Slovaks. And in 2017, he led the French to another shootout win, this a 4-3 decision over Switzerland. In all, he stopped 15 of 18 shots he faced in penalty-shot shoot- outs, an 83.3 per cent success rate.

But perhaps the biggest highlight of his career came in 2017 when Paris co-hosted the IIHF Ice Hockey World Champion- ship with Cologne. France barely missed out on a place in the quarter-finals, but the team's final game was an impressive 4-1 win over Slovenia. Huet was the winning goalie and named the team's Best Player of the game, and the players sent him off the ice in style one last time