IIHF Hall Of Fame Induction 2023
Henrik Zetterberg
Player
Born Njurunda, Sweden, October 9, 1980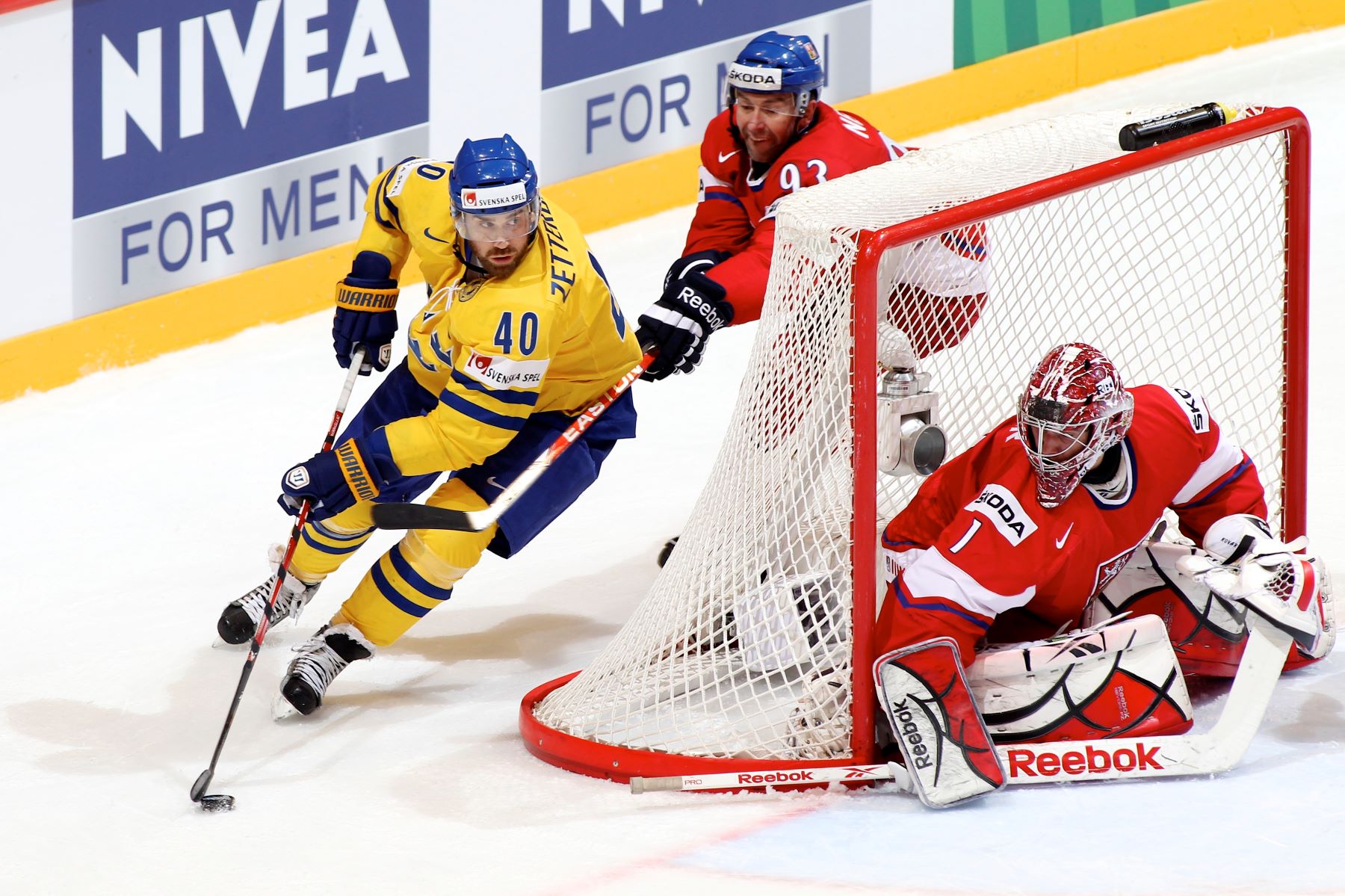 Few skaters were as successful both in the IIHF and NHL as Sweden's Henrik Zetterberg. © International Ice Hockey Federation / Andre Ringuette
The 21st member of the IIHF's Triple Gold Club, Henrik Zetterberg was a player of exceptional skill and class during a career that spanned two decades in both Sweden and North America. He started his development in the Timra organization, but his rise to greatness can be credited to two forces: the scouting prowess of Detroit Red Wings GM, Jim Nill, and Zetterberg's patience and single-minded determination in maturing as a player.

Indeed, hindsight shows how prescient Nill was in identifying Zetterberg's talent. The Red Wings selected him at the 1999 NHL Entry Draft a lowly 210th, basically a sign that no other team was interested. But to Zetterberg's credit, he didn't dash off to the airport bound for training camp. He remained in Timra for three more years, grew and got stronger and faster far away from the NHL limelight.

In succeeding years he played at the World Juniors, where he was clearly Sweden's best player in 2000 and already giving GMs pause for not having selected him at the previous year's draft. He went on to become the rookie of the year in the Elitserien with Timra. A year later, Zetterberg played at the IIHF World Championship, helping Sweden win bronze with a 3-2 win over the U.S. in the game for third place.

And then, while still only 21, he earned an invitation to the Olympics, in Salt Lake in 2002. Zetterberg was one of only three non-NHL players on Sweden's stacked roster, and he didn't look out of place. It was only then, after all of this combined Swedish league and IIHF experience, that he felt ready to go to Detroit. And when he did, in the fall of 2002, he made an immediate impact.
In his rookie season with the Wings, "Zee" had 22 goals and was runner-up to Barret Jackman for the Calder Trophy. A broken leg and the lockout disrupted his next two seasons, but starting in 2005/06 Zetterberg became one of the game's finest two-way players. He had four straight seasons of 30 goals or more, having a career best year in 07/08 when he had 43 goals and 93 points.

More important, he was instrumental in Detroit's successful run to the Stanley Cup that spring as the Wings beat Sidney Crosby and Pittsburgh in six games. Zetterberg scored the Cup-winning goal early in the third period, only the seventh European to do so, and he was given the Conn Smythe Trophy for his superior play throughout the playoffs. The win also

made him a member of the Triple Gold Club, along with team- mates Niklas Kronwall and Mikael Samuelsson.

All three had achieved TGC status with the Cup win because two years earlier they had helped complete an historic double. Tre Kronor was the first country to win Olympic gold (in Turin) and then World Championship gold (in Riga) in the same season. These turned out to be Zetterberg's only gold medals in IIHF competition.

After Niklas Lidstrom retired, Zetterberg was named Detroit captain coming out of the 2012/13 lockout in January 2013. He wore the "C" for the final six years of his career, retiring in 2018 because of a back injury that was only getting worse. Nonetheless, he played his 1,000th NHL game in that final 17/18 season and further cemented his place in Red Wings' history.