At a conference call the IIHF Council has approved the groups for the 2021 IIHF Ice Hockey World Championship. The tournament will start in May 2021 and will be co-hosted by Minsk and Riga under the slogan "Passion. No borders".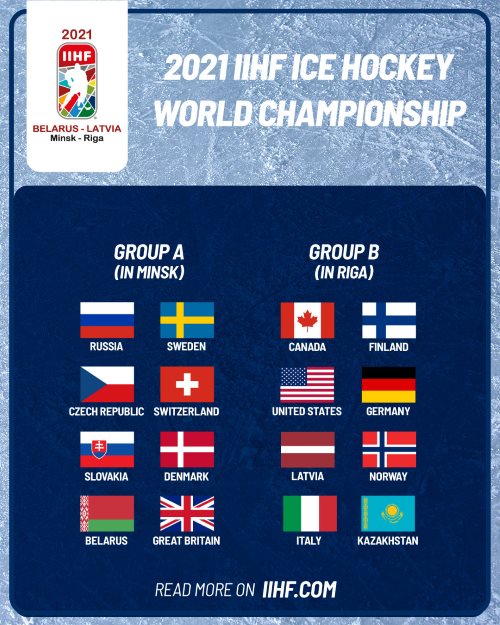 Host Belarus will meet its big neighbour Russia, Sweden, the Czech Republic, Switzerland, Slovakia, Denmark and Great Britain in Group A in Minsk. The 15,086-seat Minsk Arena will serve as main venue and host one group, two quarter-final games, both semi-finals and the medal games.
Minsk is the Belarusian capital with almost two million inhabitants and 3.4 million in the region. The Minsk Arena with two practice rinks on site broke the World Championship attendance record, that was reclaimed by the Czechs in 2015, when Belarus hosted the IIHF Ice Hockey World Championship in 2014 for the first time.
Latvia will be the host of the other group and two quarter-final games. Group B will also include Canada, Finland, the United States, Germany, Norway, Italy and Kazakhstan.
Riga, Latvia's capital, is just a one-hour flight away from Minsk. It has 640,000 inhabitants and 1.4 million people living in a 100-kilometre radius. Latvia is renowned for its passionate fans travelling to World Championships all around the world, and the country hopes to recreate the great atmosphere of 2006 when the 10,300-seat Arena Riga was opened to host the Worlds.
The seeding for the groups is based on the IIHF Sport Regulations and the
2020 IIHF Men's World Ranking
, which takes into consideration the results in World Championships and Olympics during the last four years, with one horizontal swap to accommodate special organizational needs.
Following the decision on the groups, the organizers will work on the game schedule during the upcoming weeks. More information on the games as well as the ticket sale will follow at a later date. A dedicated website for the tournament will go online soon.