The International Ice Hockey Federation (IIHF) has released the game schedule of the 2021 IIHF World Junior Championship in Edmonton in the Canadian province of Alberta.
The schedule was announced live on TSN on Monday night and published on the official 2021.worldjuniors.hockey
Click here to see the full game schedule.
As
announced earlier
, due to the COVID-19 pandemic and through discussions between the IIHF, Hockey Canada and the provincial and federal health authorities, the 2021 IIHF World Junior Championship cannot take place in full arenas in Edmonton and Red Deer as planned. Instead it will be played in a "competition bubble" without spectators at Rogers Place in Edmonton, which recently successfully hosted the Stanley Cup playoffs with Toronto, to provide the players a safe environment to compete.
With all ten teams playing at the same venue, the game schedule takes a slightly different shape than usual and for the first time since 2005 the World Juniors will begin on 25 December, one day earlier than fans have been used to.
Switzerland vs. Slovakia will be the first game on that opening day before Germany faces Finland and last year's runner-up Russia will play Team USA. The remaining teams will start on the second day including defending champion and host Canada playing Germany.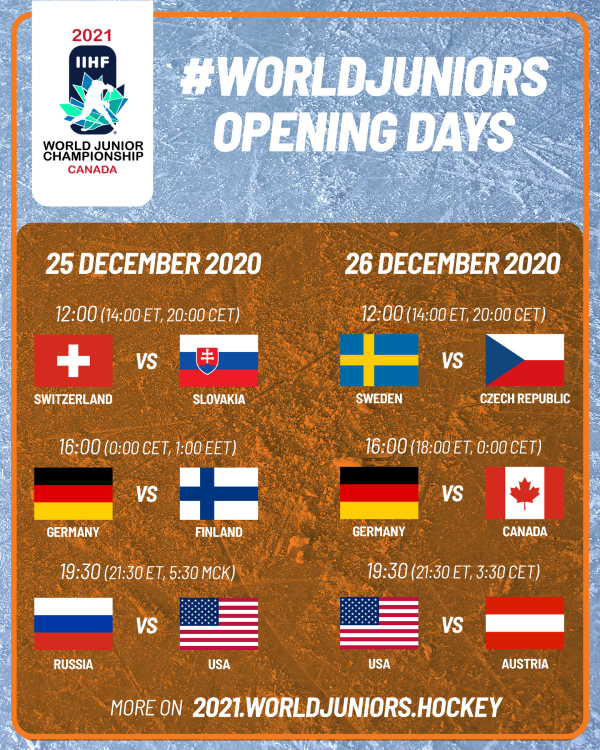 There will usually be three games per day at the arena in the group stage in which Canada, Finland, Switzerland, Slovakia and Germany were seeded in Group A, and Russia, Sweden, the United States, the Czech Republic and Austria in Group B.
The preliminary round ends on New Year's Eve with Canada-Finland and Sweden-USA.
The final round will be played according to the common pattern of the last few years. The four quarter-final pairings are scheduled on 2nd January all taking place at the same venue. Host Canada would play the 17:00 game if qualified. The semi-finals are scheduled on 4 January and the medal games the day after.
Since the lower divisions have been cancelled, there will be no relegated teams and consequently no relegation round.
"A tremendous amount of planning has been underway for almost two years and announcing the schedule signifies how close we are to puck drop," said Riley Wiwchar, executive director of the 2021 IIHF World Junior Championship organizing committee.
"After announcing the return of the tournament last month, there is a feeling, even knowing there won't be fans in the building, of excitement and anticipation across the province and extending across the country as fans get set to cheer on the future stars of the game."
The teams will travel to the competition bubble early and play
ten exhibition games
from 20 to 23 December.