The United States struck early and often, building a 4-0 lead in the first 21 minutes, then cruised to a 4-1 victory over Latvia in the opening game of Group B at the 2022 IIHF Ice Hockey World Championship.
Defenceman Seth Jones recorded a power-play goal and a shorthanded assist just 1:18 apart in the first period to lead the American offence. In goal, 23-year-old Strauss Mann, who played this season for Skelleftea AIK in the Swedish Hockey League and the U.S. Olympic team, stopped 24 of 25 Latvian shots.
"I thought we played well; we got off to a decent start," said Jones, who is playing in his third World Championship and is team captain this time. "I thought Strauss made some big saves early to keep us 0-0 and then special teams is good for us. We got a power-play goal and a penalty-kill goal as well. Then we got a little sloppy in the third but we finished it off pretty well."
"We had a lot of good chances that we didn't use and they had a couple of not-so-beautiful goals," said Andris Dzerins, who scored Latvia's lone goal. "The start was not very good, and when you only score once, it's difficult to win."
At the other end, 28-year-old Elvis Merzlikins, playing in his fifth World Championship, stopped 25 of 29 American shots. This was Merzlikins' first game for Latvia wearing the number 80 of compatriot and former Columbus Blue Jackets teammate Matiss Kivlenieks, who died tragically last summer, shortly after playing in last year's World Championship on home ice.
United States vs Latvia - 2022 IIHF Ice Hockey World Championship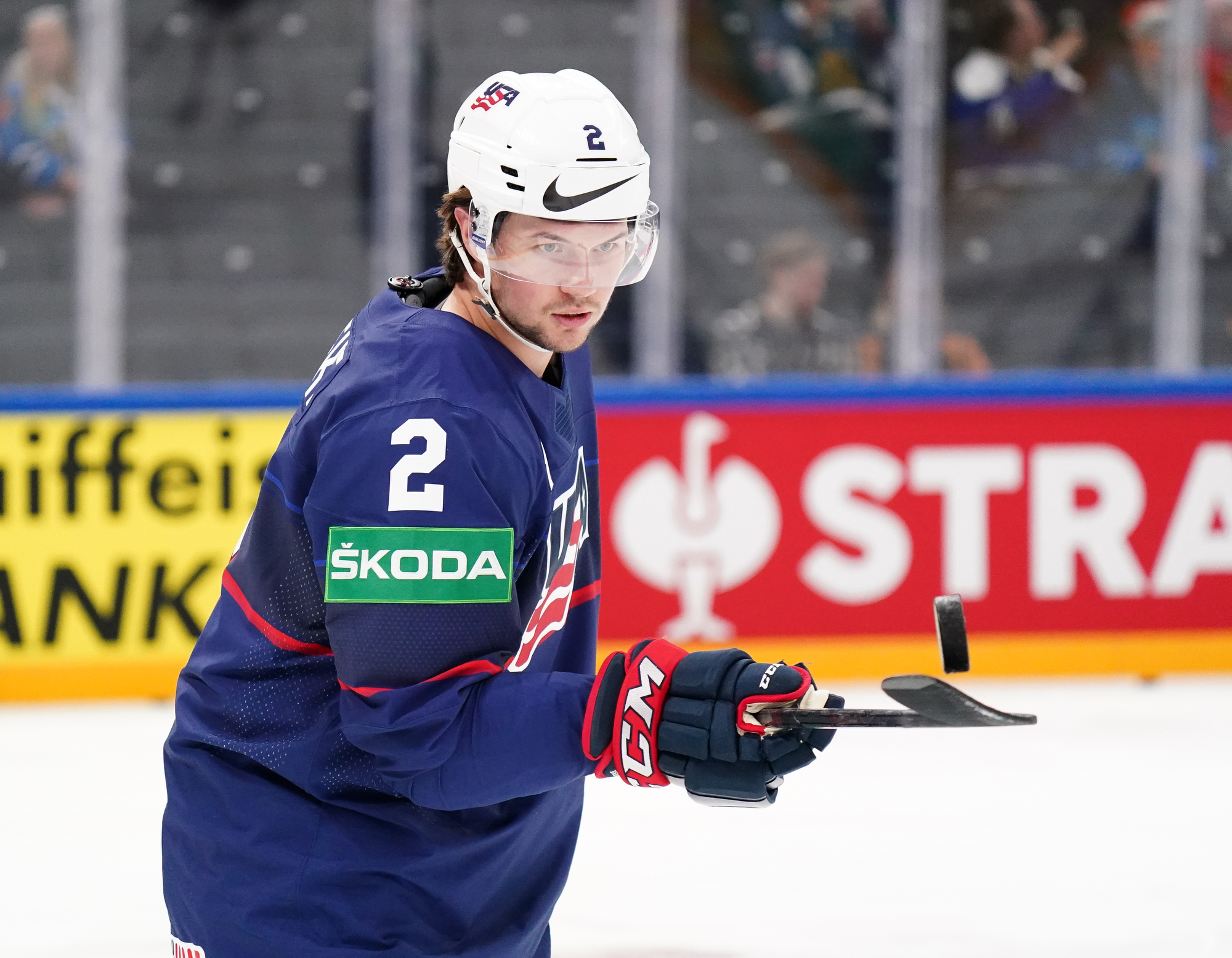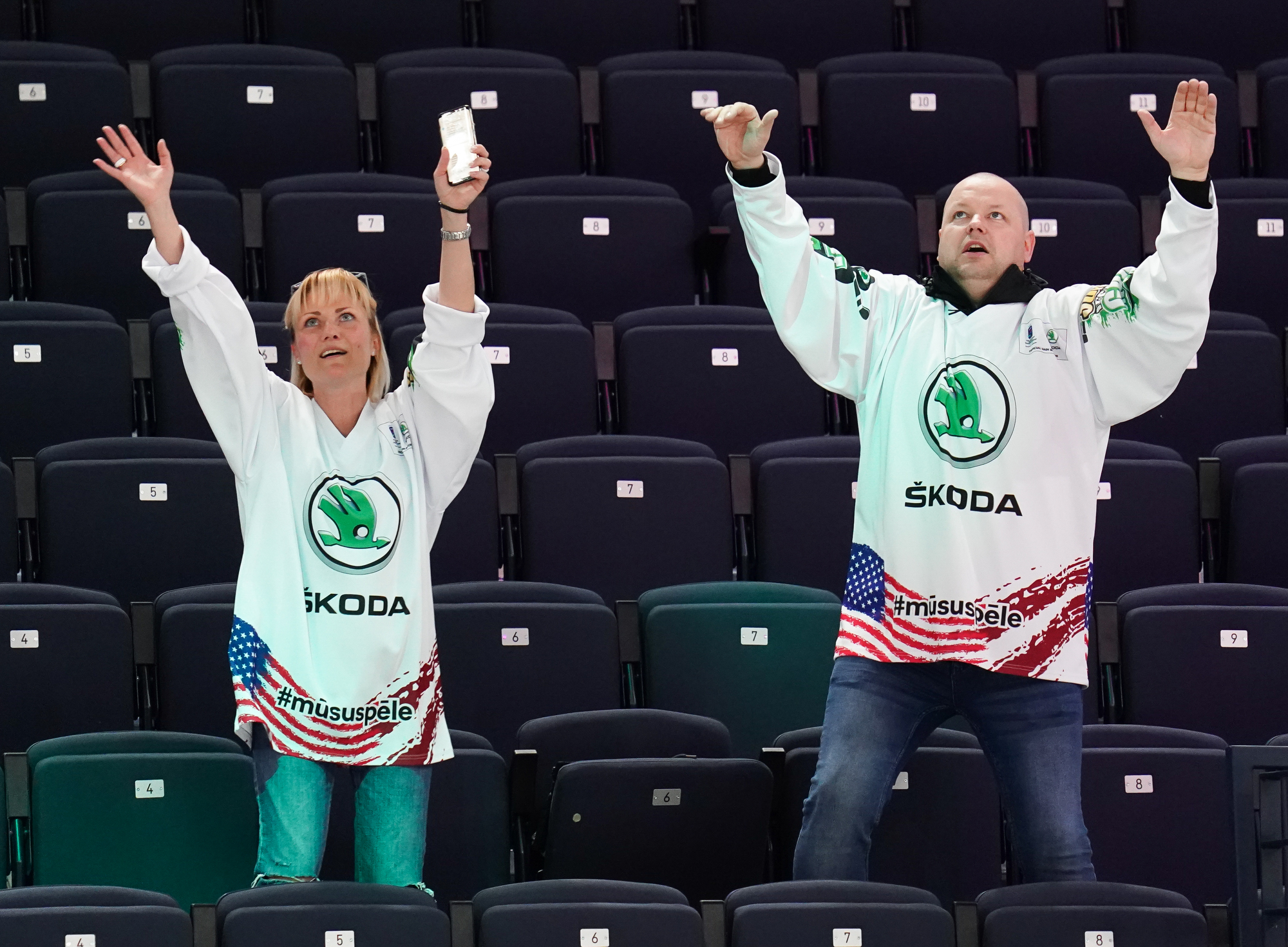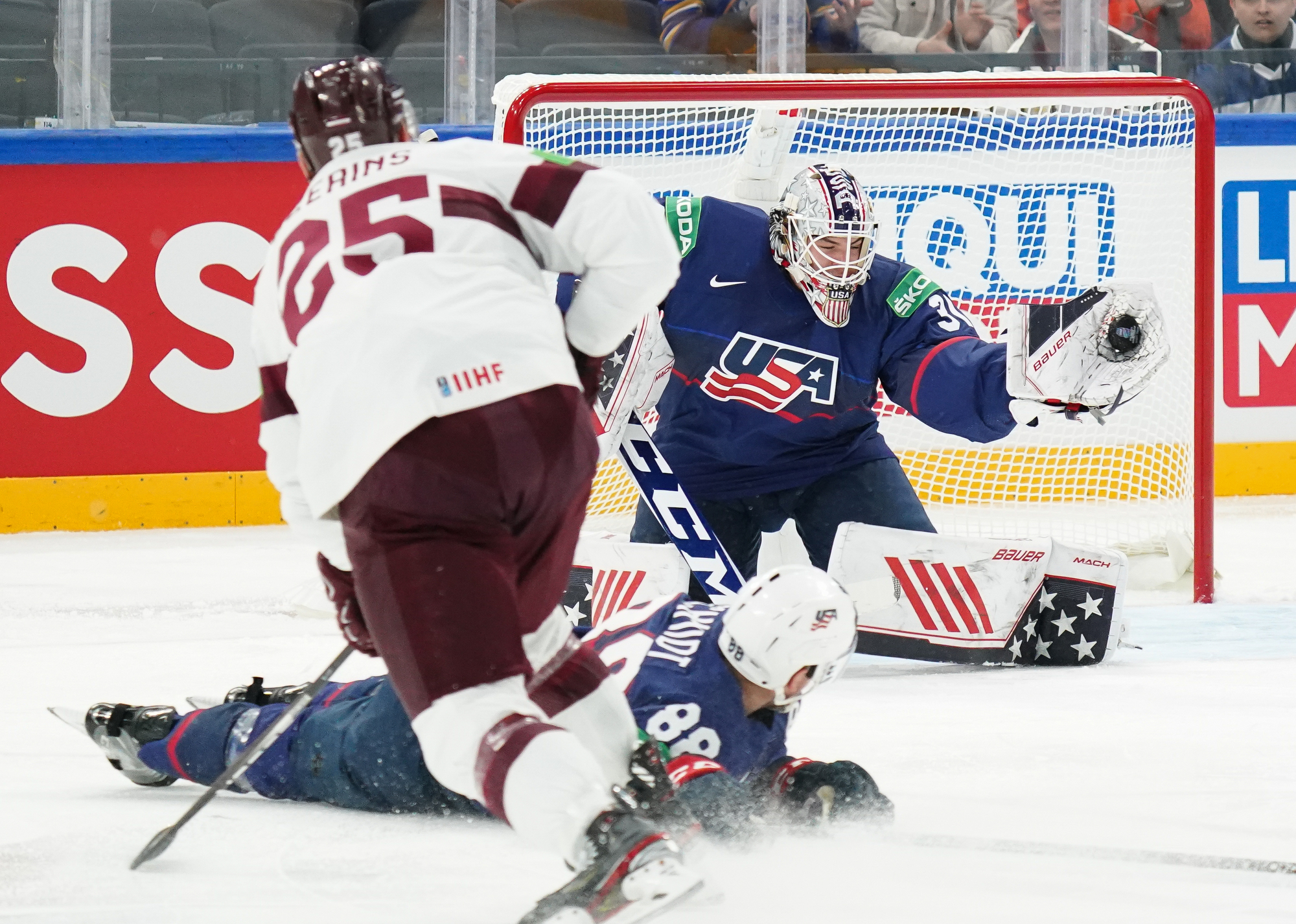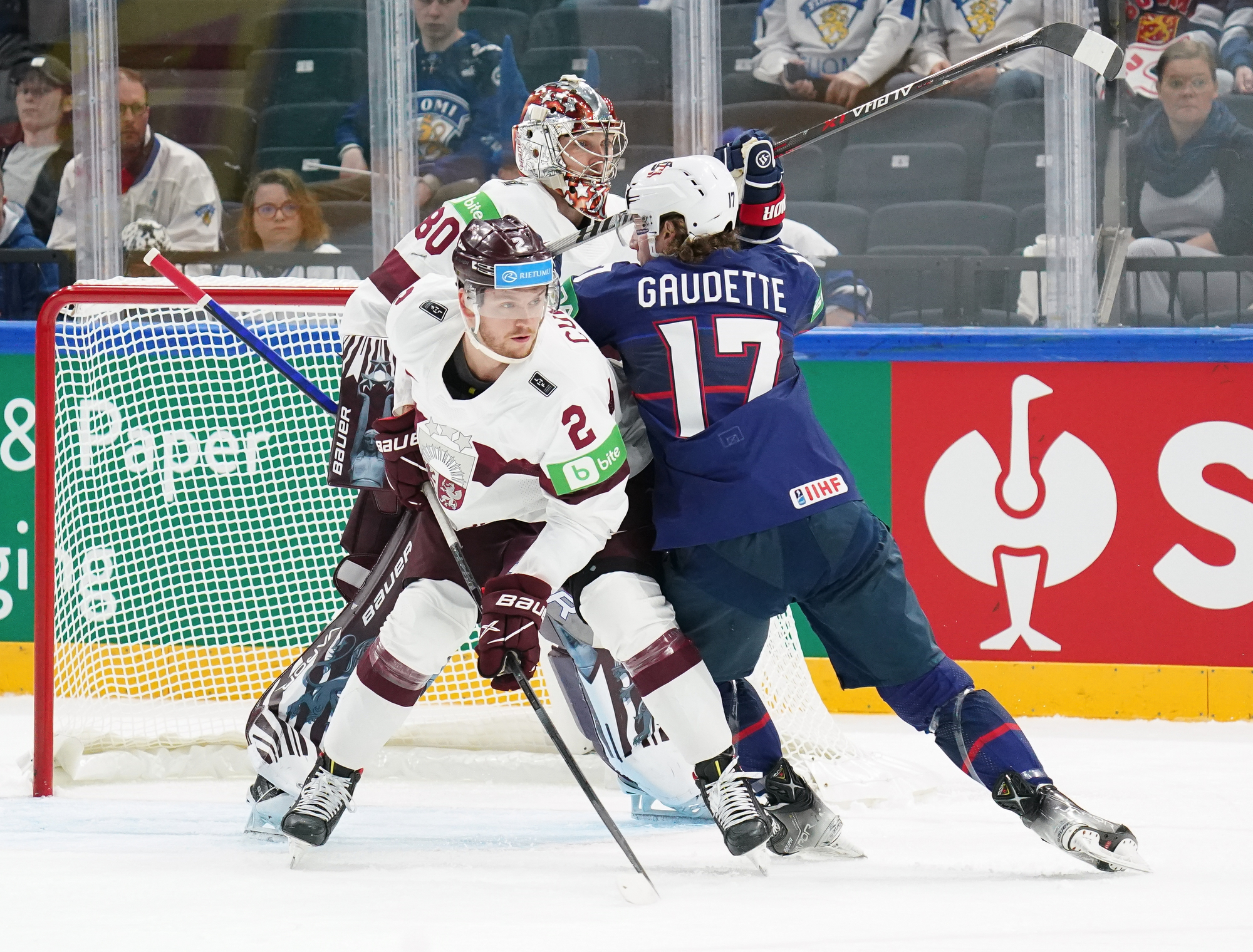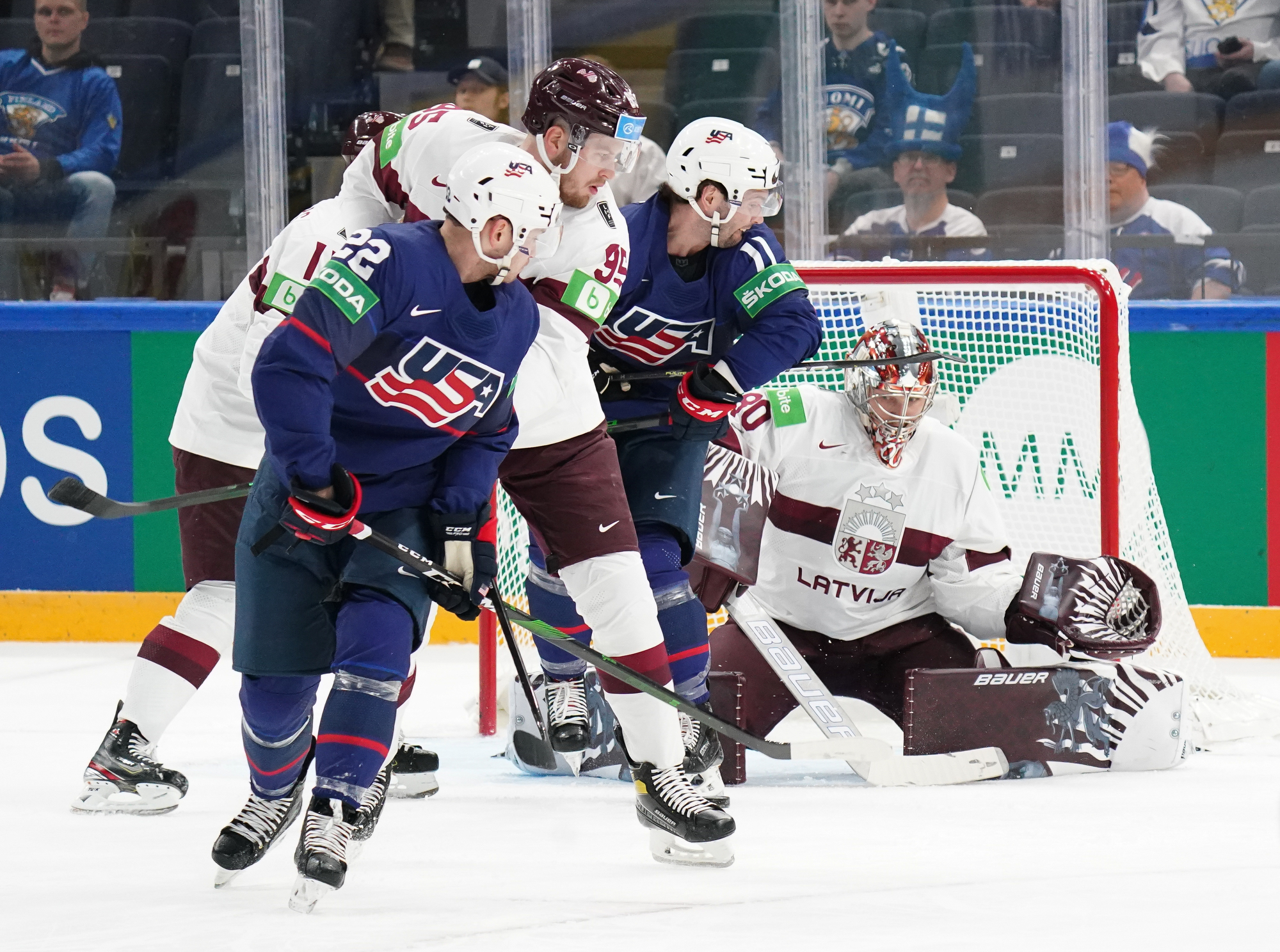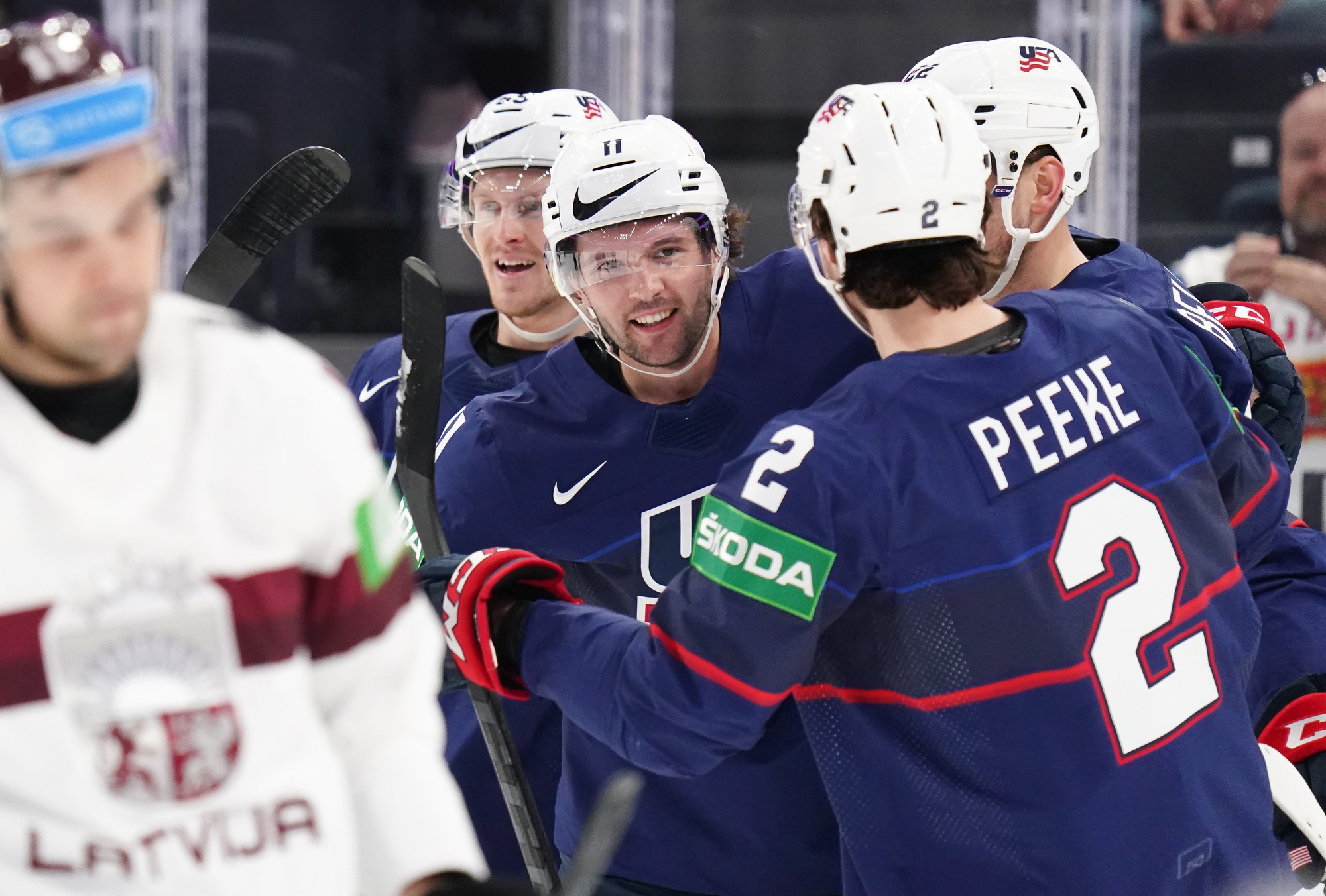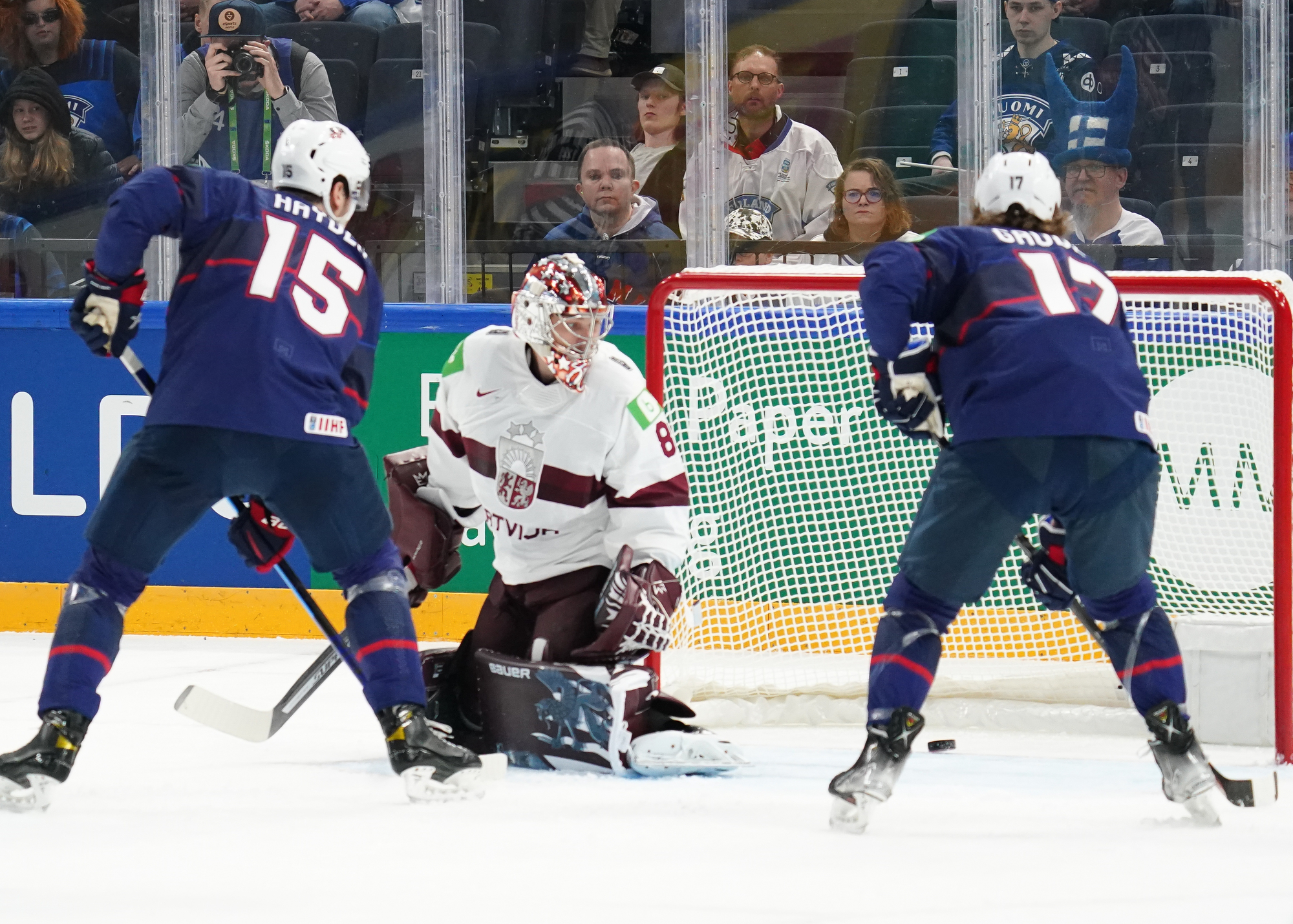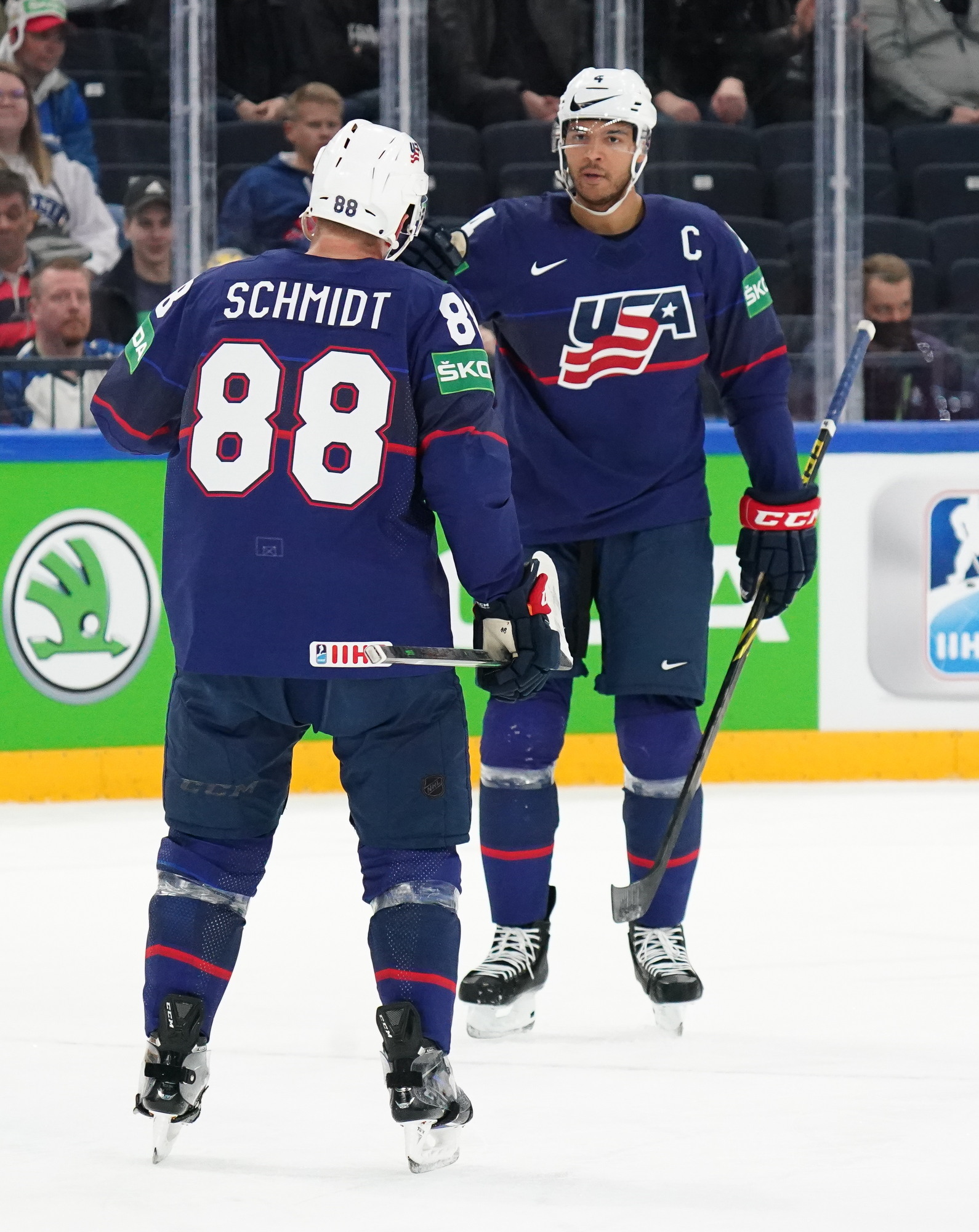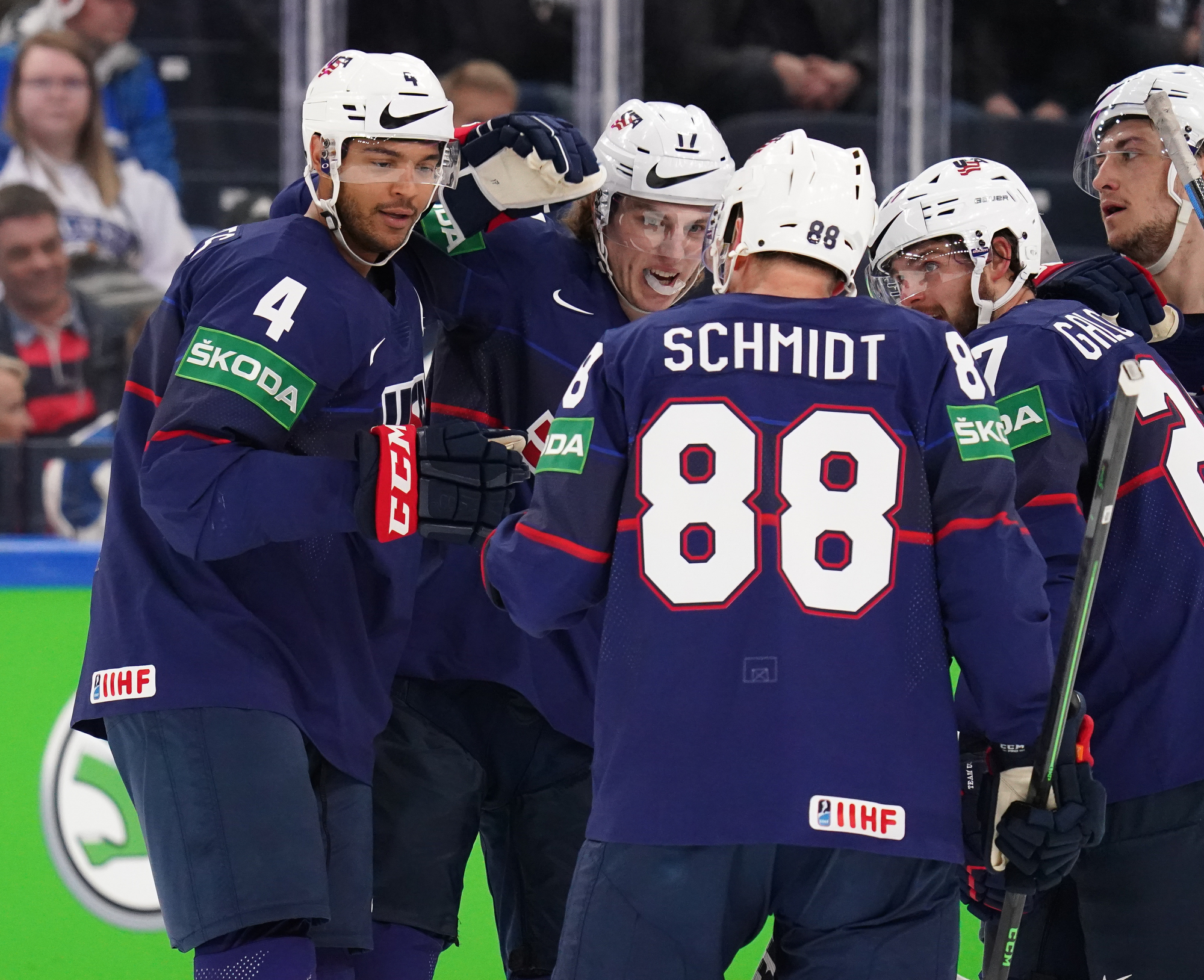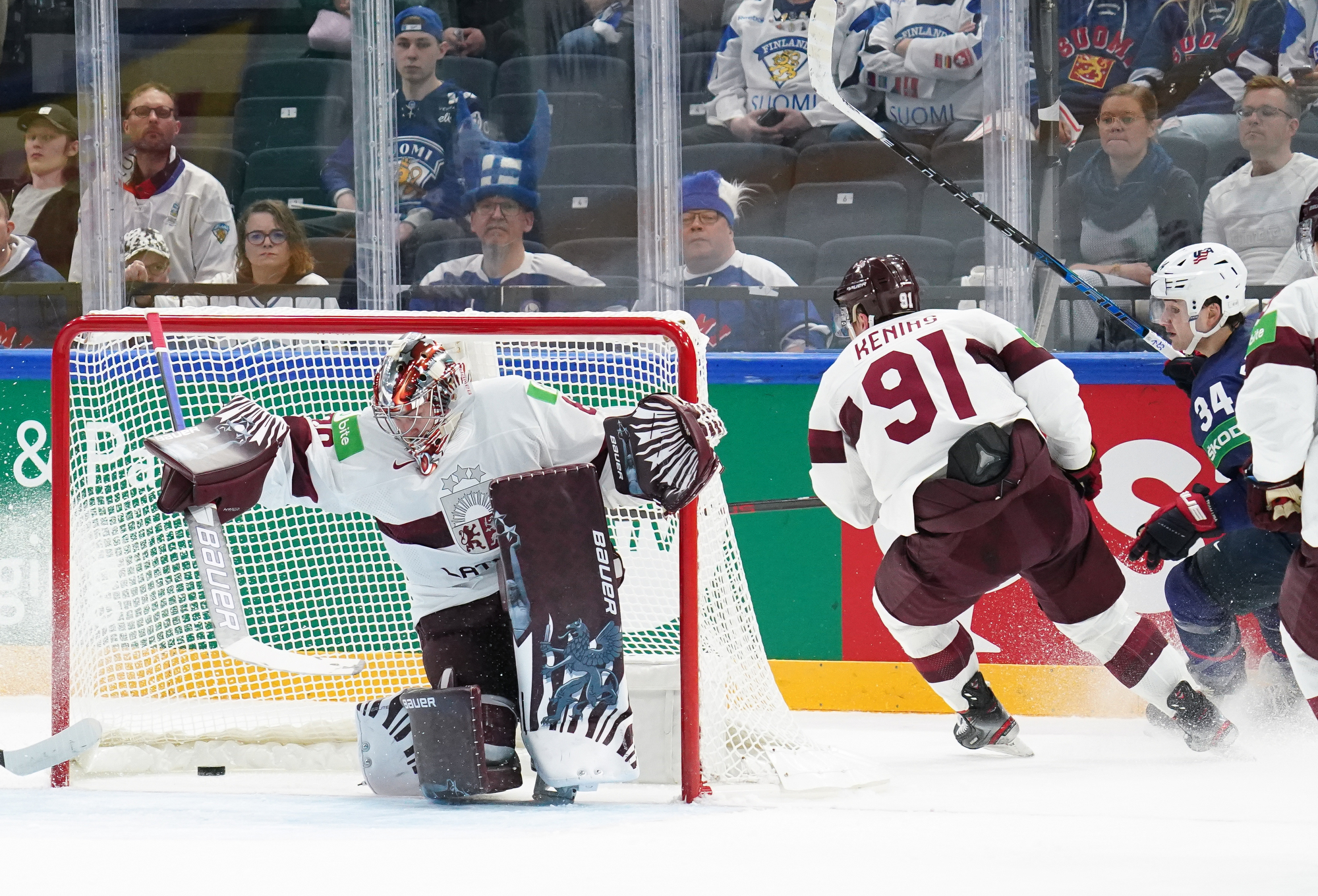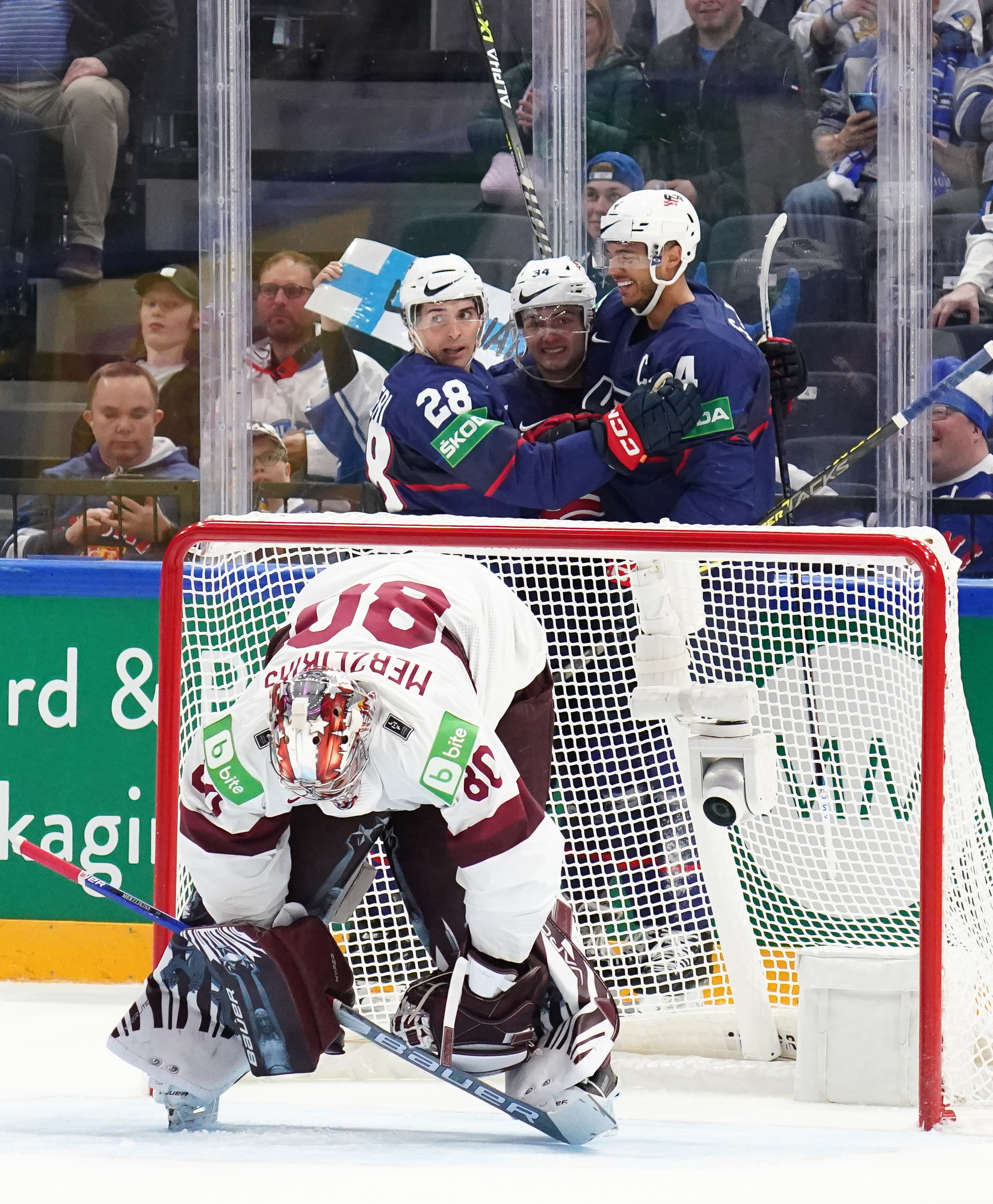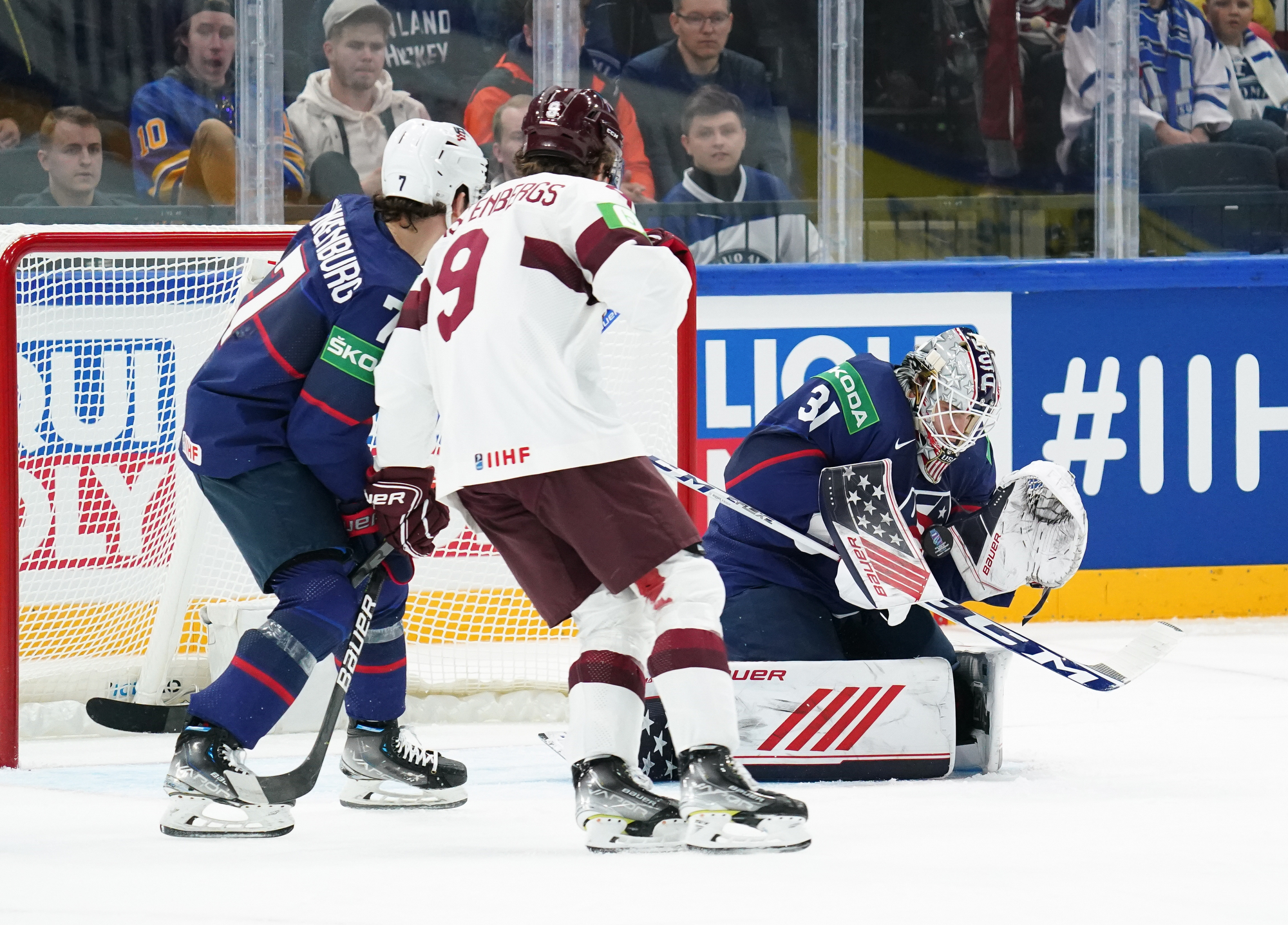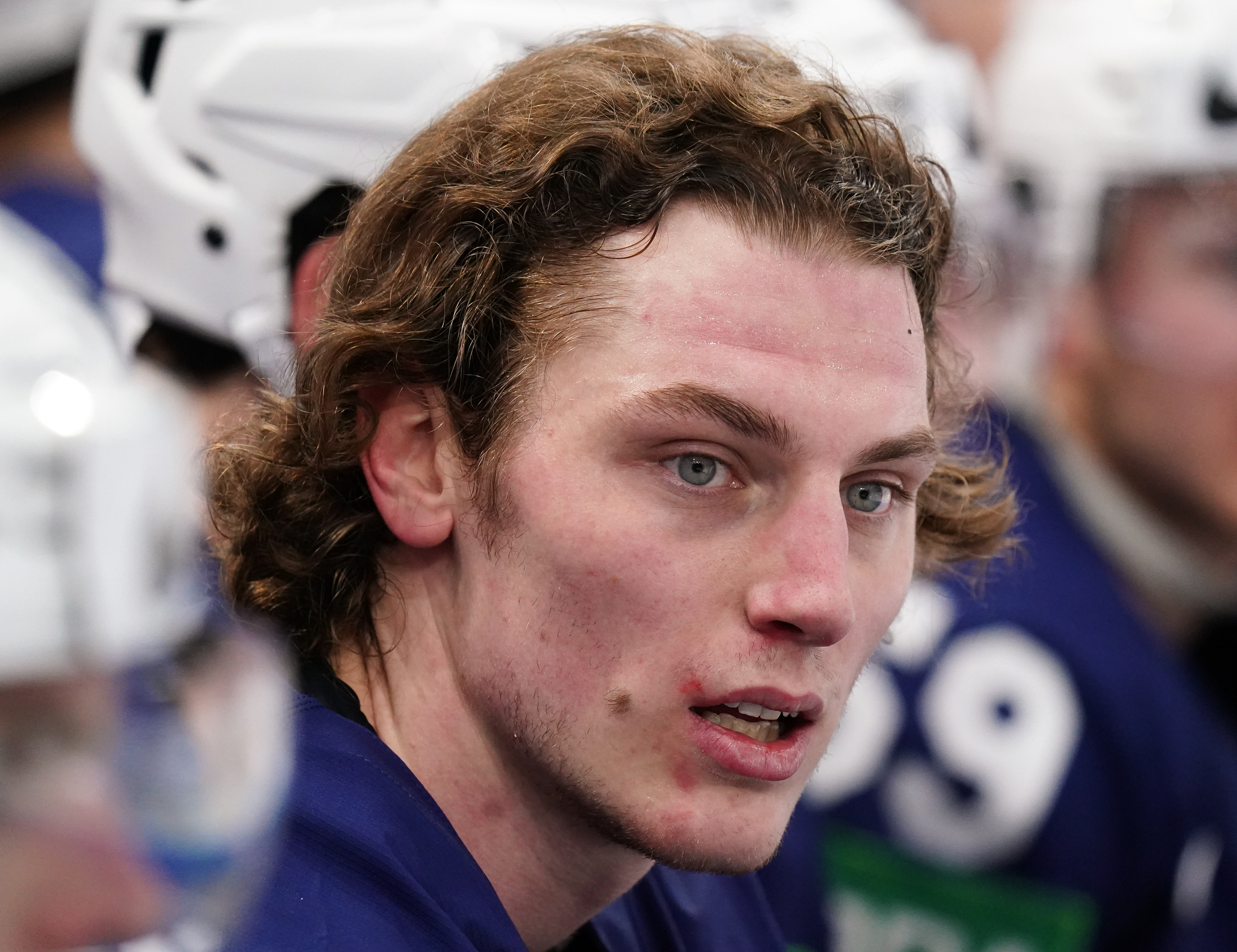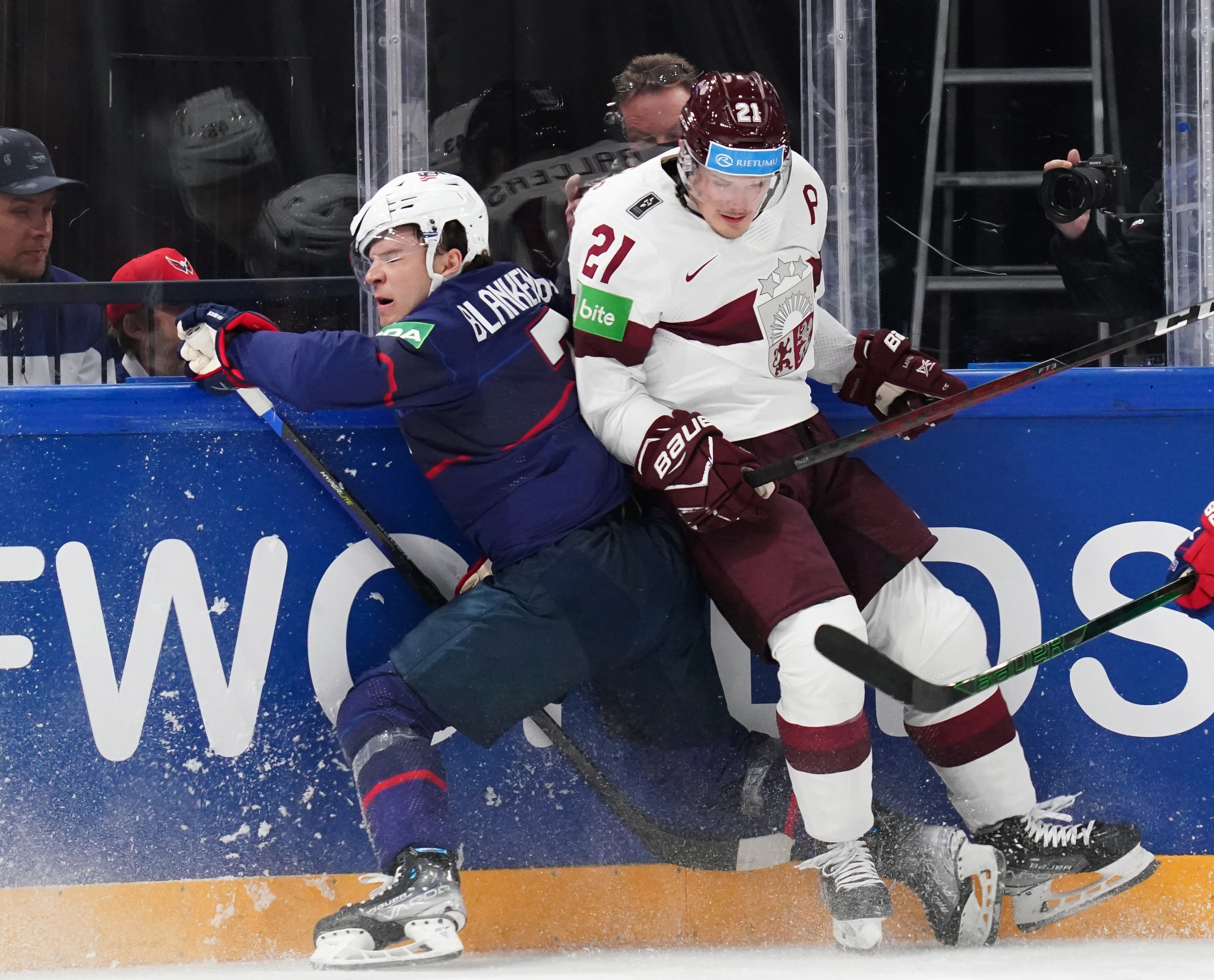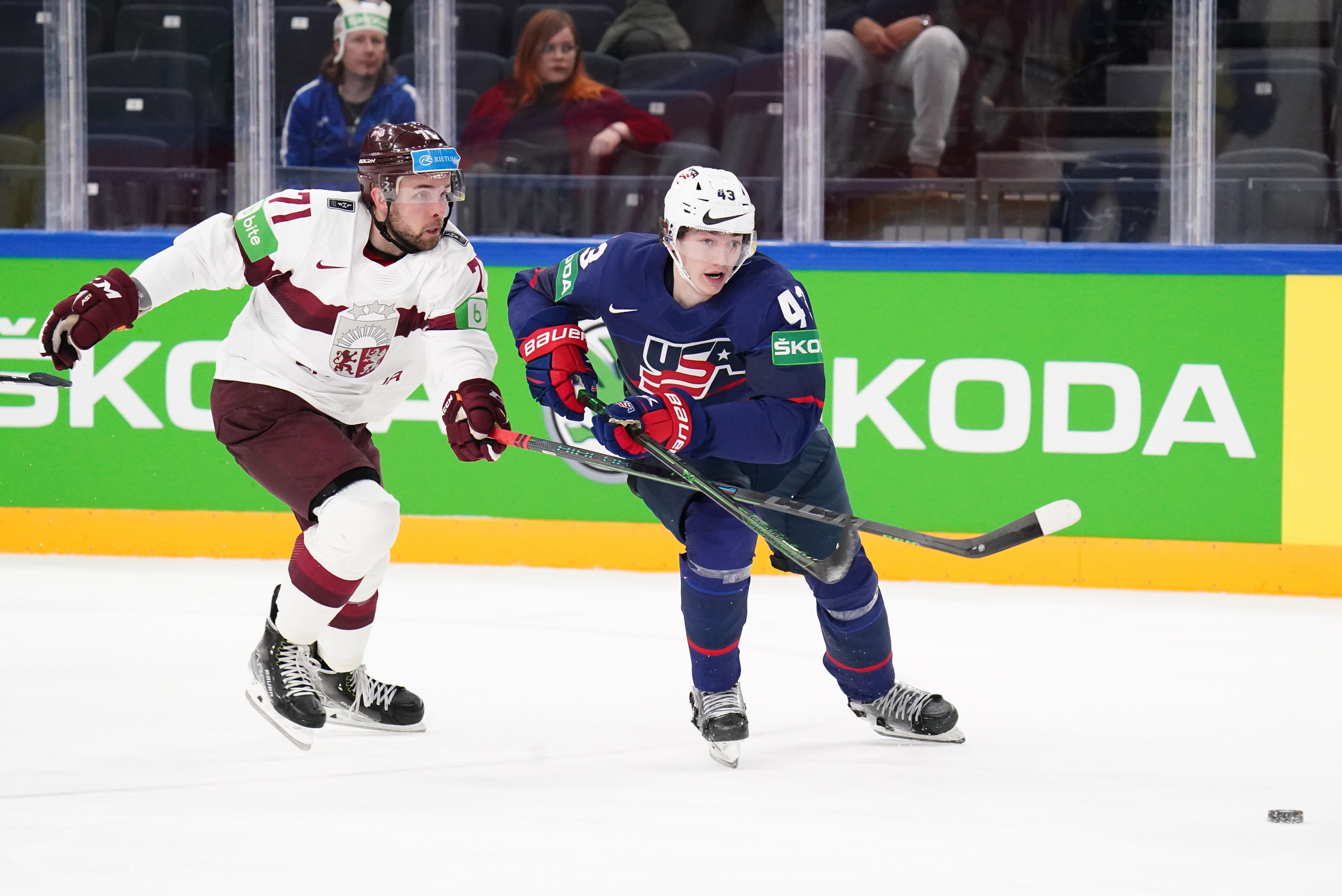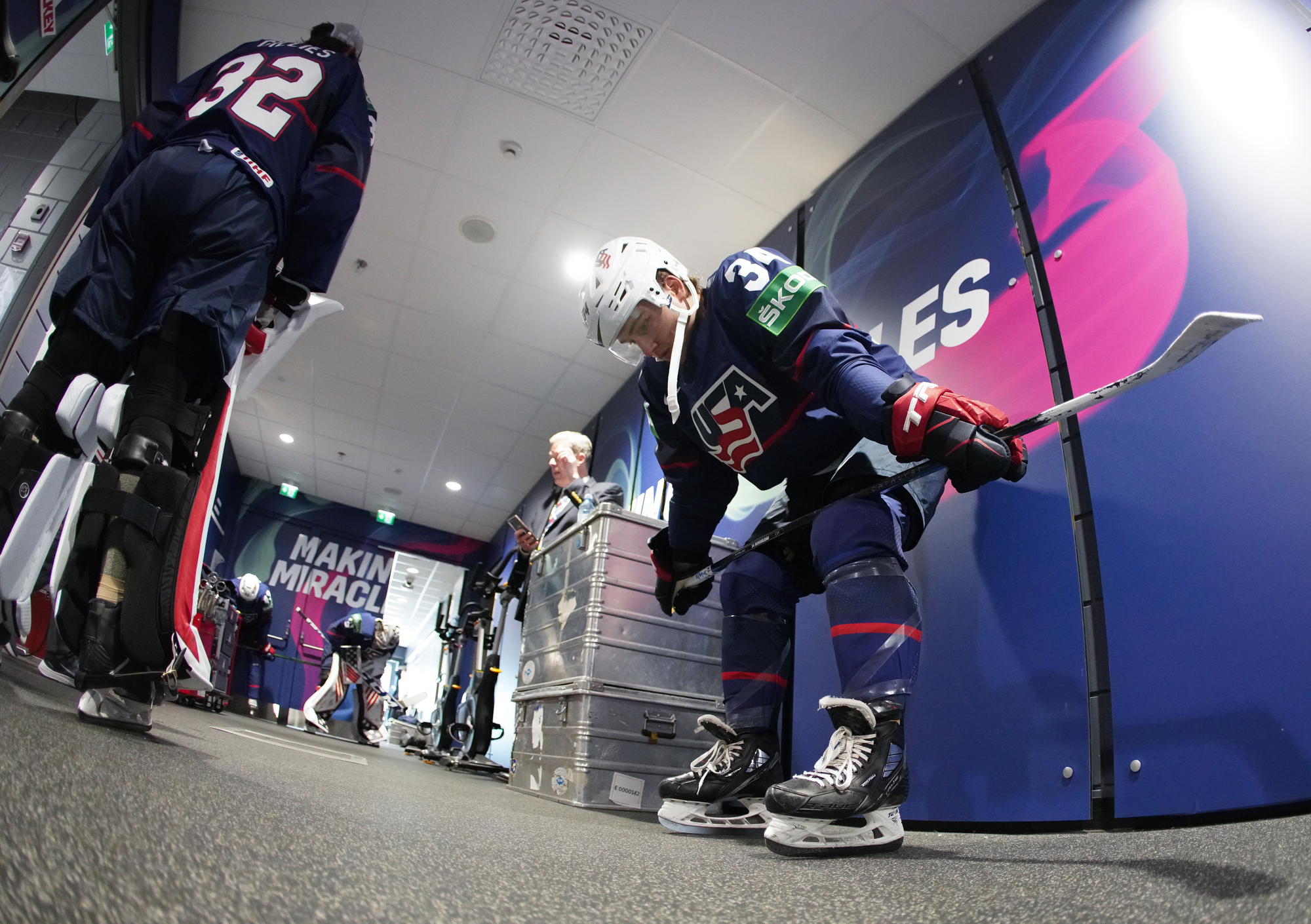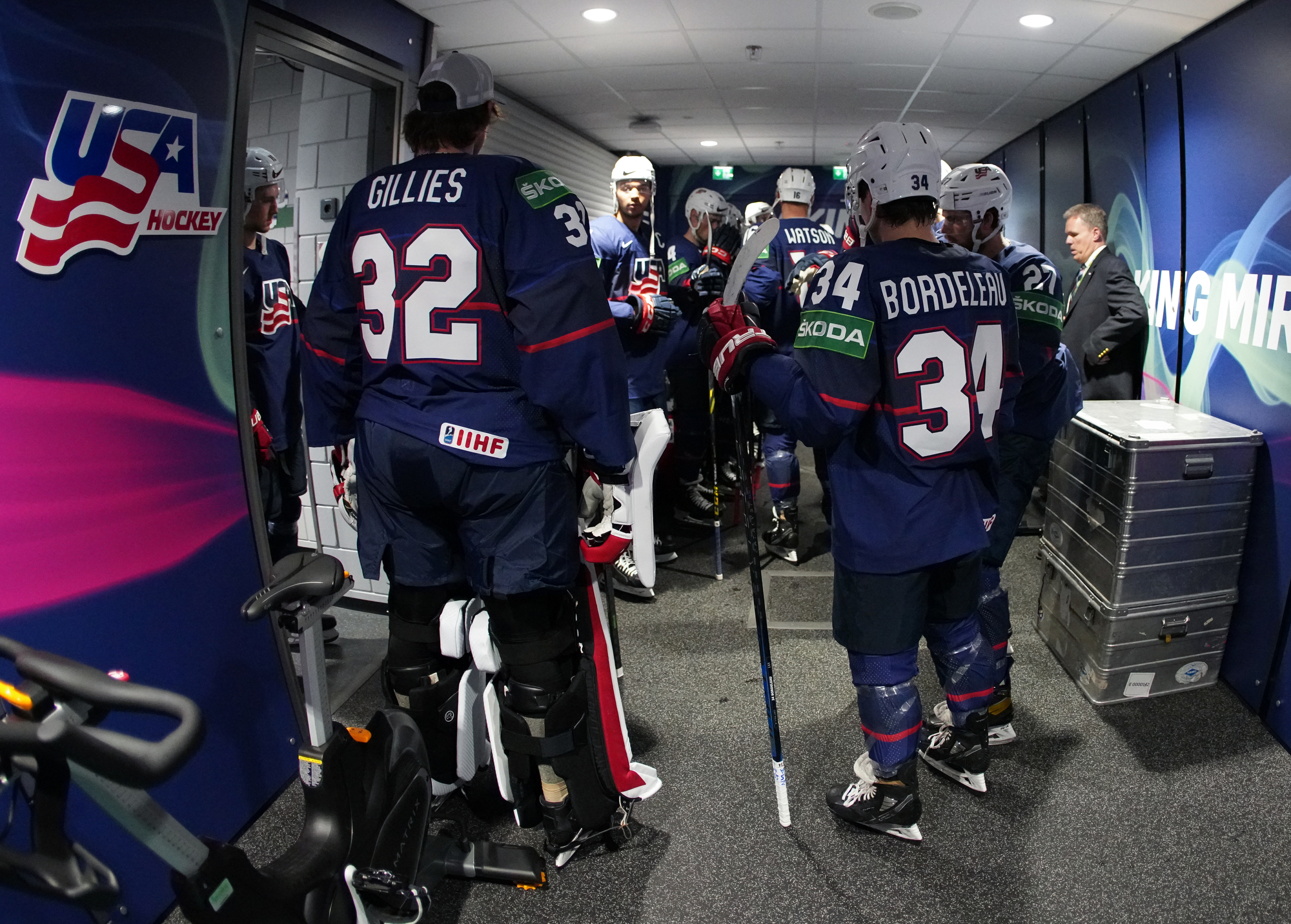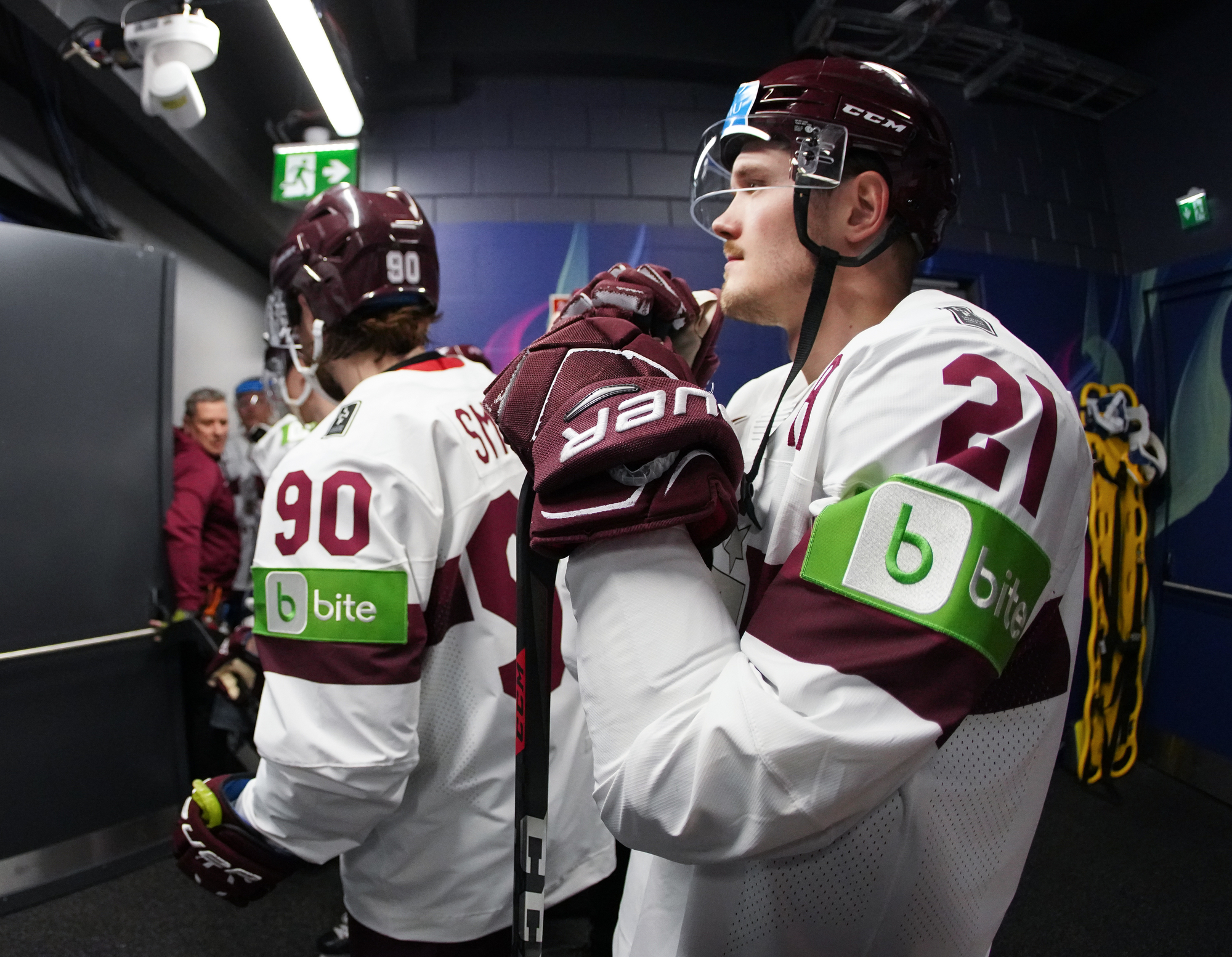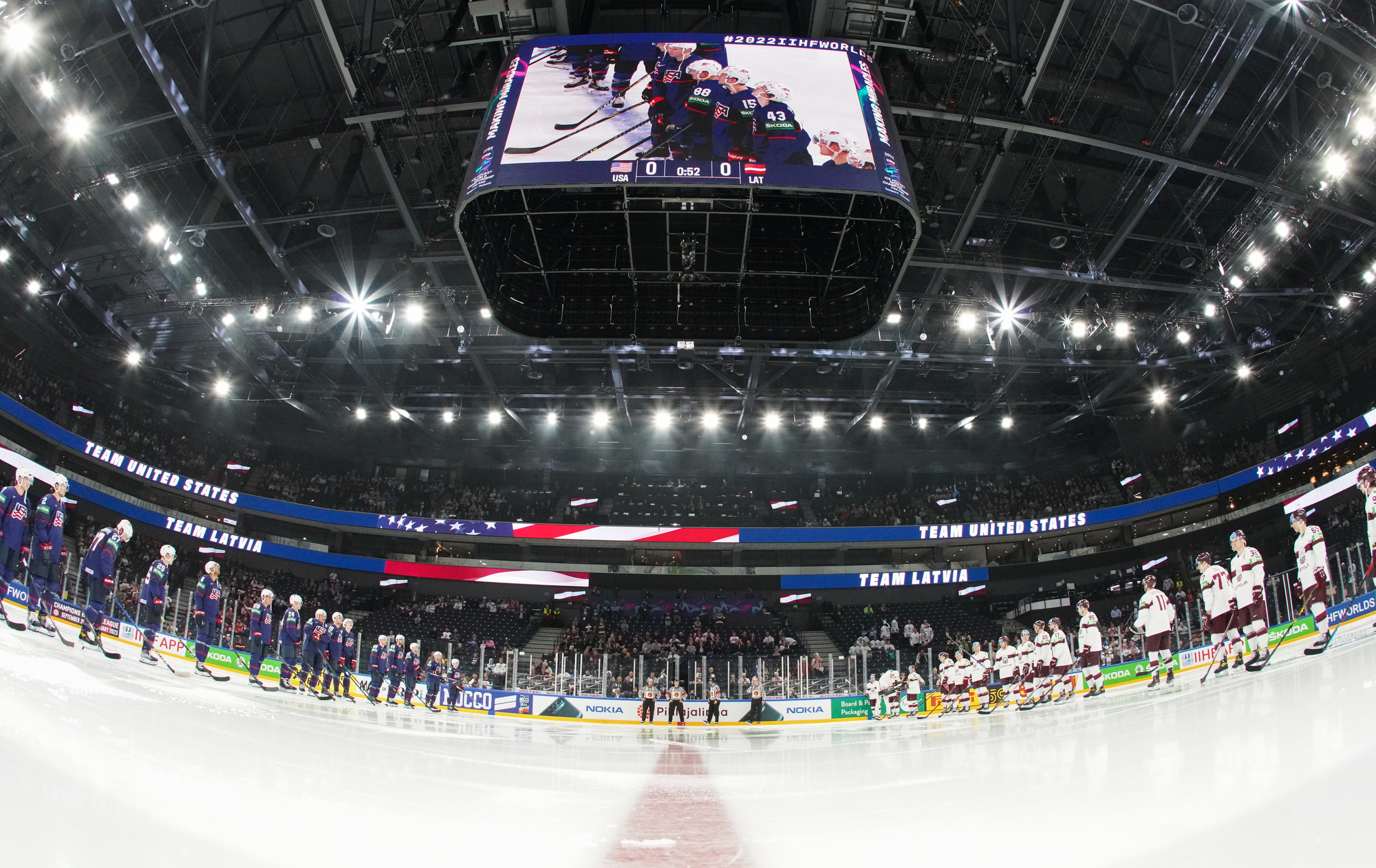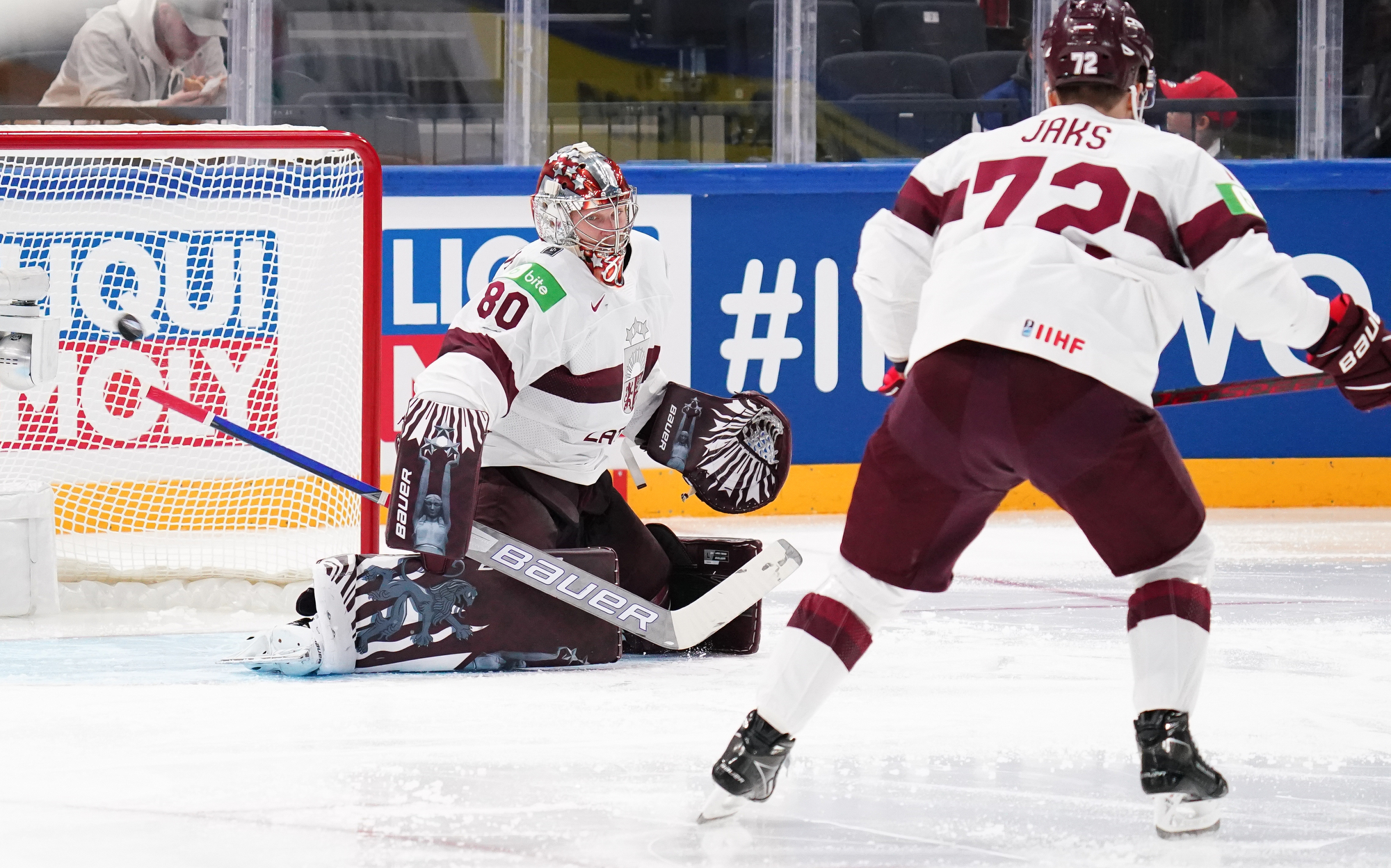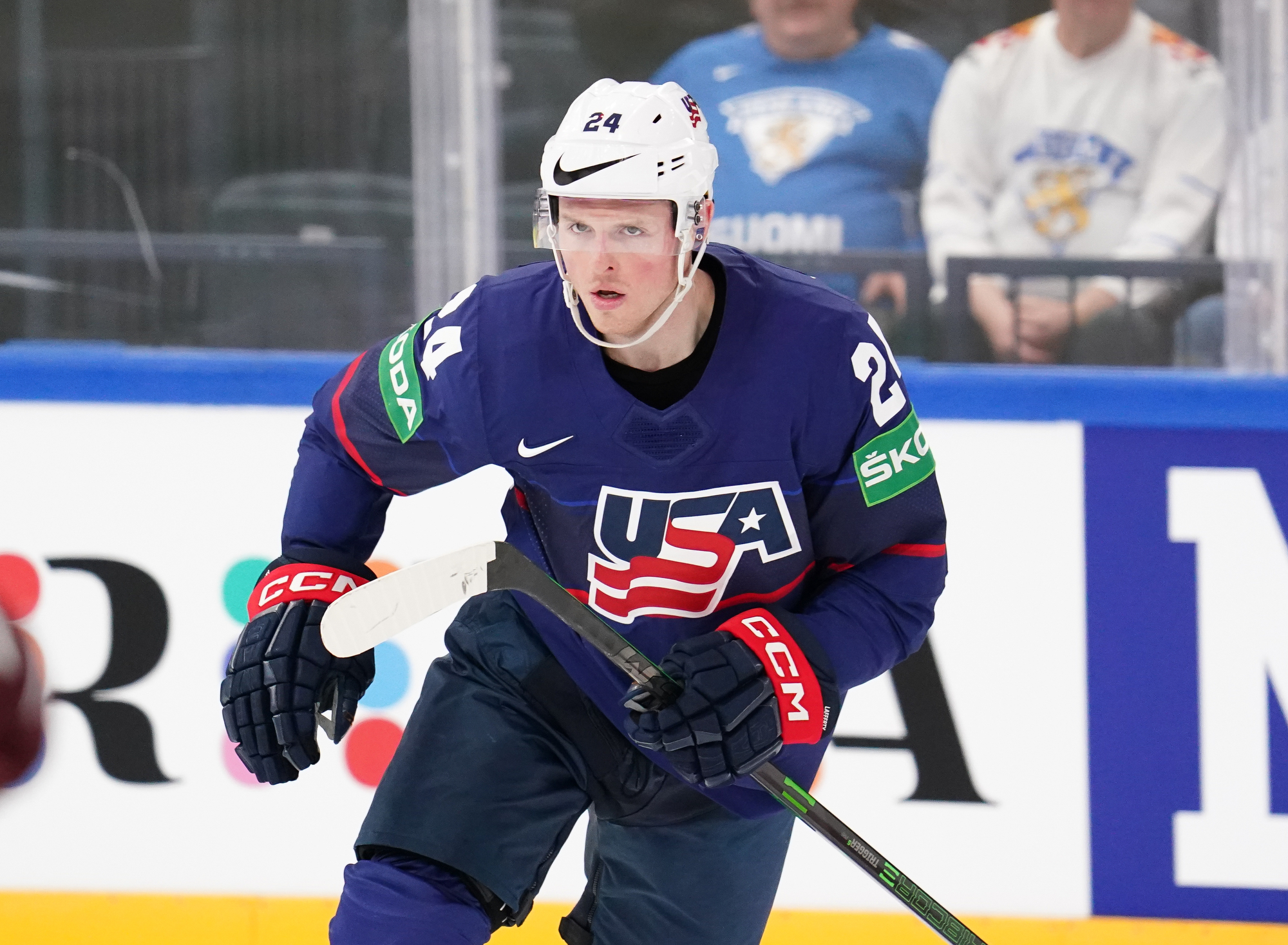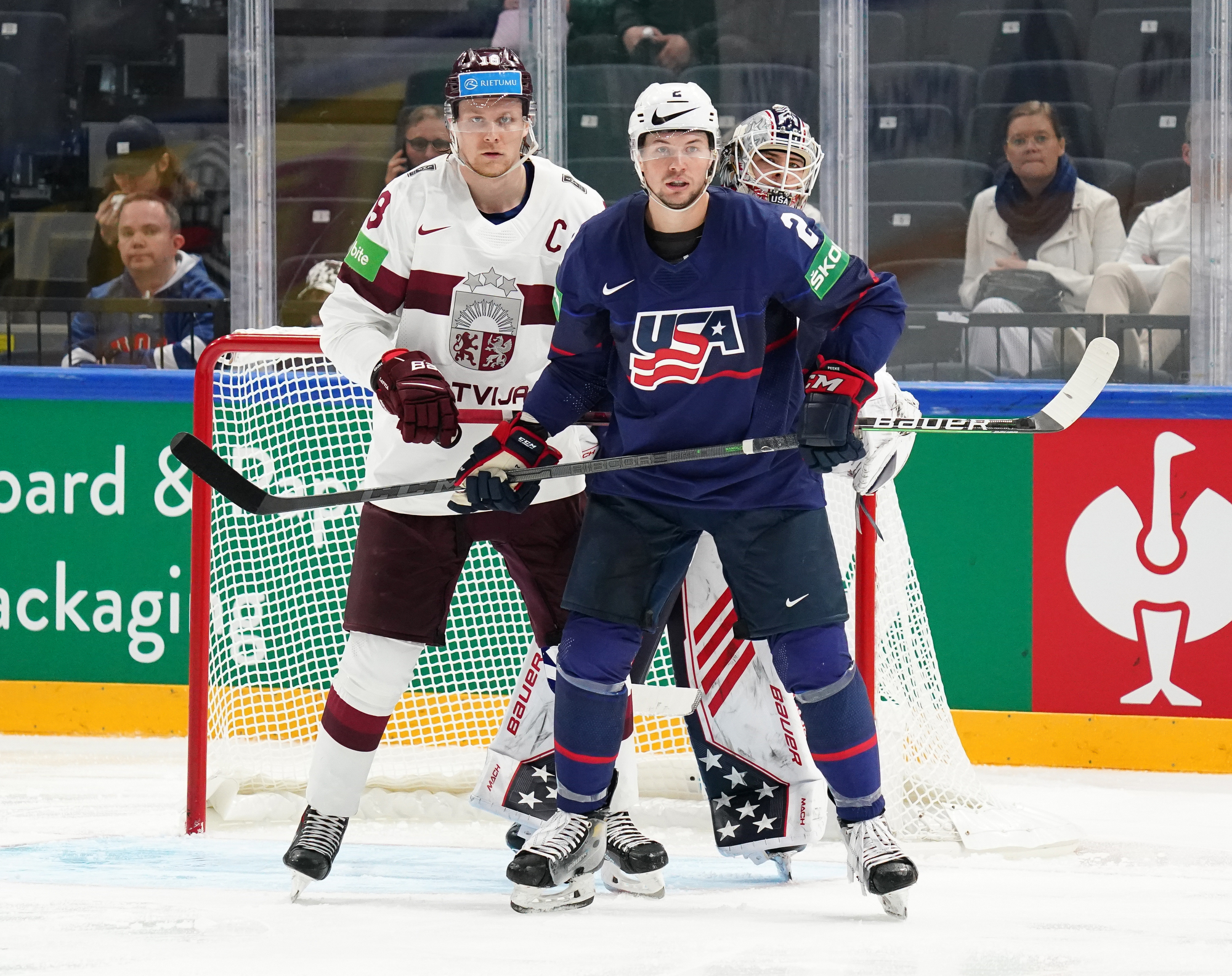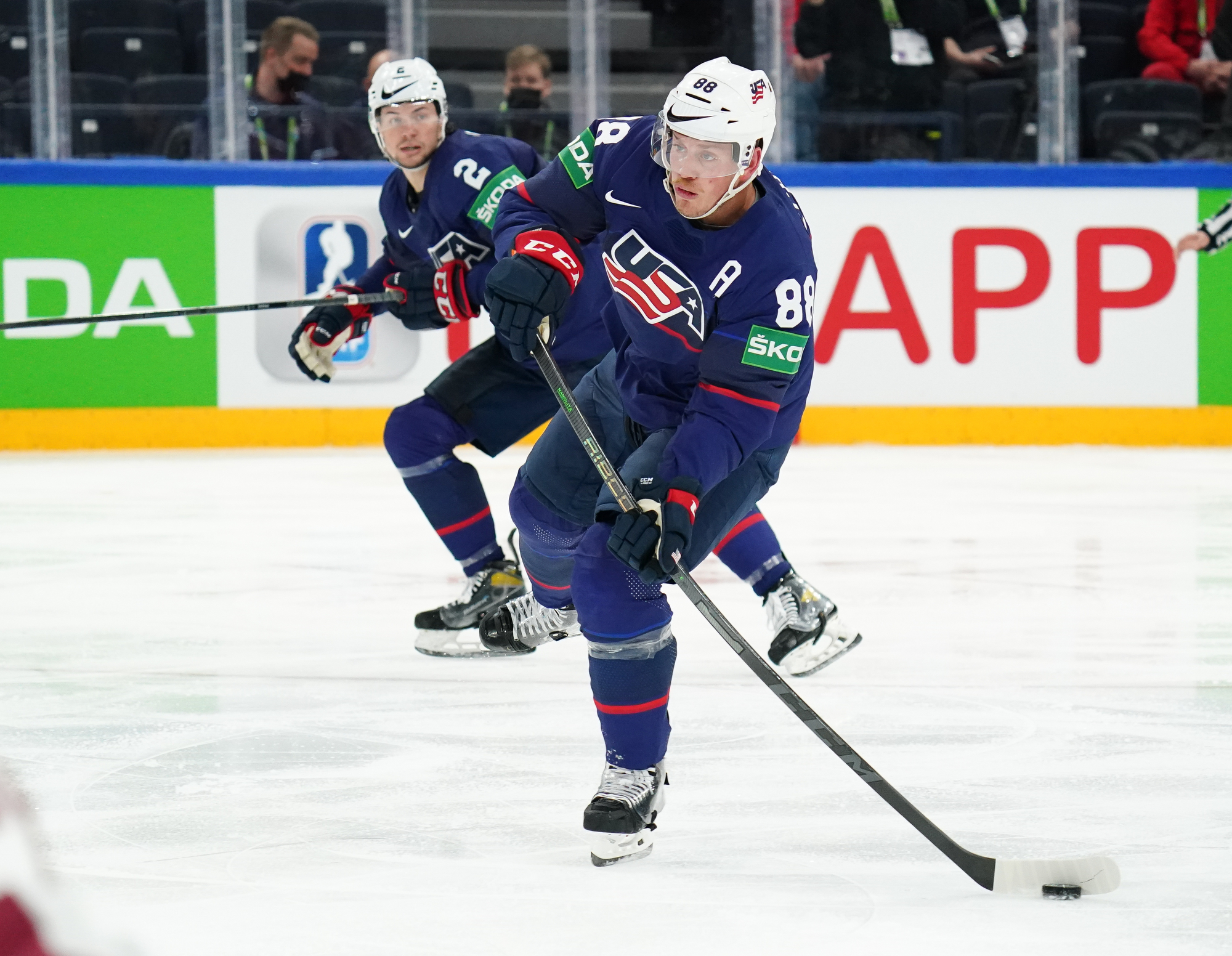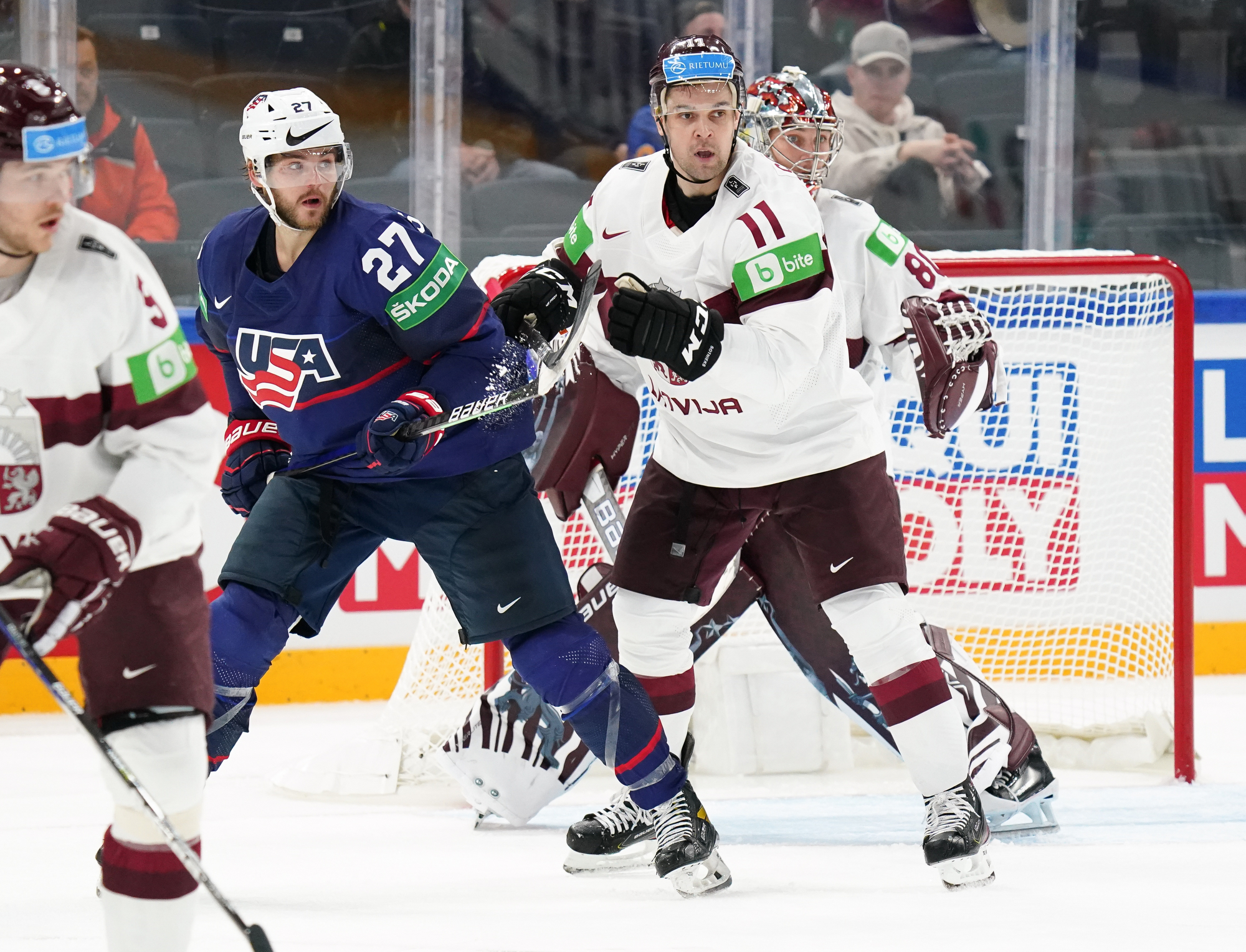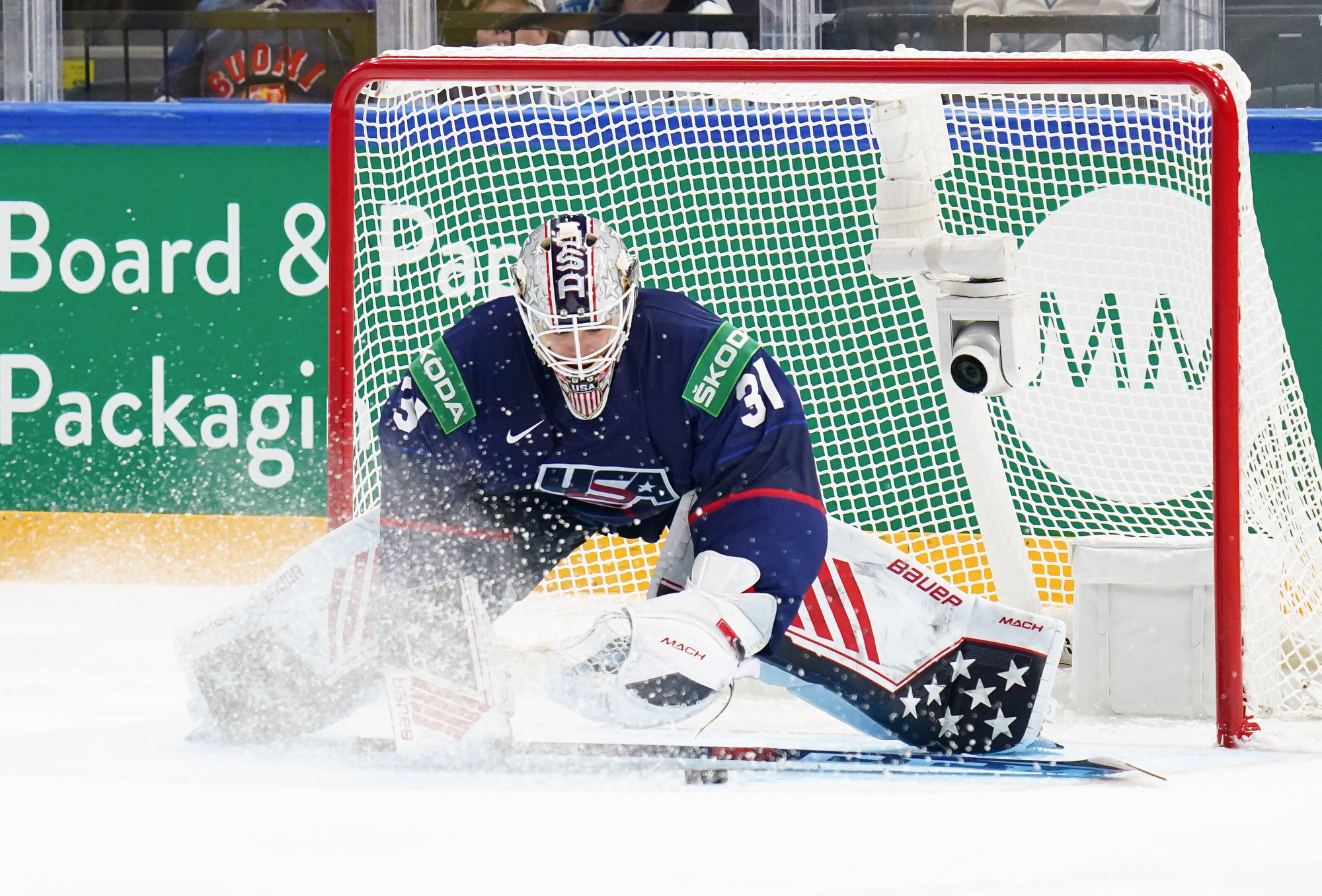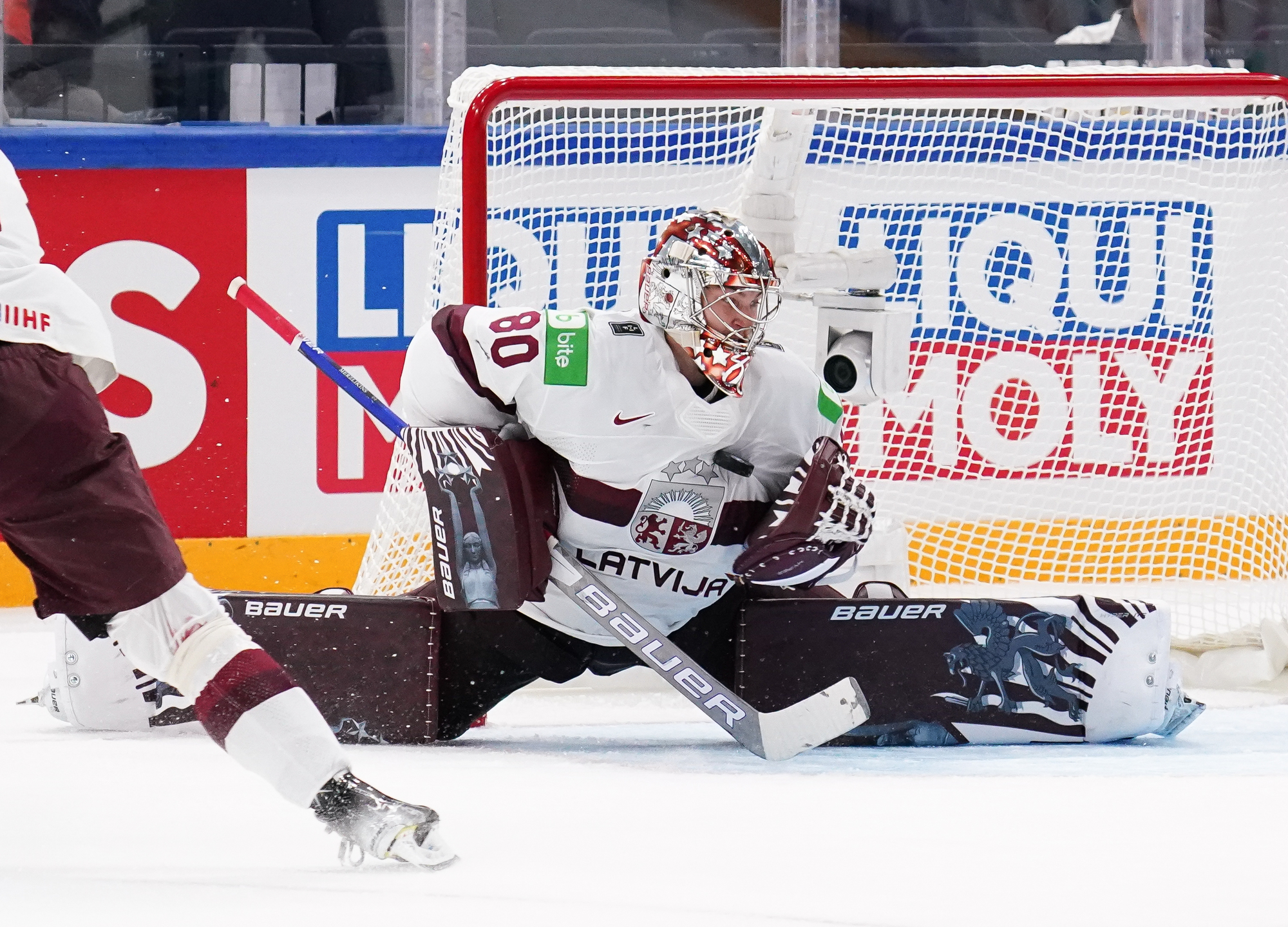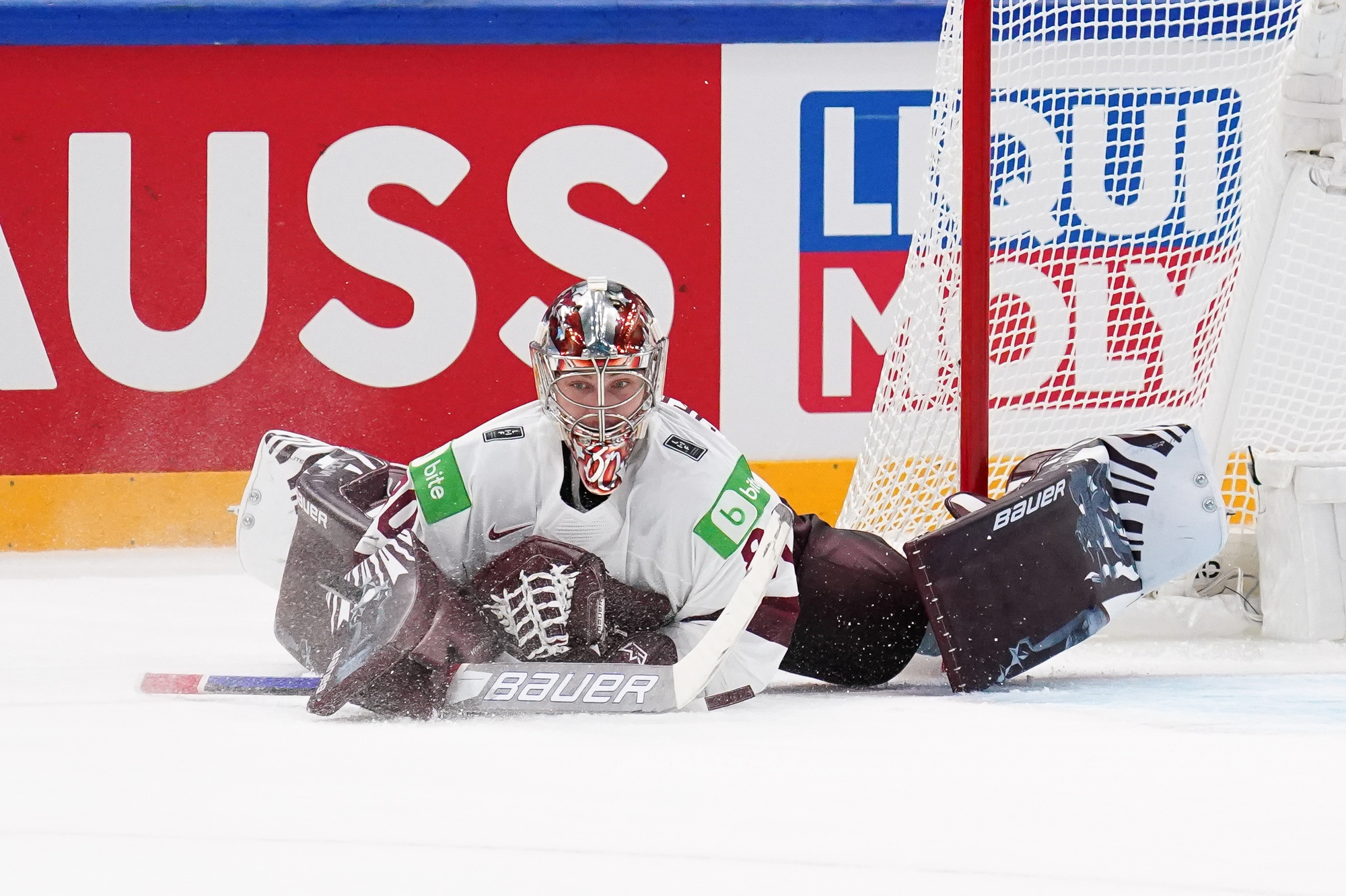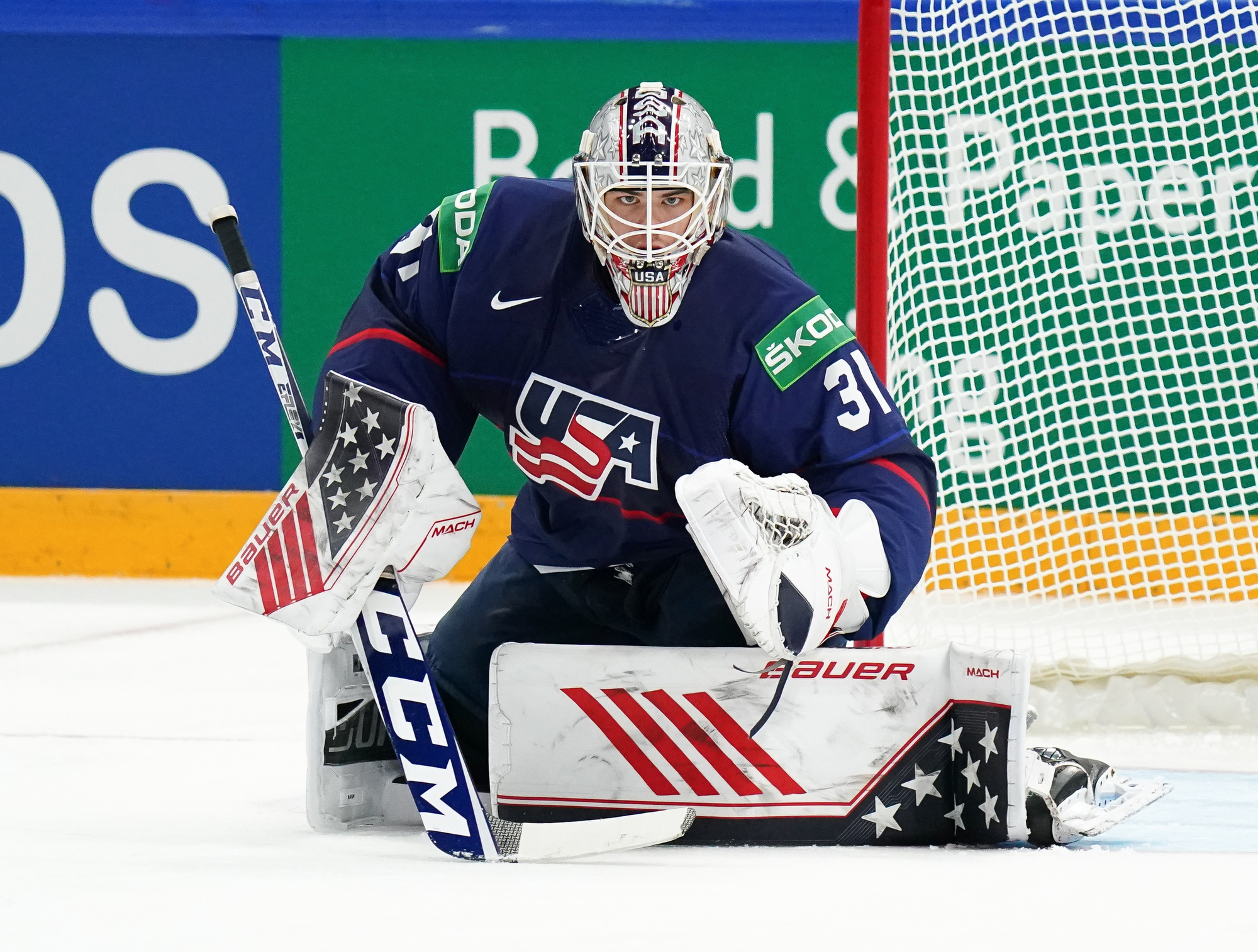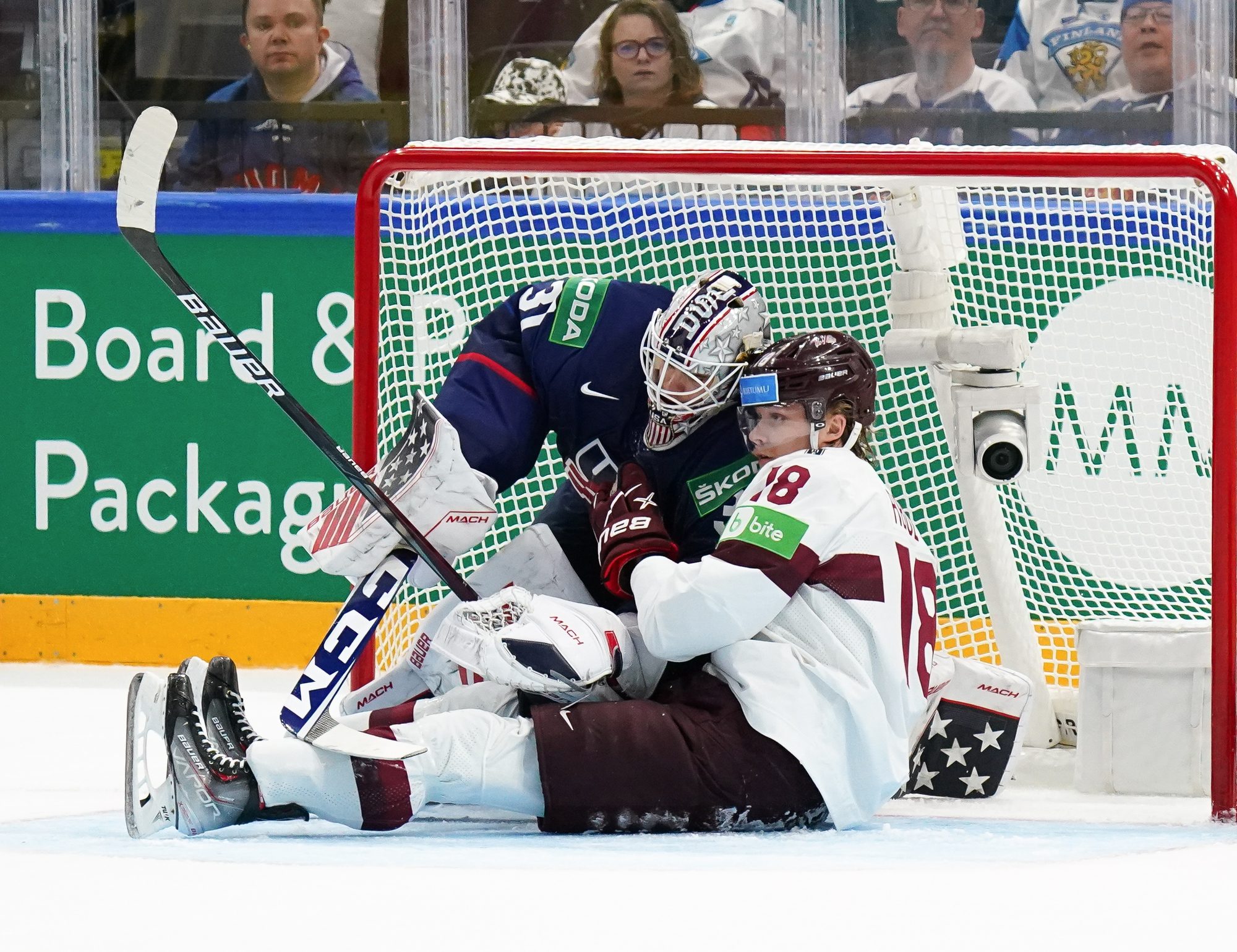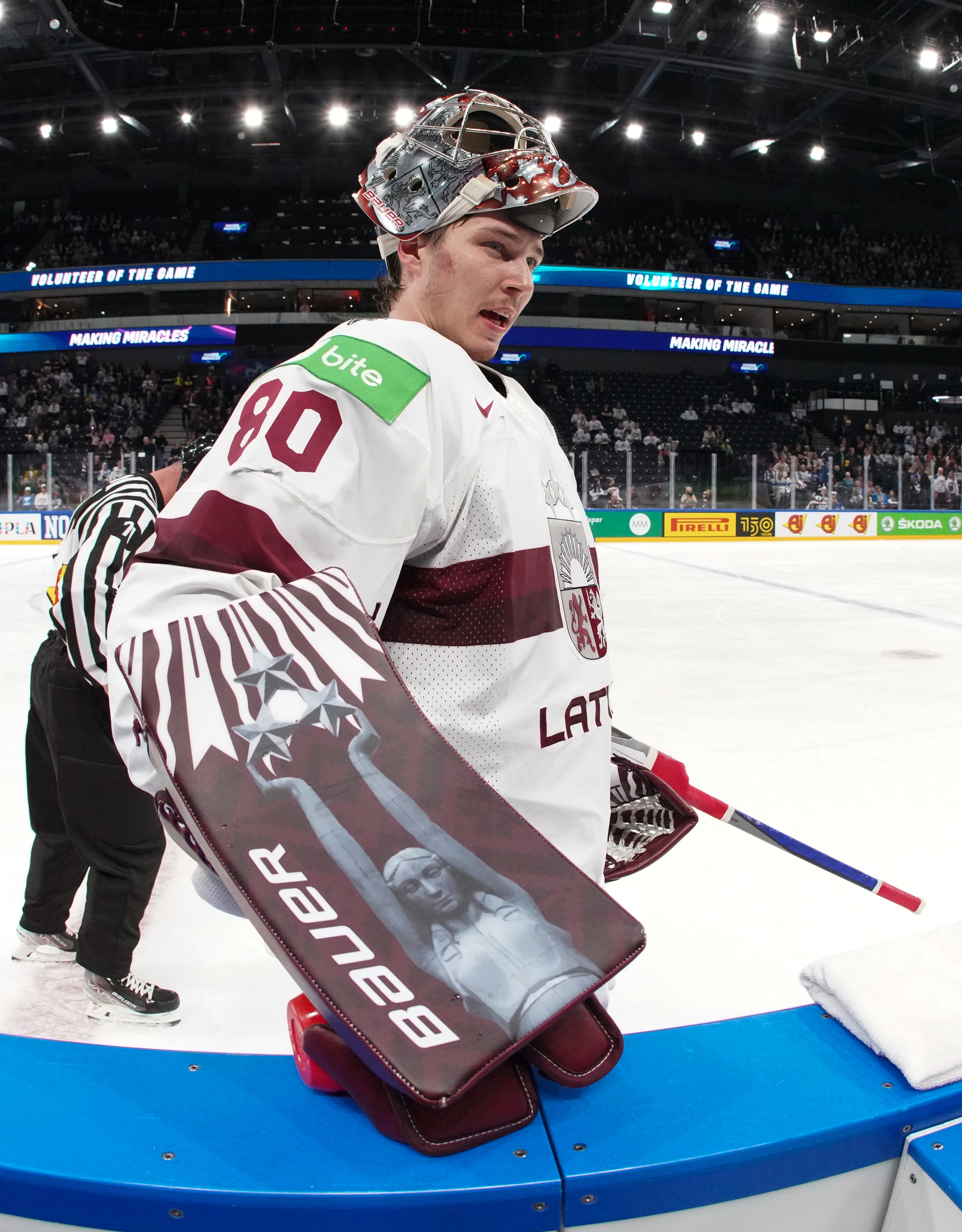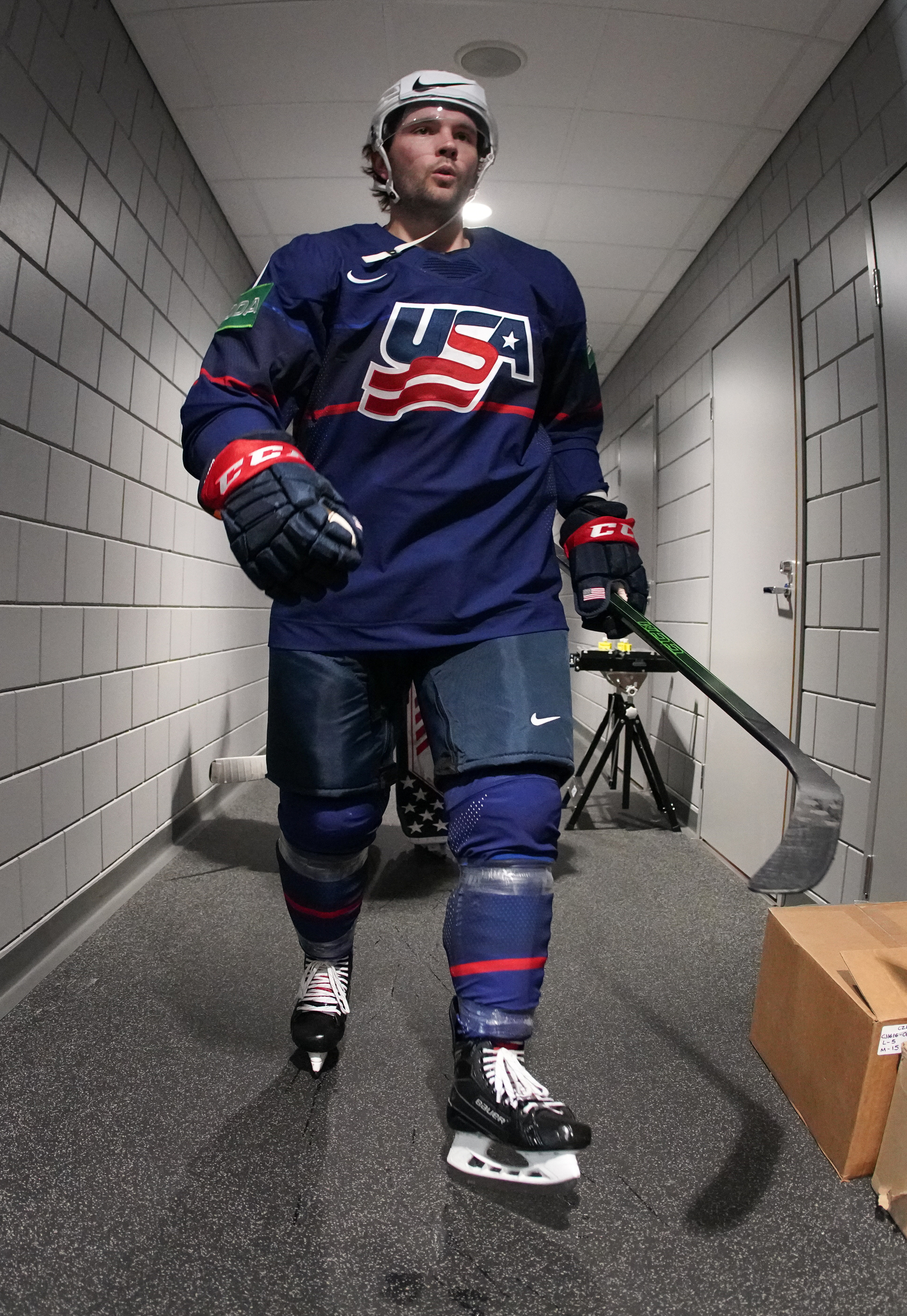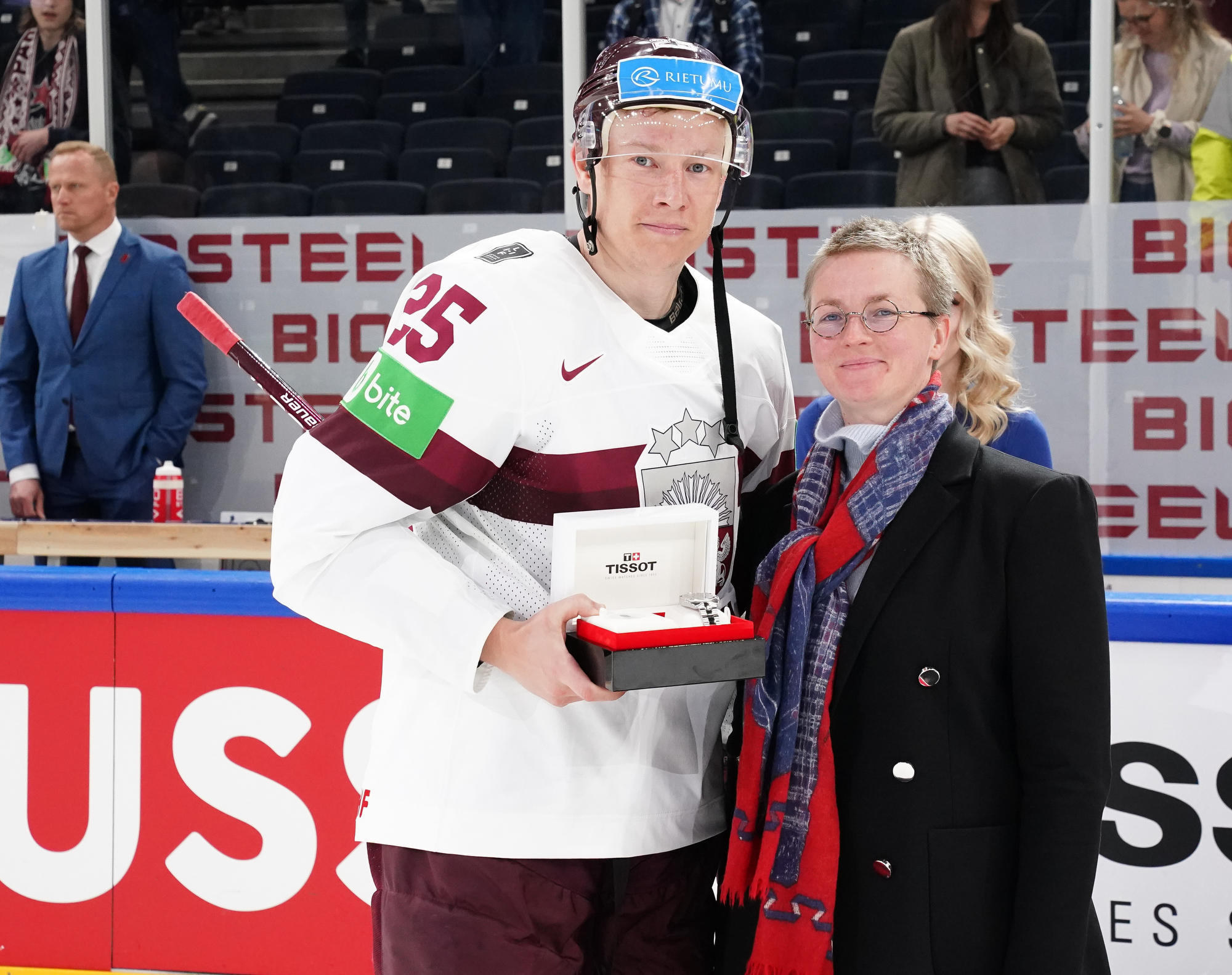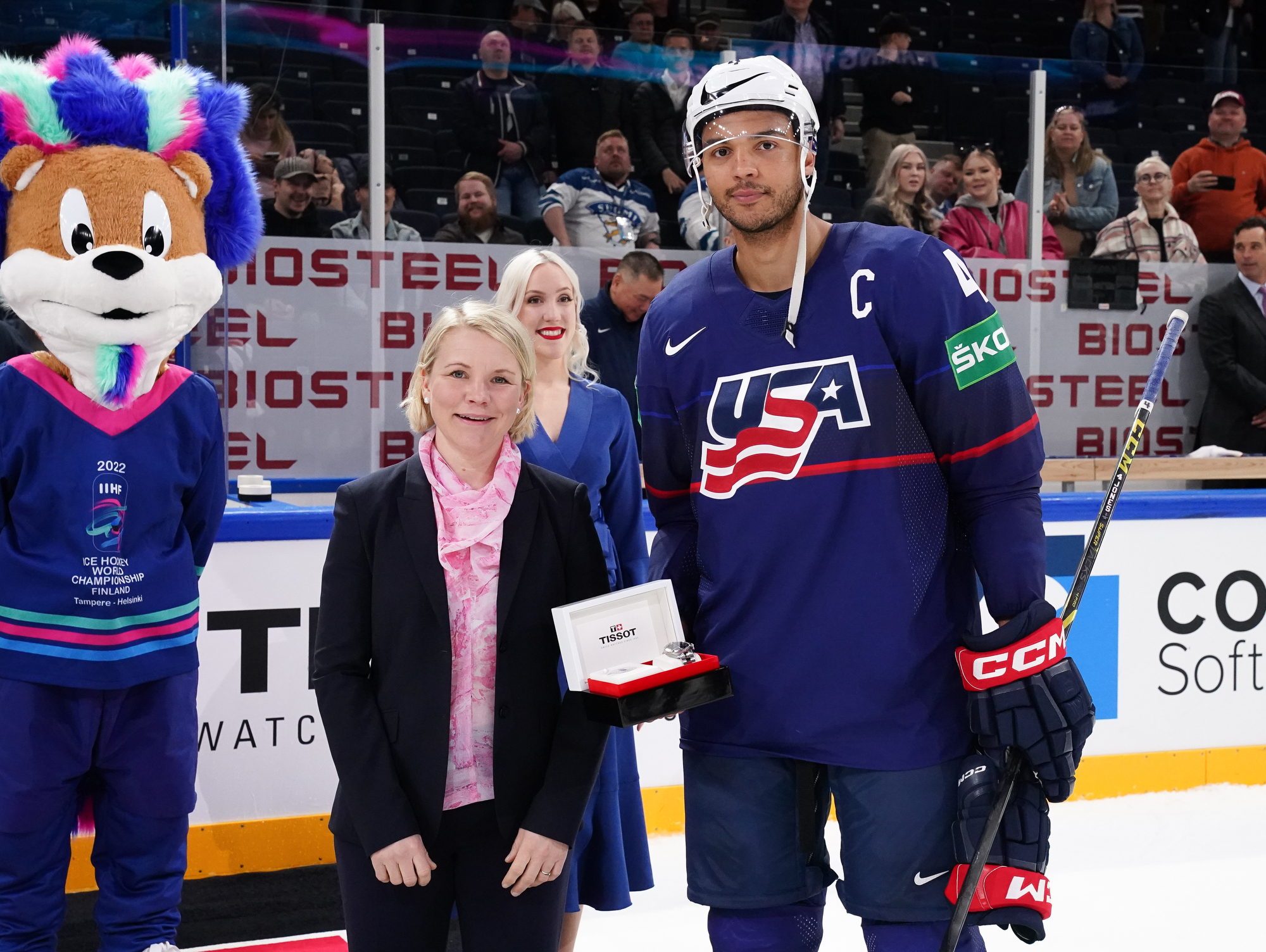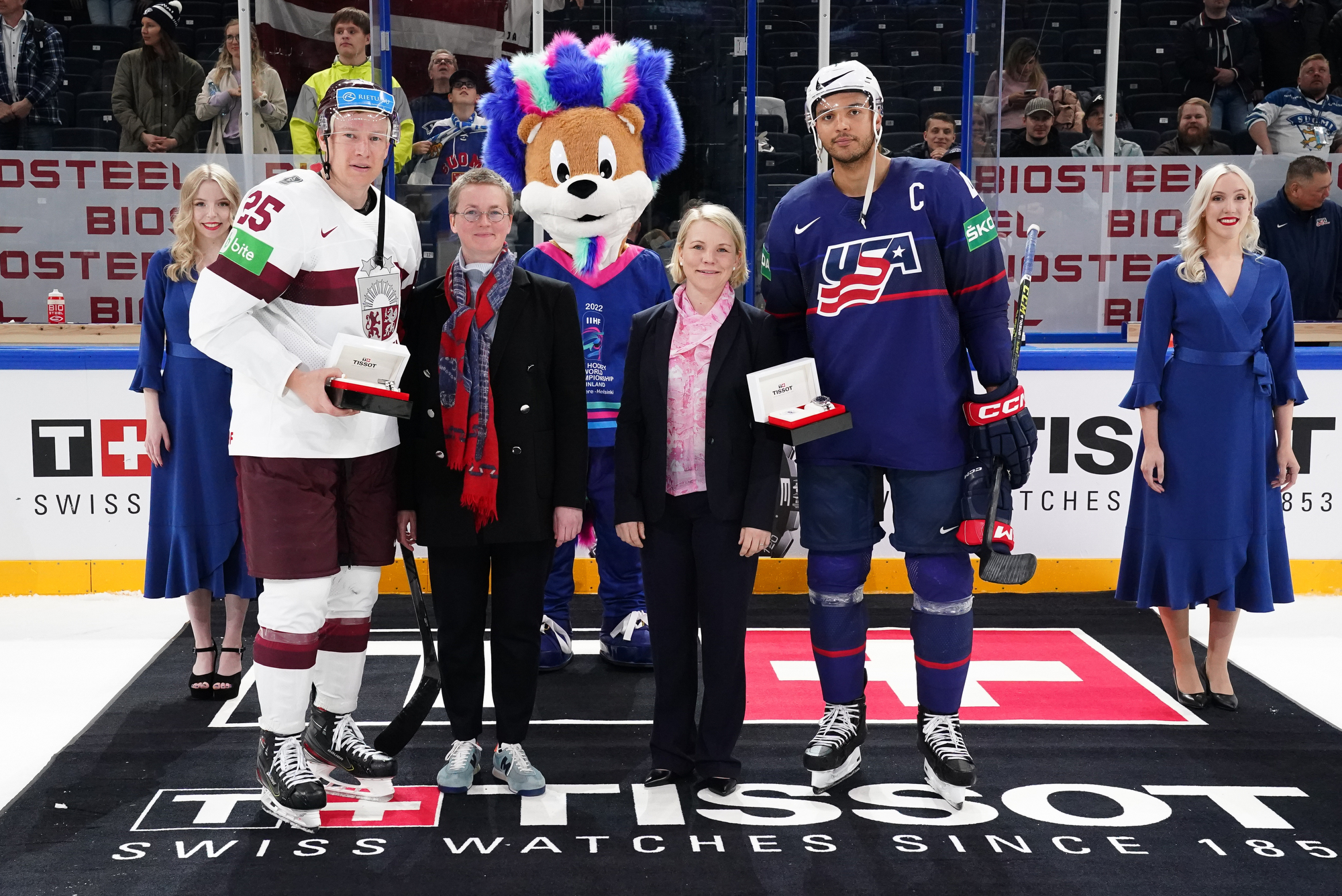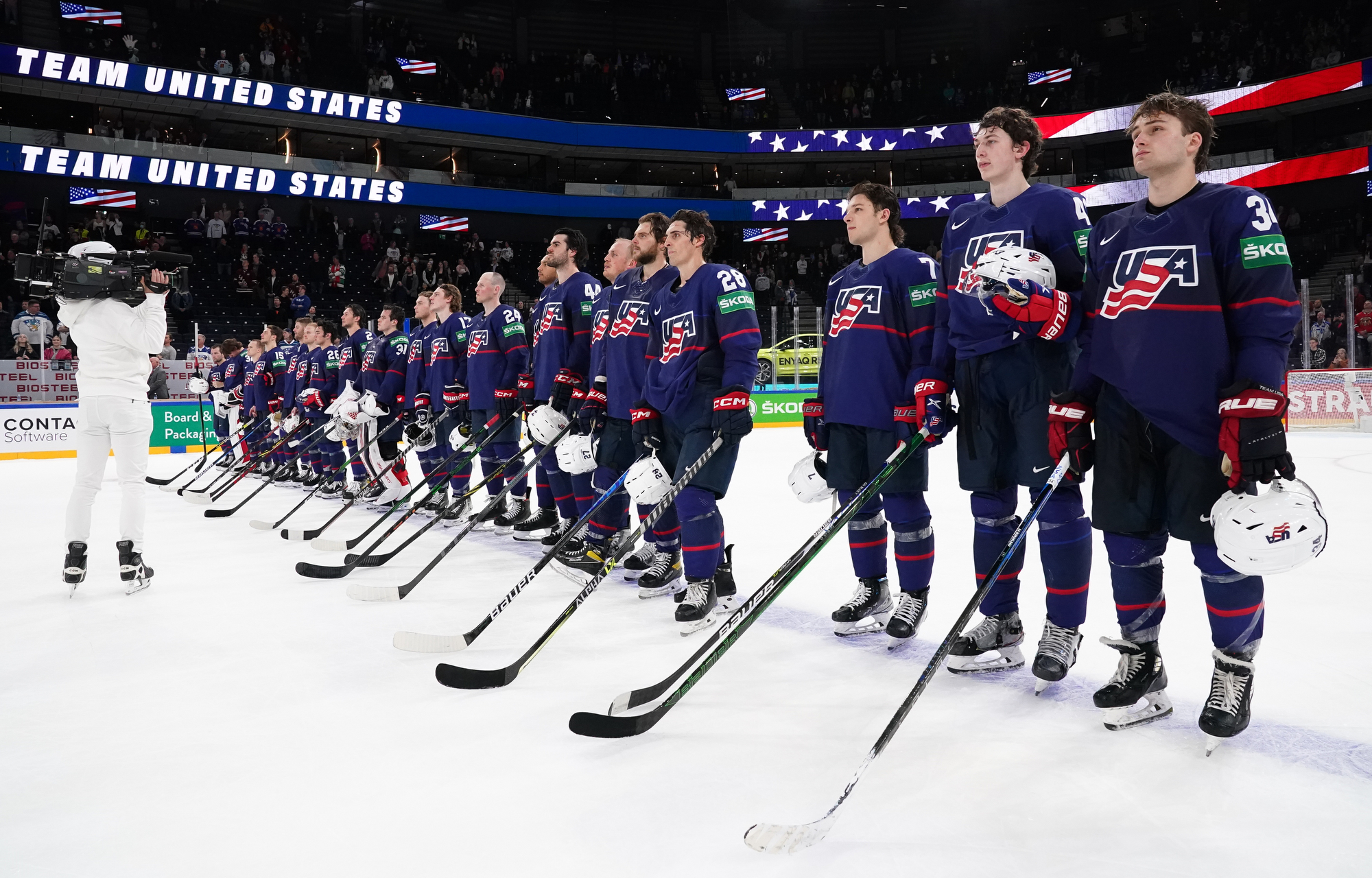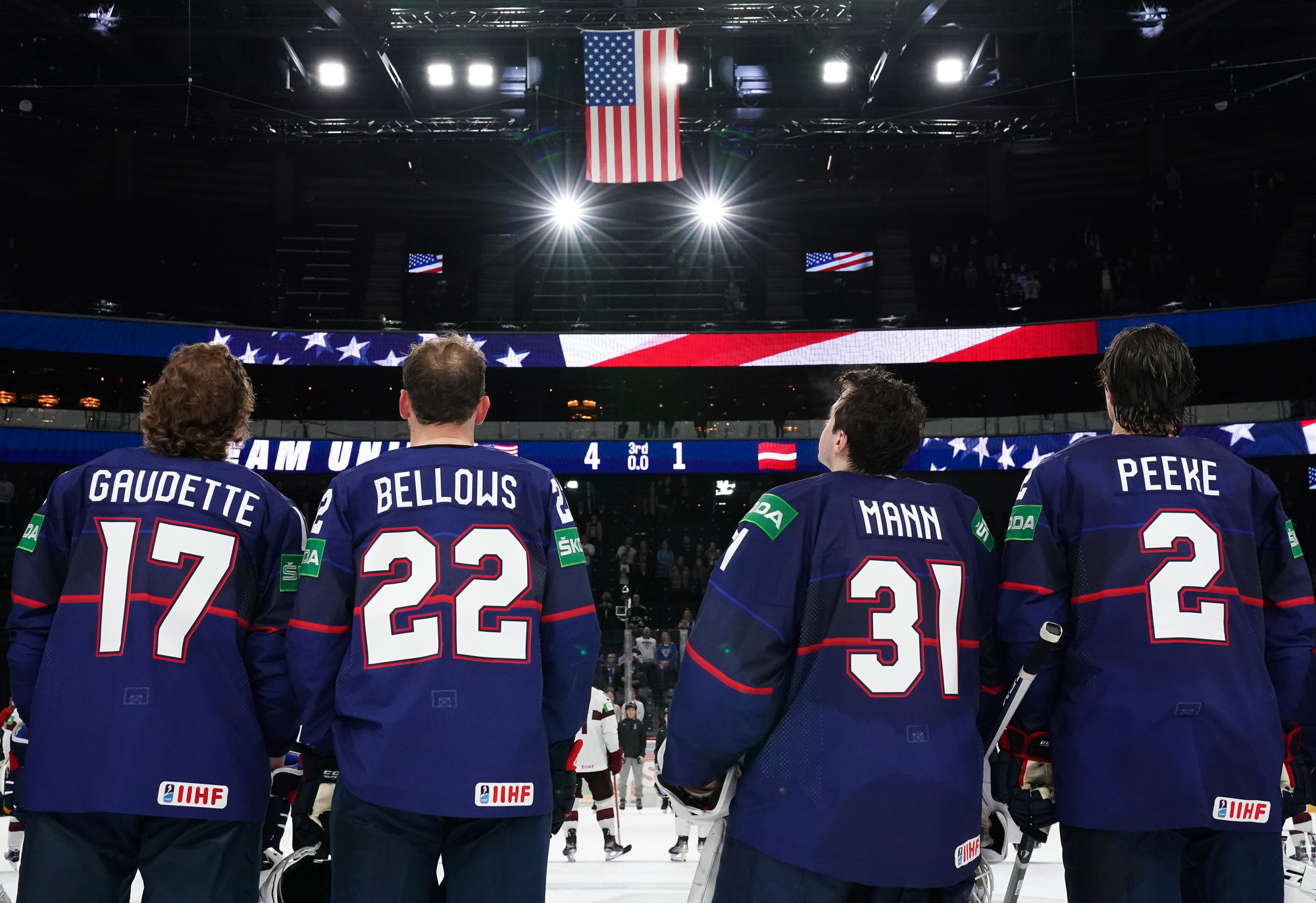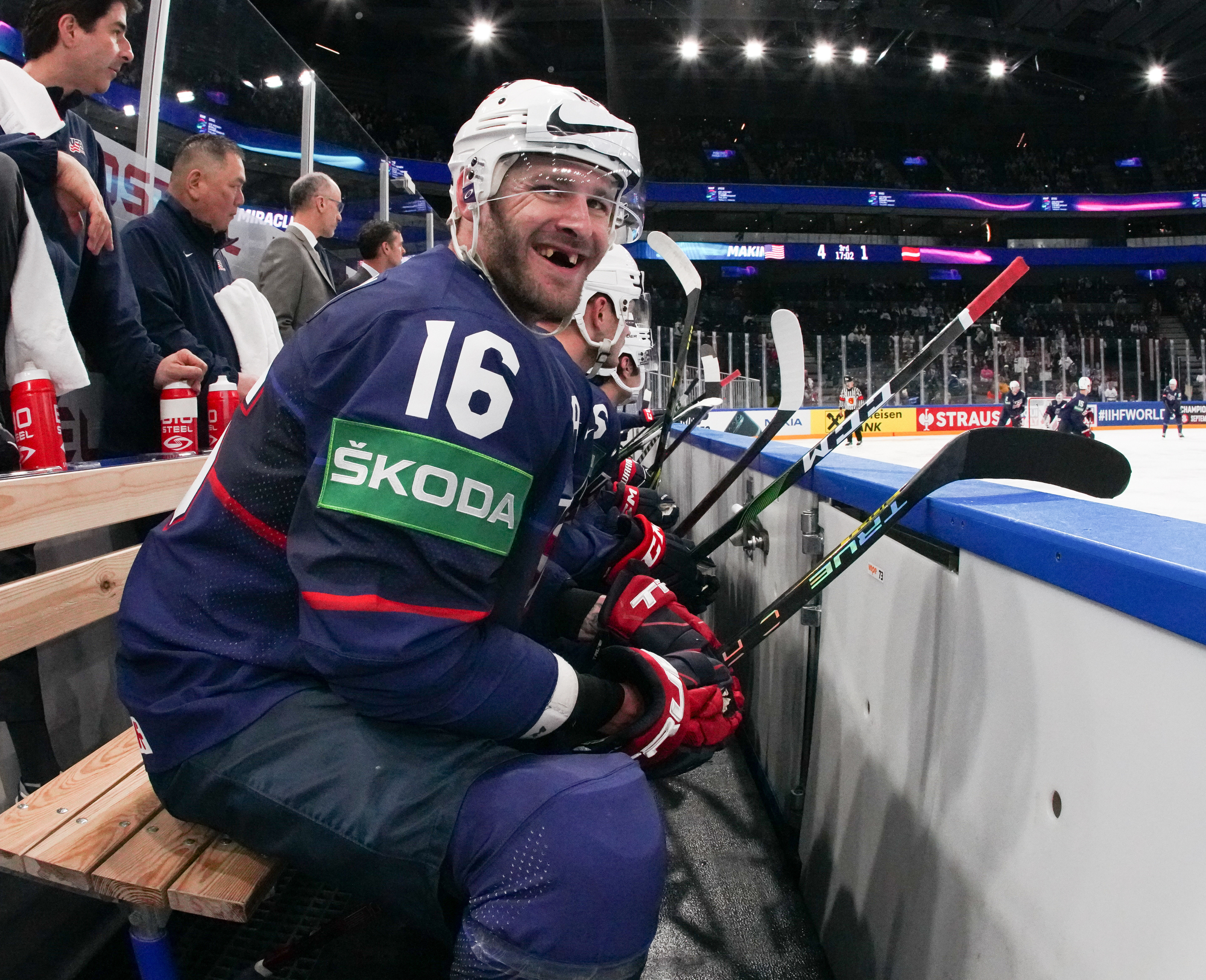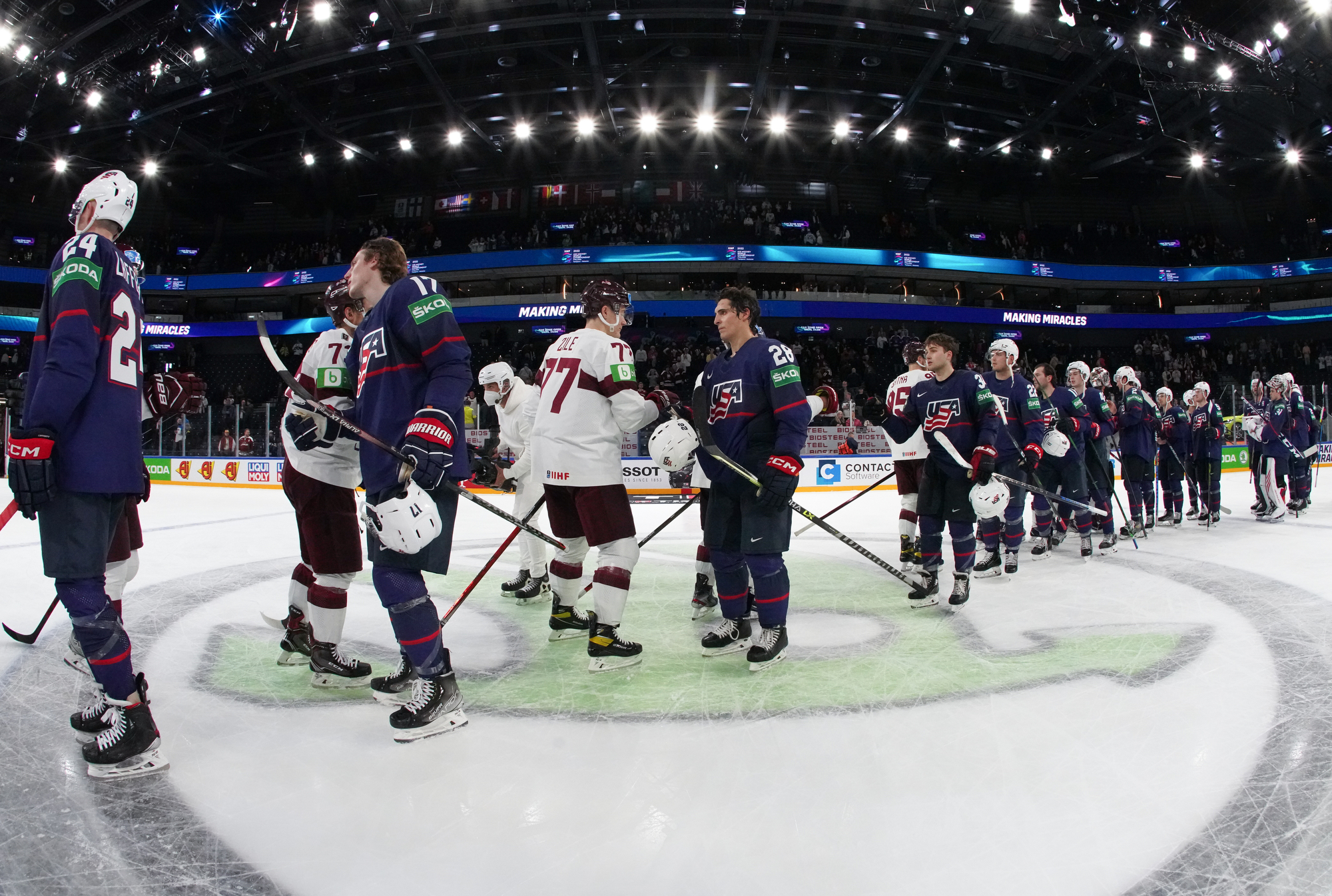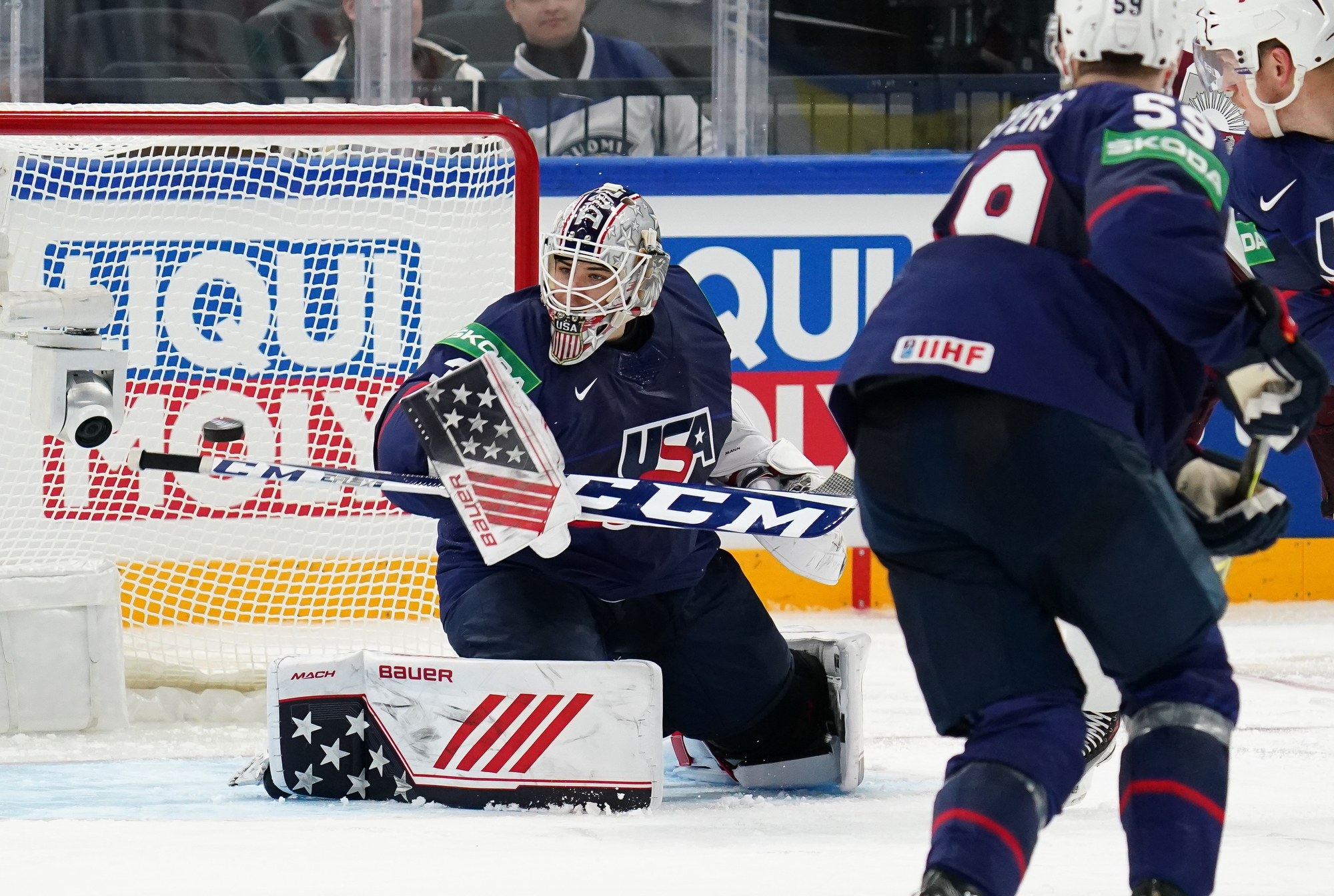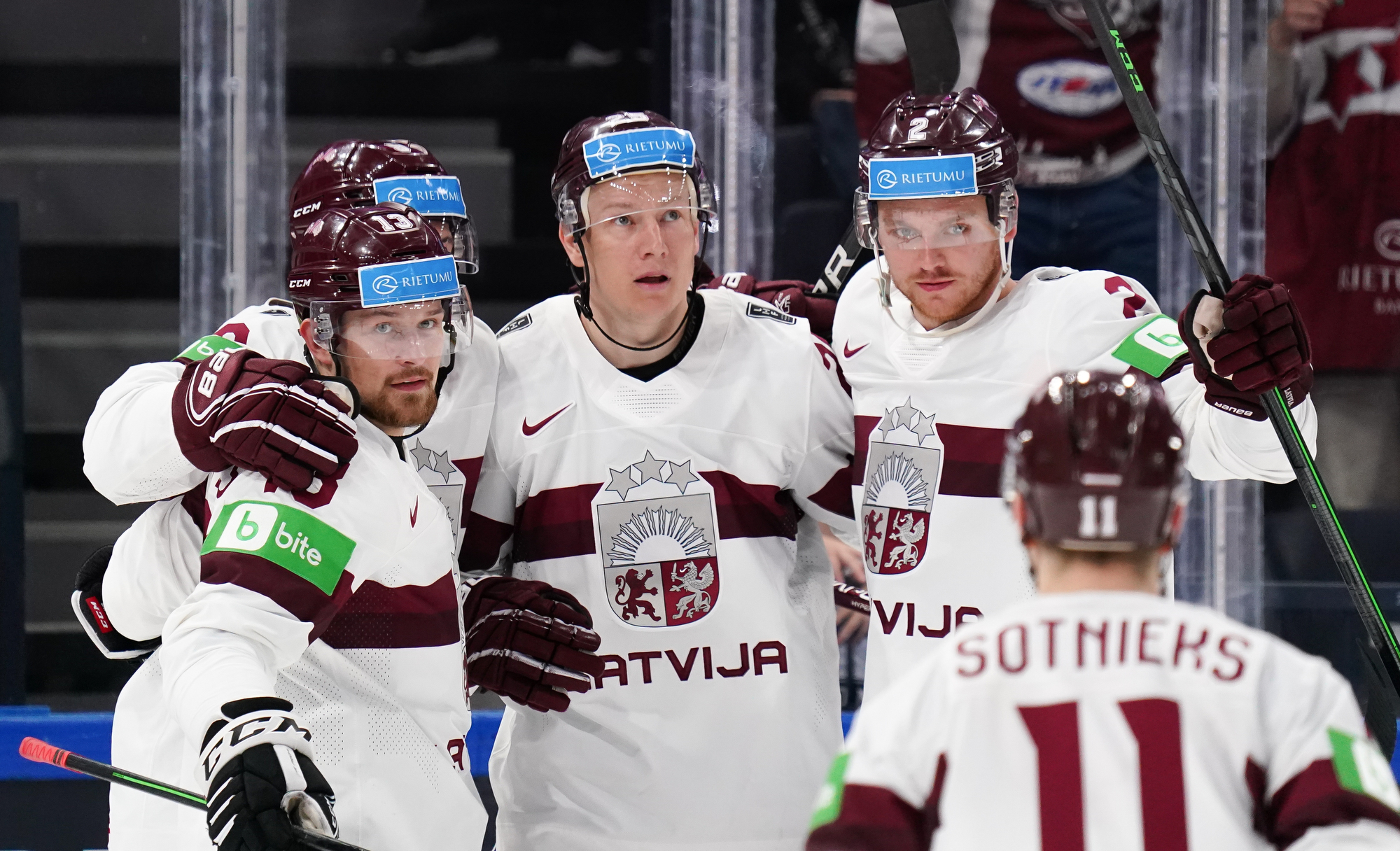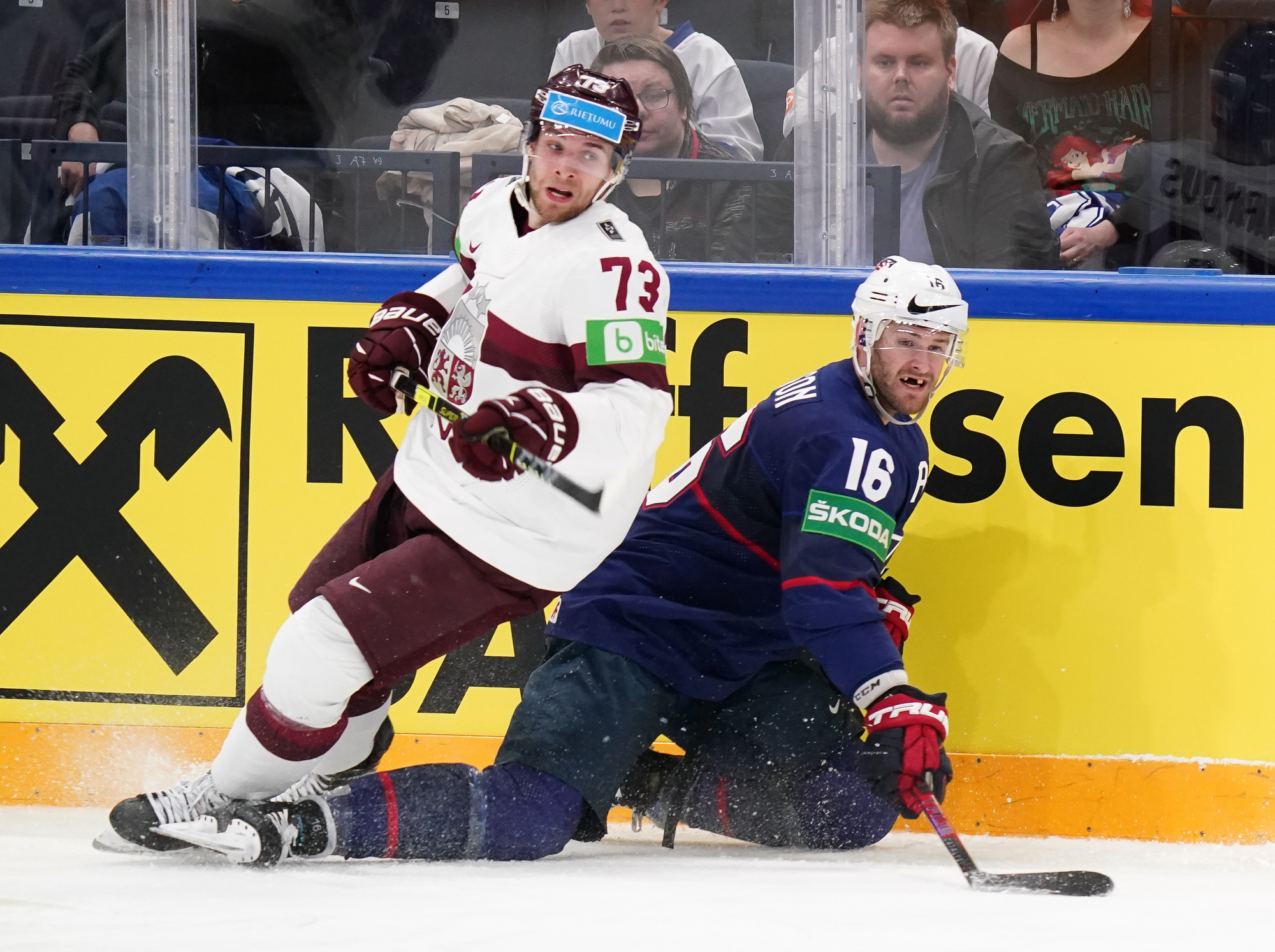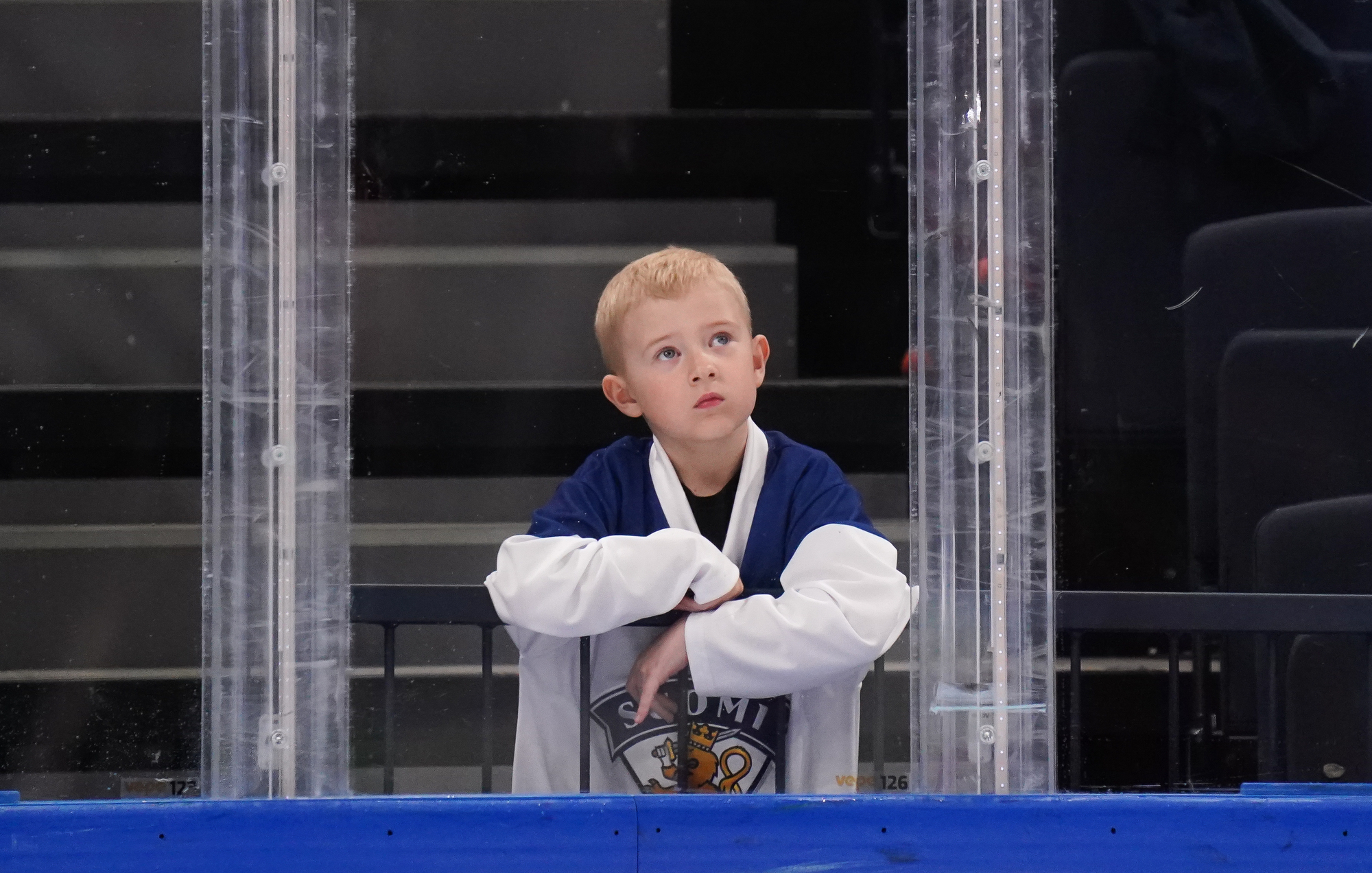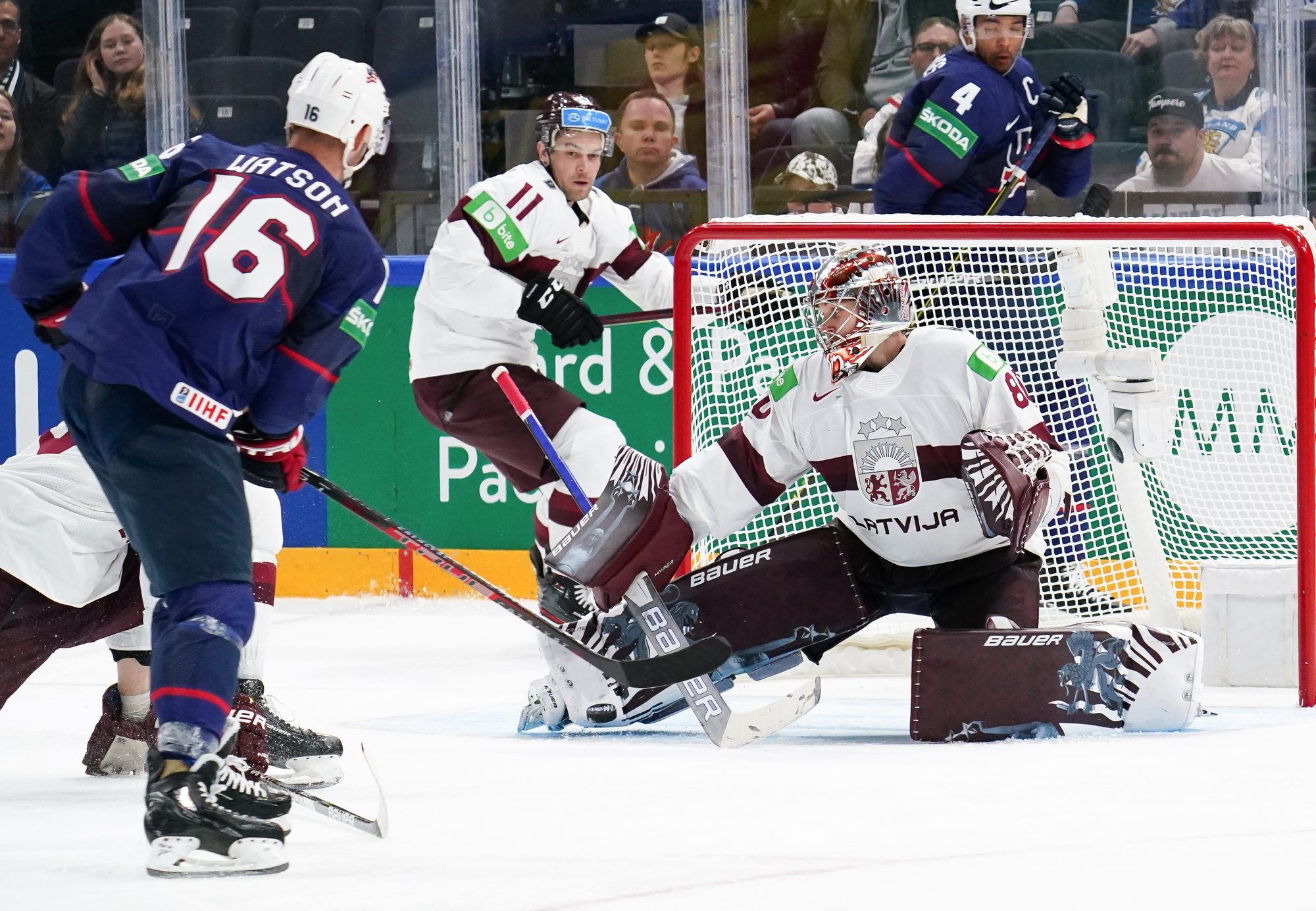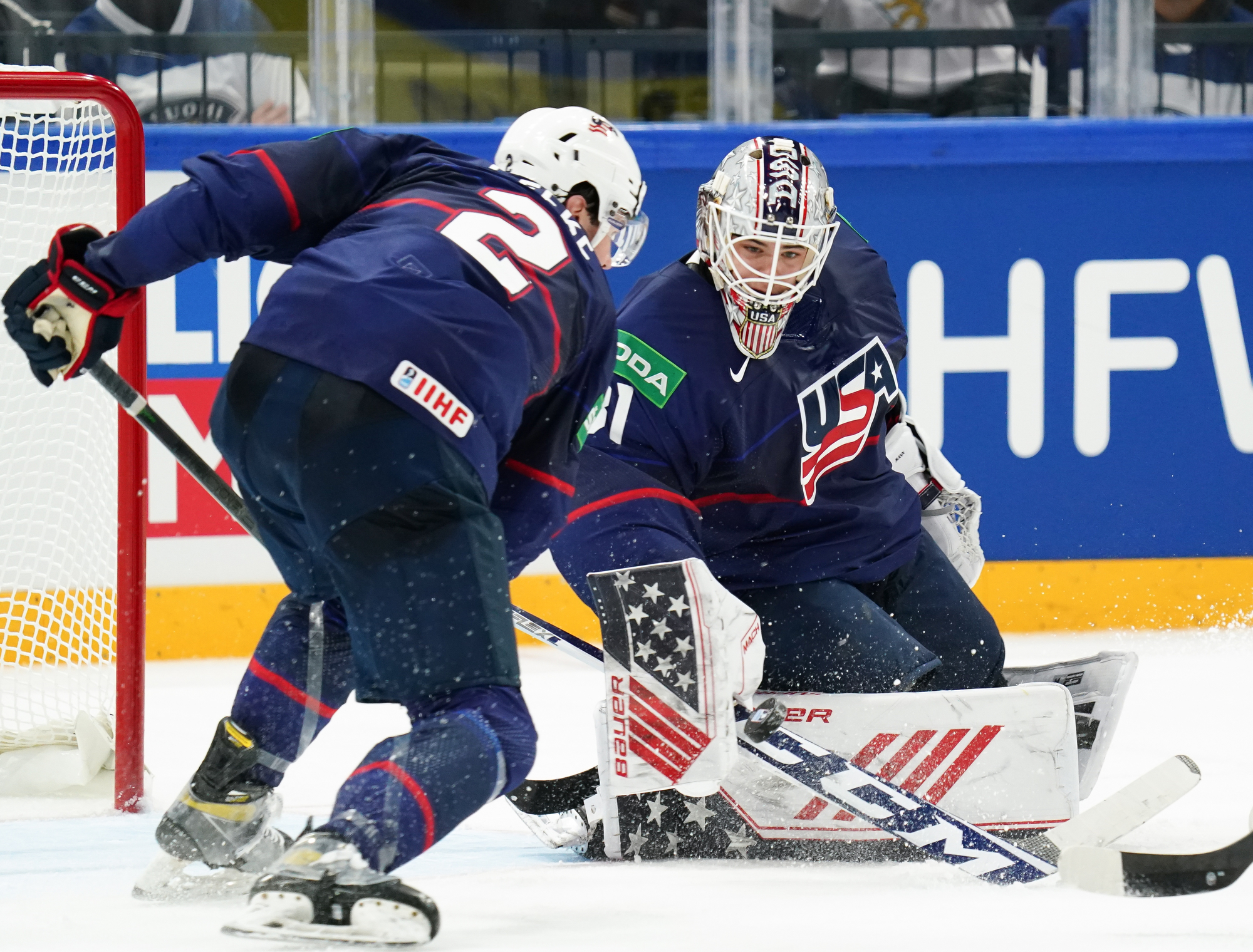 Merzlikins didn't have much of a chance on the USA's first goal, which was double-tipped on the way in, first by the stick of Kiefer Bellows and then the skate of Riley Barber.
Likewise, the Latvian goalie was victimized by an unfortunate tip by his own defenceman three minutes later on an American power play, as Jones' one-timer grazed off the skate of Roberts Mamcics.
"We had a great power play movement, we got a lot of push to the net, tried to get a little crush on them," said Jones. "They got tired and we wanted to keep shooting the puck. We had some action around the net and luckily one squeaked through."
Merzlikins would like the 3-0 goal back, though. With the Latvians given a chance to get back into it on a power play of their own, the Americans broke up the ice shorthanded. Jones passed across to Thomas Bordeleau, who sent a weak backhander along the ice that somehow found its way through the pads.
Latvia's best chance of the opening frame came in the dying seconds when Roberts Bukarts got a breakaway and tried to go five-hole on Mann, but was denied just before the horn.
The Americans went up 4-0 in the first minute of the second period when Sam Lafferty's shot from the right wing went off Merzlikins' blocker and into the top corner.
Two U.S. penalties late in the second period gave Latvia a 5-on-3 for 1:12 that carried into the third. And with just two seconds left in the 5-on-4, Latvia got on the board. Dzerins won the faceoff in the attacking zone and then skated straight to the net unmolested. While Mann stopped Karlis Cukste's point shot, Dzerins was looking at a half-open net to bury the rebound.
"That play has been in our arsenal for a while now," said Dzerins. "We were talking about what we were going to do, and it turned out that the puck bounced right to me."
Overall, Latvia was 1-for-4 on the power play and the USA was 1-for-5 with a shorthanded goal.
"Overall I thought there were a lot of good things to take forward," said Buffalo Sabres forward John Hayden after his first World Championship game. "Any time you only have a few days with linemates and special teams it's important to get chemistry. We had a decent amount of special teams tonight so it was good to get some chemistry there. On the kill we had great sacrifice from the guys. That 5-on-3, I think it was Megs (Jaycob Megna) with a huge block and on the power play we started the tournament with good chemistry."
The Latvians continued to press hard and registered the first seven shots on goal of the third period, although their first great chance to draw closer wasn't even an official shot. With 12:30 to play, captain Rodrigo Abols made a nifty move at the blueline to beat an American defenceman and skated in alone on Mann, but whistled a shot just wide of the far post.
On the Latvian team, U.S. alternate captain Austin Watson said: "The detail to their game, the structure to the game, the buy-in, they played in a five-man group up and down the ice and when any team is prepared to buy into the system like that it makes it difficult to play against. There was no easy ice out there, it was a battle from start to finish so (we give them) tonnes of credit."
"We played a decent game and got some chances, but we had a few too many mistakes early on when they pressured us. They're a really strong team," said Latvian head coach Harijs Vitolins. "The good thing is that the guys continued to play in the third period, even though we could have easily packed it in, we fought till the end. Maybe they let up a little bit, but we played our game."
But 4-1 was as close at Latvia would get. Latvia is right back in action tomorrow night against host Finland, while the USA gets a day off and faces Austria on Sunday.
"Maybe there will be a bit of fatigue from playing back-to-back, but the Finns will also have two in a row," said Vitolins. "The stands will be full and it will be another test for us. If the Americans here are young and fast, now we face the Olympic champions with experience."