The list of participating ice hockey teams at the upcoming Olympic Winter Games is complete with the Czech, Swedish and Danish women's national team qualifying for Beijing 2022. A record number of 22 ice hockey teams will play at the next Olympics.
Denmark will first time play Olympic ice hockey and made it even in both men's and women's ice hockey. Also the Czech women's national team made it to the Olympics for the first time while Sweden has qualified for every Olympic women's ice hockey tournament since the first edition in 1998.
The
Czech Republic
beat Hungary 5-1 for the top spot in their qualification group on home ice in Chomutov while
Sweden
edged France 3-2 in front of their home crowd in Lulea.
Denmark
won the tightest group in Fussen where after two wins they needed one more point in their last game against host Germany and did so in a 3-2 shootout loss.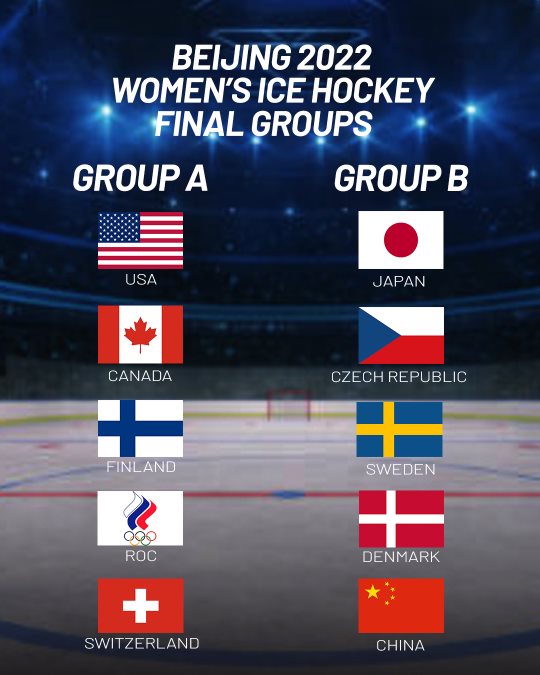 Seeded according to the 2020 IIHF Women's World Ranking, the top-five teams USA, Canada, Finland, ROC and Switzerland will play in Group A of the two-tiered preliminary round. Group B will consist of Japan, the Czech Republic, Sweden, Denmark and host China. The Group A teams and the top-three Group B teams will play in the quarter-finals.
The
Olympic women's ice hockey tournament
will be played in Beijing from 3 to 17 February 2022 and the
Olympic men's ice hockey tournament
from 9 to 20 February 2022 at the 18,826-seat National Indoor Stadium and the 14,614-seat Wukesong Sports Centre.