Due to various health concerns and travel restrictions as a result of the ongoing coronavirus (COVID-19) crisis, the IIHF Council has agreed to postpone the Men's Final Olympic Qualification Tournament to August 2021.
The decision means that the Men's Olympic Tournament Groups for Beijing 2022 will not be finalized until these tournaments have been concluded and the three qualifiers announced.
The decision to postpone the qualification tournaments must still be approved by the Executive Board of the International Olympic Committee.
The postponement decision was taken by the IIHF Council during a conference call meeting on Wednesday, 6 May. The recommendation was made by the IIHF Competition & Coordination Committee following a careful evaluation of possible replacement dates.
This decision will impact the 12 teams that are hoping to qualify for Beijing 2022. The groups for the Final Olympic Qualification are as follows: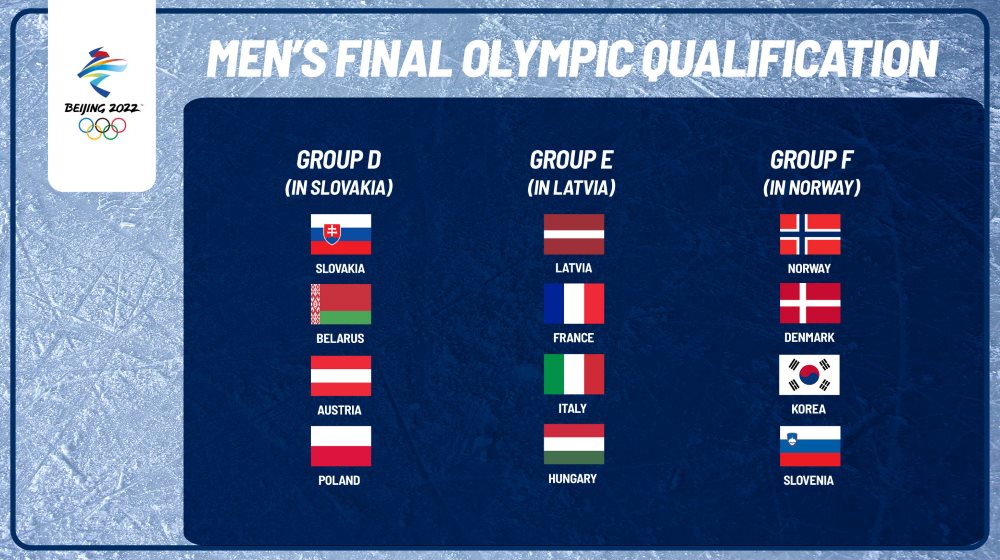 "We are fortunate that we still have some time to play these tournaments, and so that a move to August 2021 will still allow these teams to be able to ice their best players," said IIHF President René Fasel.
The Men's Final Olympic Qualification was initially scheduled to take place from 27-30 August 2020. The new dates will be 26-29 August 2021.
Click
here
for more information on the men's and women's Olympic Qualification.
IIHF Virtual Congress proposed
The IIHF Council has also approved an initial proposal to hold the IIHF Annual Congress in a virtual format, tentatively scheduled for 10 June 2020.
The IIHF Annual Congress typically takes place during the final days of the World Championship. Following the cancelation of the 2020 IIHF Ice Hockey World Championship due to COVID-19, the Annual Congress was postponed until further notice.
"We need to have a Congress with our delegates in order to confirm some important decisions for the next international hockey season," said Fasel. "Unlike a regular Congress, which lasts at least two days, this Virtual Congress will follow a narrow agenda so that we can reach a consensus on the most important points for next year."
"We have to bring the ice hockey family back together somehow, even if it is only online," added Fasel.
The Annual Congress brings together delegates from each of the IIHF's 81 Member National Associations. The Congress is the IIHF's highest legislative body and makes decisions about the rules of the game, the statutes & bylaws and the regulations and codes.
The allocation of events for the 2021 IIHF Ice Hockey World Championship program as well as the seedings, groups and hosts will be clarified by the IIHF Congress.