Patric Hornqvist, the Swede who was selected by Nashville 230th overall, dead last, in the 2005 NHL draft when Sidney Crosby was taken first, has retired after a remarkable career that belied those early, low expectations. Indeed, in a most remarkable twist of fate and success, Hornqvist and Crosby played on the same line together when the Pittsburgh Penguins won the Stanley Cup in 2016 and again in 2017. In fact, Hornqvist scored the winning goal in game six of the 2017 finals against his old team, Nashville.

He also won IIHF World Championship gold with Sweden in 2018, leaving him an Olympic gold shy of joining the Triple Gold Club. The 36-year-old also won a bronze medal at the 2005 IIHF U18 Men's World Championship and played at every level internationally for his country.

"Looking back, it's great to think that I have two rings and a gold medal, and that I actually contributed to those wins," Hornqvist said during his announcement. "That's something I couldn't have dreamed of, but foremost I'm most grateful and happy about all the great people I've got to know. Players, coaches, equipment managers. You name it. The world of hockey is full of great people, so if it's one thing that I'm going to miss it's the time in the locker room with the guys."

The low drafting probably did more good than harm for Hornqvist. He continued to play in Sweden with Djurgarden for another three years, and when he came to North America to start his career with the Predators the team assigned the 21-year-old to its AHL affiliate in Milwaukee. He wound up playing 28 NHL games in the 2008-09 season, recording a meagre two goals in 28 games.

The next year, however, he had a breakout season, leading the team in goals with 30 and tying for team lead in points, 51. Over the next four seasons he established himself as a two-way player, a tough player in front of the enemy goal and a tenacious backchecker. In 373 games with Nashville, he scored 106 goals, but in the summer of 2014 he was traded to Pittsburgh with Nick Spaling for James Neal, and it was there he was united with Crosby.

Hornqvist played on a line with Crosby and Chris Kunitz, and later David Perron. In six seasons with the Pens, Hornqvist averaged 22 goals a year and the team made the playoffs every season. In 2016, Pittsburgh defeated San Jose in six games of the Cup finals before doing the same to the Preds a year later.

In the summer of 2020, however, he was traded to Florida where he played the last two and a half years of his career. His 2022-23 season ended after only 22 games because of two serious concussions that ended his season and, ultimately, his career. In all, Hornqvist had 543 points in 901 NHL games over 15 seasons.
"I've been in this bubble since I started to play as a kid. Hockey has been a huge part of my life, so of course it's a difficult decision to make," Hornqvist continued. "It will be a big transition, but it feels good now. I'm looking forward to the rest of my life. It's the most important thing. I'm feeling fine now and hopefully I have many fine years ahead of me, and with my history of injuries, I don't want to risk any future harm."
Beyond the NHL, he was a played devoted to representing his country. In addition to the U18 in 2005, he played at the IIHF World Juniors two years later, and just a few months after that he put on the Tre Kronor sweater for the first time at the 2007 IIHF World Championship in Russia. It was the first of five Worlds for Hornqvist, but none was more memorable than 2018 when Sweden beat Switzerland, 3-2, in a shootout to win gold.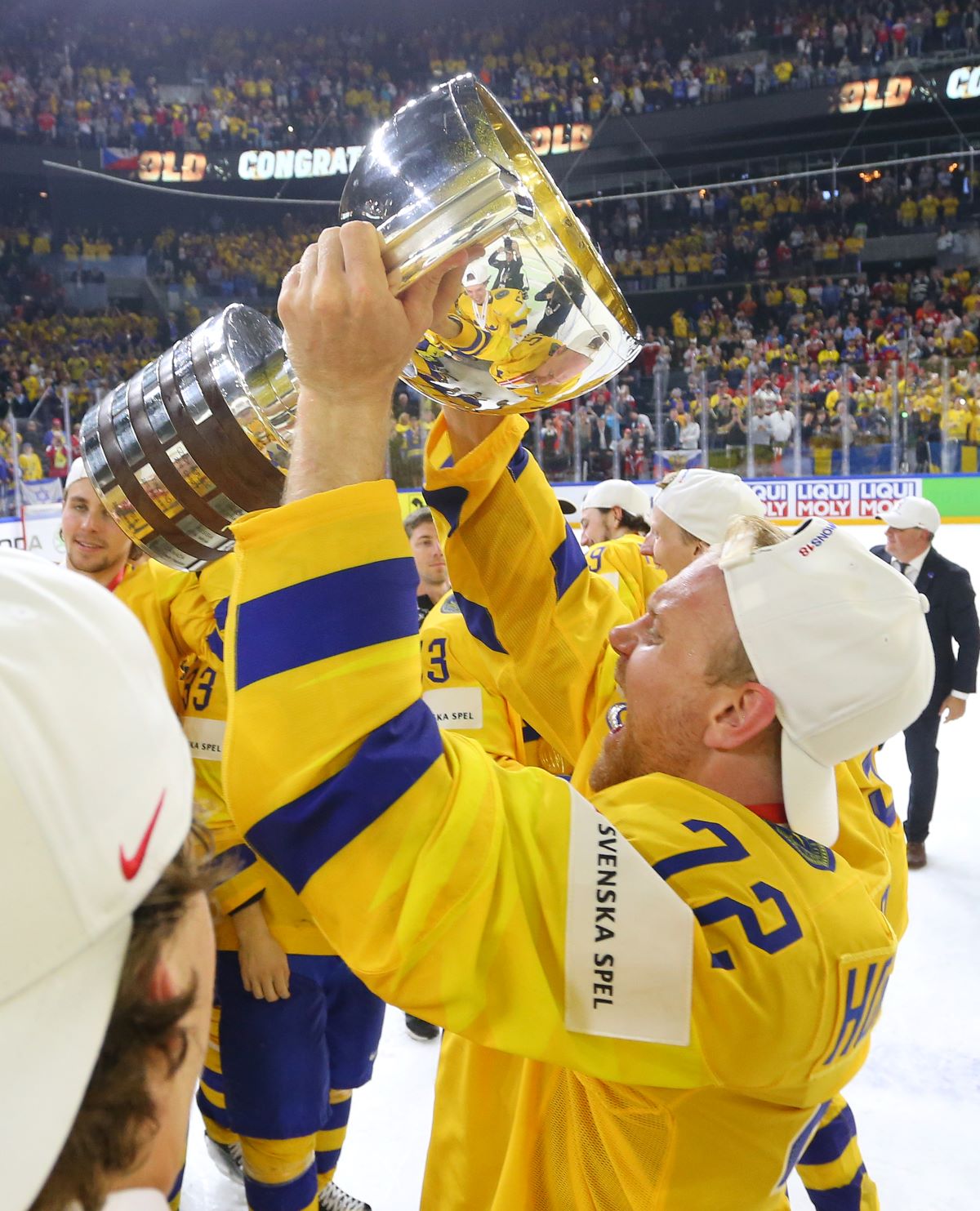 Sweden's Patric Hornqvist #72 celebrating with the championship trophy following a 3-2 gold medal game shootout win against Team Switzerland at the 2018 IIHF Ice Hockey World Championship.
PHOTO: © International Ice Hockey Federation / Andre Ringuette
Hornqvist also played at the other two important senior events, first at the 2010 Olympics in Vancouver and then at the 2016 World Cup of Hockey, when Sweden finished third.
Florida general manager Bill Zito, whose first move when he was hired in 2020 was to acquire Hornqvist, has already announced his interest in keeping Hornqvist with the team, and although the player and his family have moved back home, the feeling is mutual.
"We will see what kind of role it will be, but to begin with I will be stationed in Stockholm," Hornqvist explained. "We have moved back home to Sweden now. Then we wait and see how it feels in a few years."
"I think easiest way to characterize it is shared interest in him being in the organization," Zito said. "I think we'll find the right role, whether it's development, coaching, scouting, maybe a little bit of everything."