World Girls' Ice Hockey Weekend 2022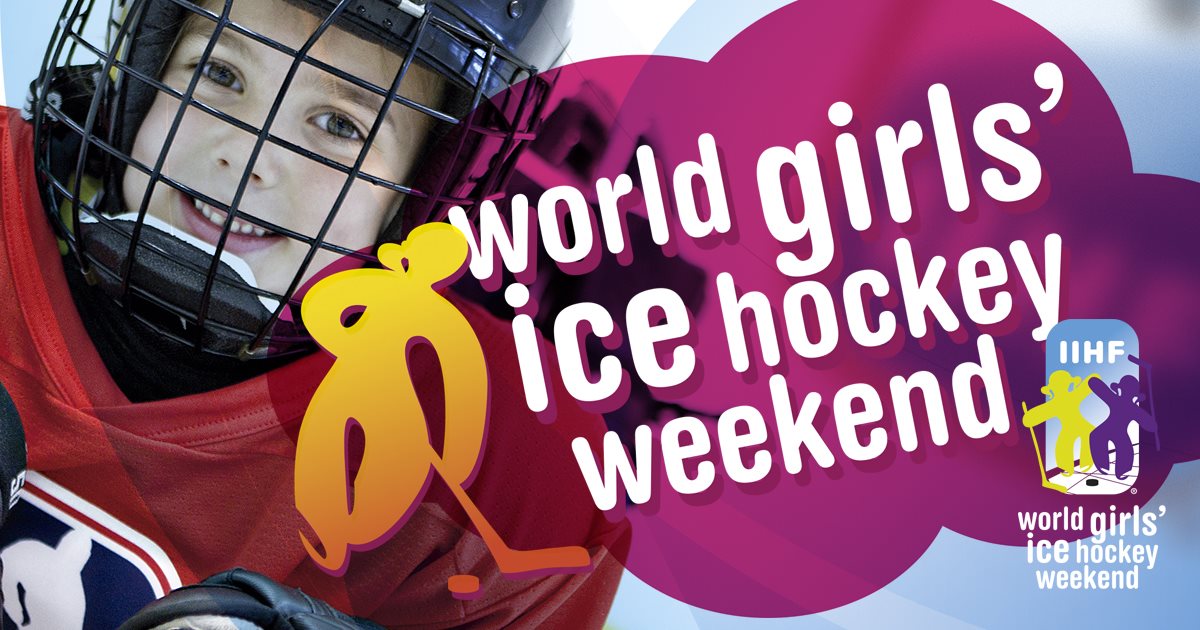 The World Girls' Ice Hockey Weekend is back . The 2022 edition is set for 8-9 October 2022 with organizers in over 30 countries and on six continents!
Follow the Tracker during the weekend and many more pictures in our
photo gallery
. You can also follow our activities on
Facebook
,
Twitter
and
Instagram
and help spread the word there by sharing our content. Please use the hashtag #WGIHW and tag @iihfhockey when posting about the event.
Organizers please send the
Reporting Form
and photos to the e-mail addresses indicated in the form as soon as your event is over to be included in the tracker during the weekend.
| | | |
| --- | --- | --- |
| Country | Venue | Organizer |
| Belarus | Minsk | Belarusian Ice Hockey Association |
| Belgium | Bekkevoort | RBIHF |
| Bosnia & Herzegovina | Sarajevo | ZHK Lavice |
| Brazil | São Paulo | Confederação Brasileira de Desportos no Gelo - CBDG |
| Bulgaria | Sofia | Vanesa Georgieva |
| Canada | 100 Mile House | 100 Mile & District Minor Hockey |
| Canada | Bathurst | Bathurst Minor Hockey |
| Canada | Belleville | Belleville Bearcats |
| Canada | Bonavista | Bonavista Trinity Minor Hockey Association |
| Canada | Brampton | Brampton Canadettes Girls Hockey Association |
| Canada | Burtts Corner | Running a Try Hockey Event |
| Canada | burtt's Corner | Central Female Hockey Association |
| Canada | Calgary | First Strides |
| Canada | Calgary | Girls Hockey Calgary Association (GHC) |
| Canada | Calgary | U9 Jr inferno Blue |
| Canada | Calgary | U9/U11 Fun Girls Hockey Weekend |
| Canada | Campbellton | Association Hockey Mineur Restigouche Nord |
| Canada | Camrose | Camrose Wildcats U9 |
| Canada | Chilliwack | Chilliwack Minor Hockey Association |
| Canada | Churchill Falls | Churchill Falls Minor Hockey Association |
| Canada | Cobourg | West Northumberland Girls Hockey Association |
| Canada | Cochrane | Cochrane Minor Hockey Association -Female Program Committee |
| Canada | Collingwood | Collingwood Girls Hockey Association |
| Canada | Conception Bay South | Conception Bay Renegades Minor Hockey Association |
| Canada | Cranbrook | U13 Female Bucks U 9 female Rec. |
| Canada | Dieppe | Dieppe Pantheres |
| Canada | Dunville | Placentia Minor Hockey |
| Canada | Edmundston | Pionniers du Nord-Ouest |
| Canada | Erickson | Creston Valley Female Hockey Development |
| Canada | Flin Flon | Flin Flon Minor Hockey |
| Canada | Fort Saskatchewan | Fort Saskatchewan Fury U11, U13, U15 |
| Canada | Fort ware | Aatse Davie School |
| Canada | Gananoque | Gananoque Girls Hockey Association |
| Canada | Gander | Central Female Triple AAA |
| Canada | Gilbert Plains | Parkland Hockey |
| Canada | Glovertown | Glovertown & Area Minor Hockey Association |
| Canada | Golden | Golden and District Minor Hockey Association |
| Canada | Goose Bay | Lake Melville Xtreme Minor Hockey Association |
| Canada | Grand Falls-Windsor | Grand Falls-Windsor Minor Hockey Association |
| Canada | Hardwood Ridge | New Brunswick Hockey Officials Association |
| Canada | Hoyt | Tri-County Minor Hockey Association |
| Canada | Huntsville | Huntsville Girls Hoockey |
| Canada | Joe Batts Arm | Fogo Island Minor Hockey |
| Canada | Kelowna | Kelowna Minor Hockey |
| Canada | Kemptville | Kemptville Storm |
| Canada | kippens | Stephenville female hockey |
| Canada | Lac du Bonnet | Lac du Bonnet Minor Hockey Association |
| Canada | Lamèque | Conseil des opérations régionales #7 |
| Canada | Lillooet | Lillooet & District Minor Hockey Association |
| Canada | London | London Devilettes Girls Hockey Assocation |
| Canada | Lutes Mountain | South East Female Hockey Association (SEFHA) |
| Canada | Marystown | Marystown Minor Hockey Association |
| Canada | Moncton | South Eastern Female Hockey Association |
| Canada | Morden | Morden Minor Hockey |
| Canada | Nelson | Nelson Minor Hockey |
| Canada | New Liskeard | Temiskaming Shores Girls Hockey |
| Canada | Newport | West Hants Middle School |
| Canada | Nipigon | Nipigon Elks |
| Canada | Nipigon | Northshore Girls Hockey |
| Canada | Okotoks | Okotoks Female U15 |
| Canada | Owen Sound | Owen Sound Girls Hockey |
| Canada | Paradise | Paradise Minor Hockey Assoc |
| Canada | Port aux Basques | Channel Port aux Basques Minor Hockey Association |
| Canada | Port Coquitlam | 2022/2023 TCFIHA 25th Anniversary Association BBQ |
| Canada | Prince george | Prince George Minor Hockey Association |
| Canada | Revelstoke | Revelstoke Minor Hockey Association |
| Canada | Roberts creek | Sunshine Coast Minor Hockey |
| Canada | Saanichton | BC Hockey |
| Canada | Sackville | Sackville Rangers Minor Hockey Association |
| Canada | Saint John | Fundy Female Hockey Association |
| Canada | Saint-Basile | Association hockey feminin Res-Ma-Vic |
| Canada | Saint-Léonard | Hockey Québec |
| Canada | Saskatoon | Saskatoon Comets |
| Canada | Smith Falls | Kanata u13. B |
| Canada | Smiths Falls | Smiths Falls Girls Hockey Association |
| Canada | Sooke | Sooke Minor Hockey |
| Canada | SOUTH ESK | Greater Miramichi Female Hockey Association |
| Canada | Spaniards Bay | Bay Arena MHA |
| Canada | Sparwood | Elk Valley Minor Hockey Association |
| Canada | ST GEORGE | Charlotte County Minor Hockey |
| Canada | St John's | TomCats Women's Hockey |
| Canada | St. John's, NL | Tanya Schwartz |
| Canada | ste anne de madawaska | hockey feminin Resmavik |
| Canada | Summerland | Summerland Minor Hockey |
| Canada | Tecumseh | École secondaire catholique L'Essor- Académie des habletés Hockey Canada |
| Canada | Teeds mill | Woodstock Lady Thunder |
| Canada | Tillsonburg | Tillsonburg Minor Hockey Inc. |
| Canada | Torbay | North East Eagles Hockey Association |
| Canada | Twillingate | Twillingate/NWI Minor Hockey Association |
| Canada | Upper Island Cove | Ceebees Minor Hockey |
| Canada | Vernon | Greater Vernon Minor Hockey Association |
| Canada | Wabush | Lab West Minor Hockey Association |
| Canada | Williams Lake | Williams Lake Minor Hockey Association |
| Canada | Woodstock | Woodstock Wildcats Girls Hockey Association |
| Canada | Wyoming | Northern Collegiate Institute and Vocational School |
| Croatia | Zagreb | Croatian Ice Hockey Association |
| Czechia | Ostrava | Czech Ice Hockey Association |
| Czechia | Teplice | Czech Ice Hockey Association |
| Finland | Espoo | Kiekko-Espoo |
| Finland | Helsinki | Viikingit Jääkiekko ry |
| Finland | Ivalo | Tunturi-Kiekko ry |
| Finland | Kerava | KJT Hockey ry |
| Finland | Kouvola | Pohjois-Kymen liikuntayhdistys Ry |
| Finland | Kuopio, Siilinjärvi | Juniori-KalPa |
| Finland | Lappeenranta | SaiPa |
| Finland | Lempäälä | Lempäälän Kisa 1955 Jääkiekko ry |
| Finland | Lohja | Harjun Kiekko ry. |
| Finland | Mänttä | Koillis-Pirkan Kiekko (KPK) |
| Finland | Mikkeli | Juniori-Jukurit ry |
| Finland | Nivala | Nivala Cowboys |
| Finland | Oulu | Kiimingin Kiekko-Pojat ry |
| Finland | Oulu | Oulun Kärpät 46 ry |
| Finland | Pori | Porin Ässät |
| Finland | Porvoo | Hunters Juniors ry. |
| Finland | Pyhäjärvi | Pyhäjärven Pohti ry |
| Finland | Raisio | RNK |
| Finland | Rauma | Rauman Lukko |
| Finland | Riihimäki | Kiekko-Nikkarit ry |
| Finland | Rovaniemi | Rovaniemen kiekko ry |
| Finland | Sodankylä | Sodankylän Pallo |
| Finland | Somero | Someron Pallo Juniorit |
| Finland | Tampere | Ilves |
| Finland | Turku | TPS |
| Finland | Vaasa | Vaasan Sportin Juniorit Ry |
| Finland | Vantaa | Kiekko-Vantaa Itä ry |
| Finland | Vantaa | South-Vantaan urheilijat |
| France | Cergy | Benjamin BILET |
| Germany | Mannheim | EKU Mad Dogs Mannheim e.V. |
| Germany | Regensburg | EV Regensburg Jungeisbaeren |
| Hong Kong, China | Hong Kong | Women's Ice Hockey Organization |
| Hungary | Budapest | Boldizsár VÉGH |
| Iceland | Reykjavik | Skautafelagid Björninn |
| Iceland | Reykjavik | SR ishokki |
| Italy | Pinerolo | A.S.D Sorting Club Pinerolo |
| Japan | Okayama | Japan Ice Hockey Federation |
| Kazakhstan | Astana | Kazakhstan Ice Hockey Federation |
| Korea | Seoul | Korea Ice Hockey Association |
| Kuwait | Bayan | Meshal alajmi |
| Latvia | Daugavpils | Latvian Ice Hockey Federation |
| Lithuania | Riga (LAT) | Hockey Lietuva |
| Mexico | Mexico City | MEXICO |
| Mongolia | Ulaanbaatar | Mergen Hockey Academy |
| Netherlands | Amsterdam | IJshockey Nederland & Amstel Tigers |
| New Zealand | Upper Hutt | Wellington Ice Hockey Association/ Wellington Women's Ice Hockey |
| New Zealand | Wellington | Wellington women's hockey |
| Norway | Asker | Frisk Asker jr |
| Norway | Fredrikstad | Stjernen Hockey Ung |
| Norway | Haugesund | Haugesund Seagulls Ishockeyklubb |
| Norway | Hønefoss | Ringerike Ishockeyklubb |
| Norway | Jar | Baerum Wildcats |
| Norway | Kongsberg | Karin Ro |
| Norway | Lillehammer | Lillehammer Ishockey klubb |
| Norway | Lørenskog | Lørenskog Ishockeyklubb |
| Norway | Nesbru | Holmen hockey |
| Norway | Norway ( Halden) | Madelen Danielsen |
| Norway | Oslo | Furuset Ishockey IF |
| Norway | Oslo | Hasle-Løren IL |
| Norway | Oslo | Manglerud Star ishockey |
| Norway | Oslo | Laith Sawalha |
| Norway | Sarpsborg | IHK Sparta |
| Norway | Ski | Ski IL Ishockey |
| Norway | Stavanger | Ishockeyklubben Stavanger |
| Norway | Tromsø | Tromsø Ishockeyklubb |
| Norway | Trondheim | Astor ishockeyklubb |
| Philippines | Quezon City | Hockey Philippines |
| Romania | Bucharest - Otopeni | Romanian Ice Hockey Federation |
| Serbia | Novi Sad | HK Vojvodina |
| Singapore | Singapore | Singapore Ice Hockey Association |
| Slovakia | Banská Bystrica | Barani – Hokejová škola Michala Handzuša,o. z. |
| Slovakia | Bratislava | Bratislava |
| Slovakia | Brezno | Hokejový Klub Brezno KNIGHTS |
| Slovakia | Kežmarok | MHK Kežmarok o.z. |
| Slovakia | Košice | Ice Dream Košice |
| Slovakia | Levoča | HK Spiš Indians Levoča |
| Slovakia | Martin | Martin |
| Slovakia | Michalovce | HKM Michalovce |
| Slovakia | Partizanske | HK ISKRA Partizanske |
| Slovakia | Poprad | ŽHK POPRAD |
| Slovakia | Prešov | ŽHK 2000 Šarišanka Prešov |
| Slovakia | Ružomberok | MHK Ružomberok |
| Slovakia | Skalica | Skalica |
| Slovakia | Spišská Nová Ves | HC Spišská Nová Ves |
| Slovakia | Žiar nad Hronom | Hk Sporttrend Žiar nad Hronom |
| Slovakia | Žilina | Vlci Žilina mládež s.r.o |
| South Africa | Cape Town | South African ice hockey |
| Switzerland | Kreuzlingen | Thurgau Indien Ladies |
| Switzerland | Langenthal | SC Langenthal Nachwuchs AG |
| Switzerland | Neuchâtel | Neuchâtel Hockey Academy |
| United Arab Emirates | Abu Dhabi | ADISC |
| USA | Amherst, MA | Amherst Hockey Association |
| USA | Anaheim, CA | The Rinks Anaheim ICE |
| USA | Ann Arbor, MI | Ann Arbor Ice Cube |
| USA | Auburn, MA | Maine Gladiators |
| USA | Baldwinsville, NY | Lysander Youth Hockey Association |
| USA | Bowling Green, OH | Bowling Green Youth Hockey Association |
| USA | Bowling Green, OH | Slater Family Ice Arena |
| USA | Buffalo, MN | Buffalo Youth Hockey Association |
| USA | Buzzards Bay, MA | The Boston Pride |
| USA | Chesterfield, MO | Chesterfield Hockey Association |
| USA | Chicago, IL | Fifth Third Arena - Blackhawks Community Rink |
| USA | Columbus, IN | Hamilton Ice Arena |
| USA | Columbus, OH | EYHA Lady Dragons |
| USA | Columbus, OH | OhioHealth Chiller Easton |
| USA | De Pere, WI | Green Bay Area Youth Hockey |
| USA | Detroit, MI | Detroit Ice Dreams Hockey Association |
| USA | East Lansing, MI | Suburban Ice-East Lansing |
| USA | Essex Junction, VT | Essex Youth Hockey Association |
| USA | Evanston, IL | Robert Crown Center |
| USA | Everett, MA | Spaulding Boston Shamrocks Sled Hockey |
| USA | Farmington Hills, MI | Suburban Ice-Farmington Hills |
| USA | Fort Wayne, IN | SportONE Parkview Icehouse |
| USA | Garden City, MI | Garden City Civic Arena |
| USA | Glen Ellyn, IL | Center Ice of DuPage |
| USA | Glen Ellyn, IL | DuPage Black Bears |
| USA | Grand Rapids, MI | Patterson Ice Center |
| USA | Jackson, MI | Optimist Ice Arena |
| USA | Kalamazoo, MI | Wings West |
| USA | Kansas City, MO | Carriage Club |
| USA | Kennewick, WA | TRI-CITIES AMATEUR HOCKEY |
| USA | Kittanning, PA | Belmont Complex |
| USA | Las Vegas, NV | Las Vegas Ice Center |
| USA | Las Vegas, NV | Las Vegas Storm |
| USA | Lindstrom, MN | Chisago Lakes Hockey Association |
| USA | Livonia, MI | Eddie Edgar Ice Arena |
| USA | Livonia, MI | Livonia Hockey Association |
| USA | Los Angeles, CA | Los Angeles Kings Hockey Club |
| USA | Madison, WI | Patriots Youth Hockey |
| USA | Malone, NY, | Malone Minor Hockey |
| USA | Mankato , MN | All Seasons Arena |
| USA | Maple Grove, MN | Maple Grove Community Center |
| USA | Marshall, MN | Red Baron Ice Arena |
| USA | Minneapolis, MN | Parade Ice Garden |
| USA | Nashville, TN | Nashville Predators Amateur Hockey Association |
| USA | New Hope, MN | New Hope Ice Arena |
| USA | New Hope, MN | Armstrong Cooper Youth Hockey Association |
| USA | New York, NY | North Park Hockey |
| USA | Newark, NJ | New Jersey Devils |
| USA | Northfield, VT | Central Vermont Black Bears |
| USA | Northfield, VT | Central Vermont Youth Hockey |
| USA | Notre Dame, IN | Irish Youth Hockey League |
| USA | Notre Dame, IN | Compton Family Ice Arena |
| USA | Ohio, IN | Mid-Am |
| USA | Oxford, OH | Goggin Ice Center |
| USA | Pasco, WA | HAPO Ice Pavilion |
| USA | Prairie du Sac, WI | Sauk Prairie Area Recreation Center |
| USA | Rochester, MN | Rochester Recreation Center |
| USA | Saugerties, NY | Saugerties youth hockey |
| USA | Seattle, WA | Kraken Community Iceplex |
| USA | Seattle, WA | Kent Valley Hockey |
| USA | Shaker Heights, OH | Shaker Heights Youth Hockey Association |
| USA | Skaneateles, NY | Skaneateles Youth Hockey Association |
| USA | Southgate, MI | Southgate Civic Arena |
| USA | Spokane, WA | Spokane Americans Youth Hockey Association |
| USA | Spokane, WA | Eagles Ice Arena |
| USA | St. Joseph, MI | The Garden Ice Arena |
| USA | St. Paul, MN | Saint Paul Capitals Hockey Association |
| USA | Stamford, CT | North Park Hockey |
| USA | Superior CO | Boulder Hockey Club |
| USA | Superior, CO | Sport Stable |
| USA | Taylor, MI | Taylor Sportsplex |
| USA | West Bend, WI | Washington County Youth Hockey |