During her athletic career, Canadian goalie Sami Jo Small had to be adaptable. She did everything from sleeping outside Stanford Stadium in a Mazda 323 to playing for Sweden at a 3 Nations Cup tournament in Finland.

Yet out of all the challenges this three-time Olympian (1998, 2002, 2006) faced, nothing was psychologically or emotionally harder than learning she'd be sitting on the bench, in the stands, or at home during a big game. And it happened a lot during her 51-game national team career.
Small, 44, candidly documents her struggles and triumphs in The Role I Played: Canada's Greatest Olympic Hockey Team (ECW Press). Nearly a decade in the works, the Winnipeg-raised goalie's 344-page memoir kicks off in ultra-Canadian fashion with more than one "Sorry" for teammates and coaches she feels she may have portrayed in an unflattering light.

However, the four-time world champion really has nothing to apologize for as she delves into the personalities and internal dynamics on the Canadian squad that ruled the women's hockey world from the 1990s into the mid-to-late 2000s.

Small paints lively scenes such as strolling around Nagano, Japan at the inaugural 1998 Olympic women's hockey tournament, reminiscing with fellow rookies Jennifer Botterill and Becky Kellar: "'Remember when I chatted with Wayne Gretzky about hockey in California, or asked Curtis Joseph about his goalie gear, or when my goalie idol Vladislav Tretiak pulled me in tight for a photo...maybe a little too tight?' I quickly add. We laugh."

That's juxtaposed with the heartbreak of the then-shocking 3-1 gold medal game loss to the archrival U.S., with Manon Rheaume between Canada's pipes. As the third goalie, Small didn't even receive a silver medal: "I'm sad about not playing and mad at myself for being selfish... No one teaches you how to sit on the sidelines."

Being so close yet so far away is a recurrent theme. Even at the 2002 Salt Lake City Olympics, where Small posted a 7-0 shutout against Russia en route to gold, she admits to weeping outdoors near the flagpoles in the Olympic Village after being informed that Kim St-Pierre – a 2020 Hockey Hall of Fame inductee – would get the net over her for the final against the Americans.

Such raw honesty sets this book apart. Canadian players, both male and female, are as well-drilled as they come in the hockey world about keeping things rah-rah and on message when they wear the red Maple Leaf. Yet after months of centralization in an intensely competitive environment, it's completely understandable that the 25-year-old Small's emotions would brim over.
That said, there's more than just tough conversations with Canadian head coaches like Shannon Miller, Daniele Sauvageau, and Mel Davidson to relive here. Small also expresses her appreciation for long-time IIHF associates like finance director Gion Veraguth and Darren Boyko of the Hockey Hall of Fame, who helped open the door for her to play in Switzerland right after Salt Lake.

Her deep-rooted love of sports comes through in childhood anecdotes about everything from reacting to the tragic 1985 death of her Swedish goalie idol Pelle Lindbergh to practicing indoors with her ninth-grade cross-country team when it was -33 Celsius in Winnipeg.

With the skill of a scholar who owns a mechanical engineering degree from Stanford, Small beautifully breaks down Canadian victories and defeats that you may not find on YouTube. And she vividly recaptures the intensity of pushing her heart rate to 198 while running the beep test and the teamwork required during gruelling bike races with the national team.
One nice touch is her look back at the heartfelt notes she penned to Cassie Campbell, Hayley Wickenheiser, and others right before the 2006 Olympic final in Turin against the Swedes.

Space does not permit us to recount all the funny stories Small recounts, but suffice it to say that readers will never think about Back to the Future or squirrels quite the same way again.

The co-founder of the Canadian Women's Hockey League (CWHL) and former Toronto Furies general manager saves her big-picture commentary for the epilogue: "Women have been playing hockey for over a century, and each new generation creates a legacy for the next to build upon. We must remember, uncover, and celebrate our unique history right across this country and around the world."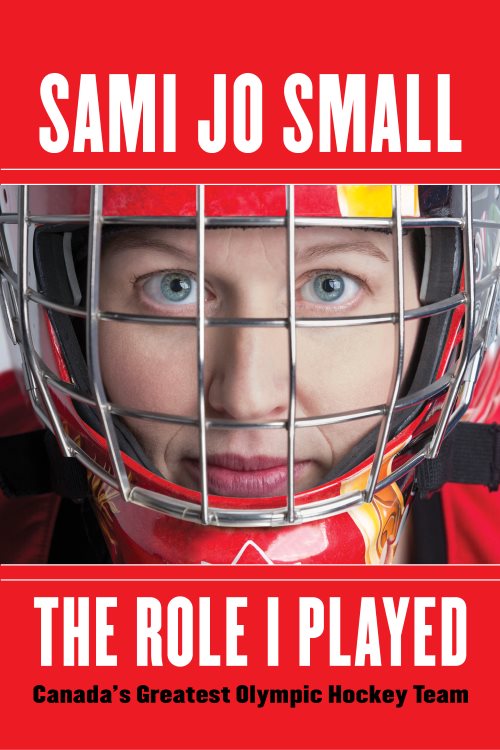 Implicit in her analysis is the need for more investment, media coverage, and organized professional teams. Small doesn't mention this, but in 2002, Ed Belfour, the Canadian Olympic men's team third goalie, did not play a game in Salt Lake. Yet Small's fellow Manitoban returned to a $6,000,000 USD salary with the Dallas Stars. Just that sum could have financed multiple national women's hockey leagues in that era. So we've still got a long way to go.

Moving forward, as a Mississauga resident married to Para ice hockey star Billy Bridges, Small has forged a successful post-playing career as a public speaker. When she hits the circuit again, The Role I Played: Canada's Greatest Olympic Team should be another valuable tool in her stockpile. Consider it a must-read for women's hockey fans.