The IIHF Player Development Guide (IIHF PDG) aims to provide Member National Associations (MNA) and clubs with the necessary resources and guidance to run player development programs and to create new or to enhance existing long-term player development models and pathways. The IIHF PDG offers coaches, parents, heads of coaching and player development personnel within MNAs and clubs, not only information and guidance on the science behind long-term player development, but actual applicable content and information to conduct quality-training sessions.

Everyone involved in the game, regardless of their roles, shall create an environment which develops individual players to the best of their abilities.
Phases:
The IIHF PDG recognizes that there are three potential phases in a player's pathway:
| | |
| --- | --- |
| Start: | Every player starts at some point |
| Stay: | Players continue to develop and play the game throughout their lives |
| Succeed: | A very small number of players that play professionally |
Start Phase
All players, independent of their age, have a starting point in their hockey player life span. Some start when they are young, maybe at around 4 years of age, others start when they are 35 or even 55 years of age. The objective of the practice sessions for players in the start phase, considered to be beginners, is to have enjoyable experiences and to learn the basic skills of the game.
Instead of being simply age-focused, the IIHF PDG concentrates on developmentally appropriate skill-levels. However, it should be recognized that, at every level, a varying range of skill will be demonstrated by the participants.
Stay Phase
The stay phase, which ideally means life-long participation in ice hockey, includes the intermediate and the advanced ice hockey skill levels. Players in the stay phase might choose to play ice hockey on a recreational level or might attempt to play on a more advanced level preparing themselves for the succeed phase. This means that training environments need to be offered which cater and are suitable to the developmental needs of each player.
Ideally players, who have played ice hockey in the succeed phase, on the international stage, return to the stay phase after their career and choose to continue to participate in ice hockey on a recreational level.
Hockey for Life
Succeed Phase
The succeed phase is only reached by very few players. This phase is composed of players competing on the highest professional and international level within ice hockey.
Skill Levels:
Skill Levels:
The IIHF PDG, instead of being simply age-focused, concentrates on developmentally appropriate skill-levels. However, it should be recognized that, at every level, there will be varying range of skill demonstrated by the participants.
The skill levels are:
Beginner:
Players normally aged U10, emphasis on participation and the need to learn fundamental movement and ice hockey skills through fun games and drills
Beginner Stage Summary Document
Intermediate:
Normally aged U14, emphasis on participation and performance, focus still on fun overall development, on and off the ice, with increased focus on ice hockey-specific training and tactics
Intermediate Stage Summary Document
Advanced:
Normally aged U18, emphasis on performance and/or high-performance, focus heavily on ice-hockey specific training accompanied by well-planned and executed supportive off-ice training
Advanced Stage Summary Document
Elite:
Professional players of "open ages" – in general good enough to play at this level, normally aged 20 years and older. At least at this point, it is not seen as the IIHF's mandate to provide guidance on player development at the elite level. This is to be taken care of by professional Clubs and National Teams.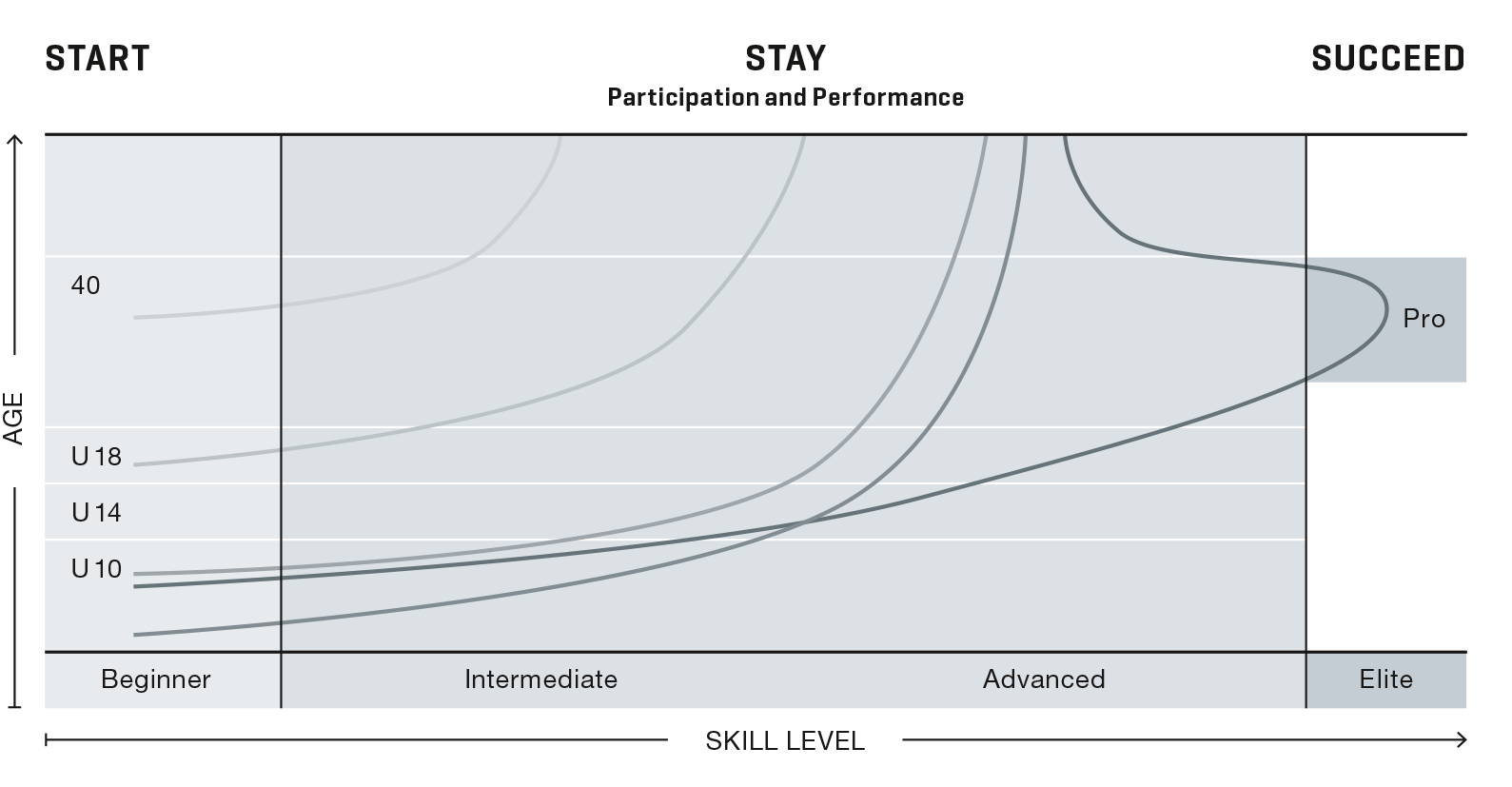 The IIHF PDG is not a set of rules or mandates; it is a guideline that supports the development of hockey players to reach their full potential. Through the guidelines of the IIHF PDG, players will be holistically developed through the application of appropriate developmental practices and trainings, on and off the ice.

The IIHF PDG also aims to influence costs associated with participation. It guides optimal usage of the ice, promoting station-based training and thus enabling more players to participate. It also illustrates how much player development can be done without access to or use of ice.

In the beginner stage, the IIHF PDG advocates a low priority on winning, game results and player statistics. Essentially, it prioritizes the need to create fun, yet challenging, on-ice sessions that introduce the game of ice hockey through games and playing. As the IIHF PDG advances to other skill levels, it gradually introduces the elements of a more competitive game while emphasizing that there still should be an option for recreational participation sport.

The IIHF PDG lays the foundation for player development. One of its biggest benefits is that the content can directly be utilized for player recruitment programs as well as for coach and coach developer education.

Finally, it should be acknowledged that the competition structure reflects the development levels of the players (and not the other way around), in such manner that competition becomes increasingly important at the more advanced stages and gradually transforms into the structures of the best professional leagues, IIHF Championships and the Olympic Winter Games.

Lastly, there have been almost a hundred people creating and contributing to the IIHF PDG. The IIHF wishes to thank all of them for their valuable input. Special thanks go to the Vierumaki Sport Institute for designing and delivering most of the content and to National Associations of Canada, Czech Republic, Finland, Sweden and USA for allowing their staff to contribute at during their usual working hours. The IIHF PDG is truly a team effort and the work will continue to further enhance this resource.