The international ice hockey season will soon get busy and the International Ice Hockey Federation has now assigned the referees and linesmen for most of the tournaments of the IIHF Ice Hockey World Championship program, the IIHF Continental Cup and the first Olympic Qualification events.
In total 502 female and male on-ice officials were assigned to 44 events at different categories and levels during the new season. The officials come from 48 different countries with the United States (35), Finland (32) and Canada (31) leading the way while at the other end the list of officials also includes referees and linesmen from members such as Indonesia, Ireland or Macau.
The only tournaments not finally assigned are two at the end of season. For the 2020 IIHF Ice Hockey World Championship in Switzerland as well as the Division I Group A in Slovenia only long lists have been published. The performances of the candidates will be followed by the IIHF Officiating Committee in international and domestic competitions before the final selection will be made in March.
Click here for the full list of assignments.
IIHF licences
At the same time the IIHF has published the licences for international on-ice officials. Referees and linesmen with IIHF licences can, depending on the licence categories, officiate games at different levels of IIHF tournaments and other international games involving national teams and clubs.
The referees and linesmen come from 52 different countries around the world.
Click here to view the licences on-ice officials.
IIHF Official Rule Book amendments
The IIHF Official Rule Book 2018-2022 has been updated with amendments following the 2019 IIHF Semi-Annual Congress. The following amendments have been made: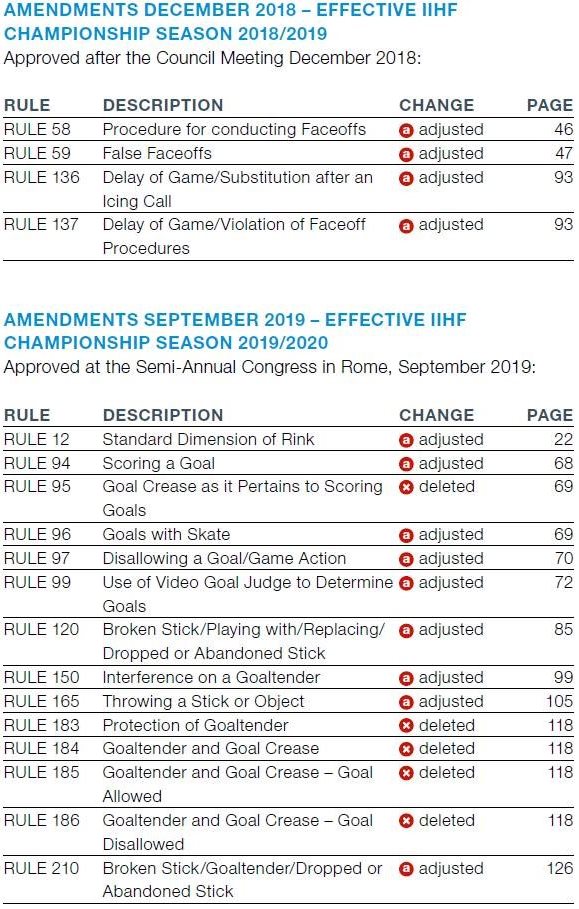 Best of Ref Cam at the 2019 Worlds
Would you get up close and personal with hockey players on the ice? The refs did, and we definitely think you'll want the SOUND ON for this one.