World Girls' Ice Hockey Weekend 2019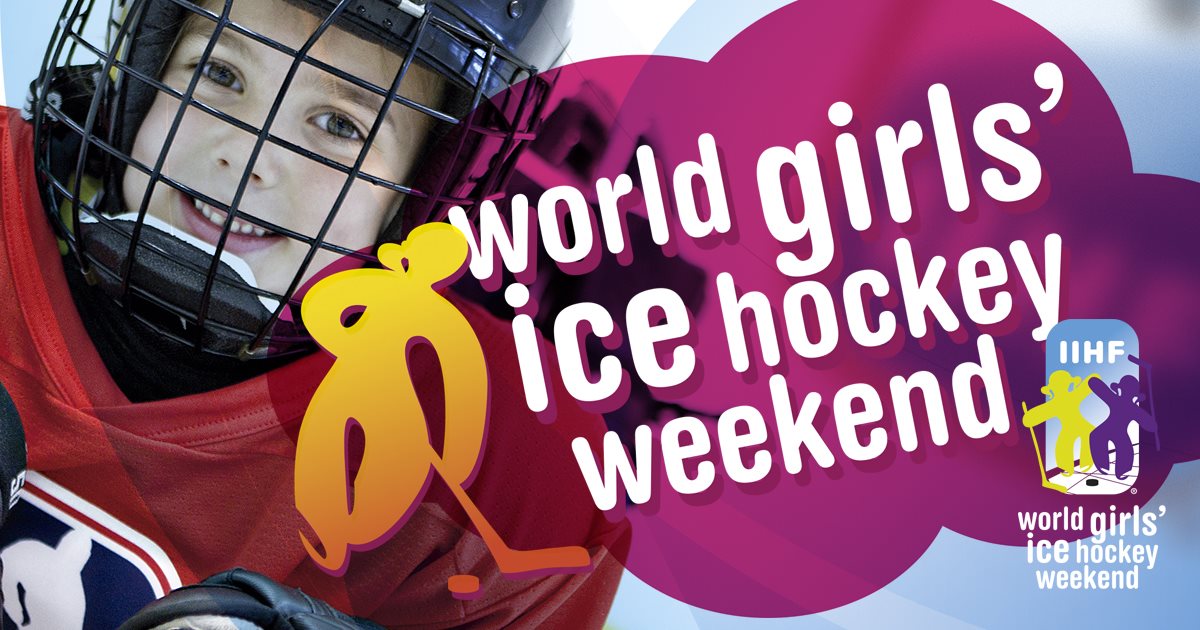 The 2019 World Girls' Ice Hockey Weekend is set for 5/6 October 2019 with hundreds of organizers in 40 countries and on 6 continents!
Follow the Tracker during the weekend and many more pictures in our photo gallery on
Facebook
where you can help women's hockey by sharing them. You can also follow our activities on
Twitter
and
Instagram
, please use the hashtag #WGIHW when posting about the event.
Organizers please send the
Reporting Form
and photos to
[email protected]
as soon as your event is over to be included in the tracker during the weekend.
List of #WGIHW events
| | | |
| --- | --- | --- |
| Country | City | Organizer |
| Argentina | Buenos Aires | AAHHL |
| Australia | Brisbane | Ice Hockey Queensland |
| Australia | Maroubra Junction | Ice Hockey Australia |
| Australia | Melbourne | Ice Hockey Victoria |
| Australia | Townsville | Ice Hockey Queensland |
| Austria | Vienna | Theri Hornich |
| Austria | Villach | Kärntner Eishockeyverband |
| Belarus | Minsk | Belarusian Ice Hockey Association / Dinamo Minsk |
| Belgium | Hasselt | Belgian Ice Hockey Federation |
| Bosnia & Herzegovina | Sarajevo | Ice Hockey Federation of Bosnia & Herzegovina |
| Bulgaria | Sofia | Vanesa Georgieva |
| Canada | Abbotsford (BC) | Abbotsford Female Hockey Assoc Atom Team |
| Canada | Airdrie (AB) | Airdrie Female Atom 1 |
| Canada | Alma (QC) | Rebelles du Lac-Saint-Jean |
| Canada | Altona (MB) | Altona Minor Hockey Association |
| Canada | Antigonish (NS) | Antigonish Minor Hockey Association |
| Canada | Armstrong (BC) | North Okanagan Minor Hockey |
| Canada | Aurora (ON) | Central York Panthers Atom AA |
| Canada | Barrie (ON) | Bear Creek Secondary School |
| Canada | Bay Roberts (NL) | Bay Arena Roverines |
| Canada | Belleville (ON) | Belleville Bearcats |
| Canada | Bonavista (NL) | Bonavista Trinity Minor Hockey Association |
| Canada | Boucherville (QC) | Richelieu Women's Hockey Association |
| Canada | Bouctouche (NB) | West Kent Female Hockey Association |
| Canada | Brampton (ON) | Brampton Canadettes Girls Hockey Association |
| Canada | Brampton, (ON) | Brampton Canadettes Atom B |
| Canada | Brooks (AB) | Prairie Thunder (Brooks Minor Hockey) |
| Canada | Brossard (QC) | Canadiens de Montréal |
| Canada | Buffalo Narrows (SK) | Buffalo Narrows Minor Hockey |
| Canada | Burlington (ON) | Burlington Barracudas Bantam AA |
| Canada | Burns Lake (BC) | Burns Lake Minor Hockey Association |
| Canada | Calgary (AB) | Simons Valley Hockey Association |
| Canada | Calgary (AB) | Girls Hockey Calgary Atom 1 North |
| Canada | Calgary (AB) | Calgary Jr. Inferno Atom B |
| Canada | Calgary (AB) | Bow River Bruins Minor Hockey Association |
| Canada | Calgary (AB) | Girls Hockey Calgary Jr. Inferno First Strides |
| Canada | Cambridge (ON) | Cambridge Roadrunners Peewee |
| Canada | Cambridge (ON) | Cambridge Roadrunners Bantam B |
| Canada | Cardinal (ON) | Rideau St. Lawrence Girls Hockey Association |
| Canada | Carleton Place (ON) | Carleton Place Cyclones Atom C |
| Canada | Carleton Place (ON) | Carleton Place Cyclones |
| Canada | Carleton Place (ON) | Carleton Place Cyclones FUNdamental Program |
| Canada | Channel-Port aux Basques (NL) | Port aux Basques Minor Hockey |
| Canada | Chester (NS) | Chester Minor Hockey |
| Canada | Church Point (NS) | Clare-Digby Minor Hockey Association |
| Canada | Churchill Falls (NL) | Churchill Falls Thunderbirds |
| Canada | Clarenville (NL) | Clarenville Minor Hockey |
| Canada | Cobourg (ON) | West Northumberland Girls Hockey Association |
| Canada | Cochrane (AB) | Cochrane Female Hockey Committee |
| Canada | Collingwood (ON) | Collingwood Girls Hockey Association |
| Canada | Colwood (BC) | The Lightening |
| Canada | Conception Bay South (NL) | CBR Minor Hockey Association |
| Canada | Coquitlam (BC) | Tri-Cities Female Ice Hockey Association |
| Canada | Corner Brook (NL) | Corner Brook Minor Hockey Female Division |
| Canada | Courtice (ON) | Clarington Girls Hockey Association |
| Canada | Creston (BC) | Creston Valley Minor Hockey Association |
| Canada | Dartmouth (NS) | Maritime Myst Women's Hockey Club and Development Program |
| Canada | Dauphin (MB) | Parkland Minor Hockey Association |
| Canada | Dawson Creek (BC) | Dawson Creek Minor Hockey Association |
| Canada | Deer Lake (NL) | Deer Lake Minor Hockey Association |
| Canada | Dieppe, (NB) | Dieppe Memramcook Pantheres |
| Canada | Eckville (AB) | West Central Wildcats |
| Canada | Edmonton (AB) | Edmonton Wolves (Junior Female) |
| Canada | Edmonton (AB) | Whitemud West Hockey Association |
| Canada | Edmonton (AB) | SWAT Minor Hockey Association |
| Canada | Edmonton (AB) | Edmonton Girls Hockey Association |
| Canada | Edmundston (NB) | Association hockey féminin RESMAVIC |
| Canada | Elginburg, (ON) | Kingston Ice Wolves |
| Canada | Estevan (SK) | Estevan Power Dodge Peewee Bearcats |
| Canada | Fort Frances (ON) | Fort Frances Girls and Women's Hockey Association |
| Canada | Fort Saskatchewan (AB) | Fort Saskatchewan Fury Atom Female |
| Canada | Fort St. John (BC) | North Peace Eagles |
| Canada | Gananaoque (ON) | Kingston Ice Wolves Atom Red |
| Canada | Geary (NB) | Oromocto Minor Hockey Association |
| Canada | Georgina (ON) | Georgina Golden Hawks |
| Canada | Gibsons (BC) | Sunshine Coast Minor Hockey |
| Canada | Gloucester (ON) | Ottawa Girls Hockey Association (OGHA) |
| Canada | Golden (BC) | Golden Minor Hockey Association |
| Canada | Grand Falls Windsor (NL) | Grand Falls Windsor Minor Hockey Association |
| Canada | Grand Manan (NB) | Grand Manan Minor Hockey Association |
| Canada | Greenwood (NS) | Greenwood Lady Bombers |
| Canada | Hamilton (ON) | Hamilton Bulldogs & Oakville Hornets & Burlington Barracudas |
| Canada | Happy Valley-Goose Bay (NL) | Lake Melville Minor Hockey Association |
| Canada | Harbour Breton (NL) | Harbour Breton Hurricanes |
| Canada | Harvey, Stanley & Fredericton (NB) | Girl Guides of Canada (Stanley Unit) |
| Canada | Hawkesbury (NS) | Quad County Female |
| Canada | Hay River (NT) | Hay River Minor Hockey Association |
| Canada | Île-des-Chênes (MB) | Île-des-Chênes Minor Hockey |
| Canada | Île-des-Chênes (MB) | Lorette Minor Hockey |
| Canada | Ingersoll (ON) | West Oxford Girls Hockey Association |
| Canada | Inuvik (NT) | Inuvik Minor Hockey |
| Canada | Iqaluit (NU) | Iqaluit Blizzard |
| Canada | Joe Batt's Arm (NL) | Fogo Island Minor Hockey |
| Canada | Jonquière (QC) | Organisation du hockey féminin Saguenay-Lac-Saint-Jean |
| Canada | Kanata (ON) | Kanata Rangers Peewee 1 |
| Canada | Kanata (ON) | Kanata Rangers Peewee 4 |
| Canada | Keene (ON) | Peterborough Ice Kats Peewee AA |
| Canada | Keene (ON) | Keene Wolverines |
| Canada | Kemptville (ON) | Kemptville District Minor Hockey Association |
| Canada | Kenora (ON) | Lake of the Woods Girls Hockey |
| Canada | Kentville (NS) | Valley Wild Female Hockey Association |
| Canada | Kerrobert (SK) | Kerrobert Girls Hockey (Kerrobert Minor Hockey) |
| Canada | Kingston (ON) | Greater Kingston Girls Hockey Association Atom Gold |
| Canada | Labrador City (NL) | Labrador West Minor Hockey Association |
| Canada | Leduc (AB) | Leduc Minor Hockey Association |
| Canada | Lethbridge (AB) | Lethbridge Minor Hockey |
| Canada | Lewisporte (NL) | Lewisporte Seahawks |
| Canada | Liverpool (NS) | Queens County Minor Hockey |
| Canada | London (ON) | London Devilettes |
| Canada | Lumby (BC) | J.W. Inglis Elementary |
| Canada | Lumsden (SK) | Lumsden Bethune Minor Hockey Association |
| Canada | Manning (AB) | Manning Minor Hockey |
| Canada | Marystown (NL) | Marystown Minor Hockey Association |
| Canada | Midland (ON) | North Simcoe Capitals |
| Canada | Miramichi (NB) | Northern Panthers Female Bantam AAA |
| Canada | Miramichi (NB) | Greater Miramichi Female Hockey Association |
| Canada | Mitchell (ON) | Mitchell Minor Hockey Association |
| Canada | Moncton (NB) | South East Female Hockey Association |
| Canada | Montreal (QC) | McGill University |
| Canada | Montreal-Ouest (QC) | NDG Minor Hockey Association |
| Canada | Morden (MB) | Pembina Valley Minor Hockey Associations |
| Canada | Morinville (AB) | Sturgeon Hockey Club |
| Canada | Mount Pearl (NL) | Mount Pearl Minor Hockey Association |
| Canada | Nampa (AB) | Nampa Minor Hockey Association |
| Canada | Nampa (AB) | Nampa Minor Hockey Association |
| Canada | New Liskeard (ON) | Temiskaming Shores Minor Hockey Association |
| Canada | Newmarket (ON) | Maple Leaf Public School |
| Canada | Newport (NS) | West Hants Middle School |
| Canada | Nipawin (SK) | Nipawin Minor Hockey |
| Canada | North Simcoe (ON) | North Simcoe Capitals Peewee Rep B |
| Canada | North Vancouver (BC) | North Shore Female Ice Hockey Association |
| Canada | Okotoks (AB) | Okotoks Female Atom A |
| Canada | Okotoks (AB) | Okotoks Oilers Peewee |
| Canada | Okotoks (AB) | Okotoks Atom A |
| Canada | Oliver (BC) | Oliver Elementary |
| Canada | Orangeville (ON) | Orangeville Girls Hockey Association |
| Canada | Oshawa (ON) | Clarington Flames, North Durham Blades, Durham West Lightning |
| Canada | Ottawa (ON) | Ottawa Girls Hockey Association |
| Canada | Ottawa (ON) | Nepean Girls Hockey Association PH1 |
| Canada | Ottawa (ON) | Ottawa Ice Pee Wee C |
| Canada | Pain Court (ON) | Académie des Habiletés de Hockey Canada |
| Canada | Paradise (NL) | Paradise Warriors |
| Canada | Penticton (BC) | Penticton Minor Hockey Association |
| Canada | Peterborough (ON) | Peterborough Petes |
| Canada | Petrolia (ON) | Lambton Centennial School |
| Canada | Petrolia (ON) | Lambton Attack Peewee C |
| Canada | Pincourt (QC) | Hockey féminin Lac St-Louis |
| Canada | Pont-Rouge (QC) | As de Québec Pee Wee AAA féminin |
| Canada | Port Hope (ON) | West Northumberland Wild Midget AA |
| Canada | Powassan (ON) | North Bay Ice Boltz Novice B |
| Canada | Prince George (BC) | Prince George Minor Hockey |
| Canada | Quesnel (BC) | Quesnel Minor Hockey |
| Canada | Quispamsis (NB) | Fundy Nationals Midget AAA |
| Canada | Red Deer (AB) | Red Deer Sutter Fund Chiefs Atom Red |
| Canada | Red Deer (AB) | Red Deer Sutter Fund Chiefs Peewee Female B |
| Canada | Red Deer (AB) | West Central Wildcats Peewee A |
| Canada | Red Sucker Lake (MB) | Red Sucker Lake Female Hockey |
| Canada | Redwater (AB) | Redwater Minor Hockey Association |
| Canada | Regina (SK) | Hockey Regina |
| Canada | Renfrew (ON) | St. Joseph's High School (Hockey Canada Skills Academy) |
| Canada | Revelstoke (BC) | Revelstoke Minor Hockey Association |
| Canada | Richmond (BC) | Richmond Ravens Female Hockey Association |
| Canada | Sackville (NB) | Sackville Minor Hockey |
| Canada | Saint John (NB) | RVSJ Lancaster Female |
| Canada | Saint John (NB) | Central Female Hockey Association |
| Canada | Saskatoon (SK) | Comets Hockey (Saskatoon Minor Hockey) |
| Canada | Saskatoon (SK) | Martensville Minor Hockey Association |
| Canada | Saskatoon (SK) | Ranch Ehrlo Society – Schaller School |
| Canada | Saskatoon (SK) | Serious Academy of Hockey |
| Canada | Schreiber (ON) | North Shore Hockey Club |
| Canada | Seaforth (ON) | Huron Heat |
| Canada | Shawnigan Lake (BC) | Canadian Sport School Hockey League & Kerry Park MHA |
| Canada | Smiths Falls (ON) | Smiths Falls Girls Hockey Association |
| Canada | Sparwood (BC) | Elk Valley Wild Minor Hockey Association |
| Canada | St. Albert (AB) | St Albert Minor Hockey Association |
| Canada | St. Catharines (ON) | St. Catharines CYO Minor Hockey & Brock Badgers |
| Canada | St. Catharines (ON) | Niagara IceDogs |
| Canada | St. Catharines (ON) | St. Catharines Female Hockey Association (SCFHA) |
| Canada | St. John's (NL) | St.John's Minor Hockey Association |
| Canada | Starbuck (MB) | Macdonald Hockey |
| Canada | Ste. Anne (MB) | Ste. Anne Minor Hockey Association |
| Canada | Ste. Anne (MB) | Landmark Minor Hockey Association |
| Canada | Stephenville (NL) | Stephenville Minor Hockey |
| Canada | Stoney Creek (ON) | Stoney Creek Sabres Peewee BB |
| Canada | Stoney Creek (ON) | Stoney Creek Sabres Peewee B |
| Canada | Stratford (ON) | Stratford Aces |
| Canada | Stratford (PE) | Hockey P.E.I. |
| Canada | Summerside (PE) | Three Oaks Senior High |
| Canada | Surrey (BC) | Fraser Valley Rush Midget AAA |
| Canada | Tecumseh (ON) | École élémentaire catholique l'Essor |
| Canada | Thunder Bay (ON) | Thunder Bay Queens Bantam AA |
| Canada | Tillsonburg (ON) | Tillsonburg Lightning Bantam C |
| Canada | Torbay (NL) | Northeast Minor Hockey Association |
| Canada | Toronto (ON) | Scarborough Sharks Atom DS |
| Canada | Toronto (ON) | 120th Toronto Girl Guides |
| Canada | Toronto (ON) | Community Matters Toronto |
| Canada | Toronto (ON) | Girls Inc. |
| Canada | Toronto (ON) | Leaside Jr. Wildcats |
| Canada | Trois-Rivières (QC) | Rafales de la Mauricie |
| Canada | Twillingate (NL) | Twillingate/NWI Combines |
| Canada | Vancouver (BC) | Vancouver Female Ice Hockey Association |
| Canada | Victoria (BC) | Capital Region Female Minor Hockey Association |
| Canada | Wawa (ON) | Wawa Women's Hockey Association |
| Canada | Wesleyville (NL) | Beothic Minor Hockey |
| Canada | Wetaskiwin (AB) | Wetaskiwin Minor Hockey |
| Canada | Whitbourne (NL) | Trinity Placentia Minor Hockey Association |
| Canada | Whitehorse (BC) | Yukon Female Hockey Club |
| Canada | Wilcox (SK) | Athol Murray College of Notre Dame |
| Canada | Williams Lake (BC) | Williams Lake Minor Hockey |
| Canada | Windsor (ON) | Sun Parlour Female Hockey Association |
| Canada | Winnipeg (MB) | St. Vital Victorias Peewee AA Female |
| Canada | Winnipeg (MB) | Winnipeg East Female Hockey Association |
| Canada | Winnipeg (MB) | APHA Polar Bears |
| Canada | Winnipeg (MB) | St James Rockets female Peewee A1 |
| Canada | Winnipeg (MB) | University of Manitoba Bisons Women's Hockey |
| Canada | Woodstock (ON) | Woodstock Wildcats Atom C |
| Canada | Woodstock (NB) | Western Valley Female Hockey Association |
| Canada | Yellowknife (NT) | Yellowknife Minor Hockey Association |
| Croatia | Zagreb | Medarda Pack |
| Czech Republic | Prague | Czech Ice Hockey Association |
| Denmark | Copenhagen | Copenhagen Falcons |
| Denmark | Silkeborg | SSF1896 |
| Estonia | Kohtla-Jarve | HC Everest |
| Estonia | Tallinn | HC Grizzlyz |
| Estonia | Tartu | HK Säde |
| Estonia | Viljandi | HK Fuuriad |
| Finland | Alavus | Alavuden Peli-Veikot ry |
| Finland | Espoo | Espoon kiekkoseura |
| Finland | Helsinki | HIFK |
| Finland | Iisalmi | Iisalmen Peli-karhut juniorit ry IPK |
| Finland | Jyväskylä | JYP juniorit |
| Finland | Kerava | KJT Hockey ry |
| Finland | Kurikka | Kurikan Ryhti - Jääkiekko |
| Finland | Lahti | JuniorPelicans |
| Finland | Lieto | TarU Hockey |
| Finland | Loviisa | Loviisan Jääkiekkoklubi LJK |
| Finland | Mikkeli | Juniori-Jukurit ry |
| Finland | Orivesi | Fortuna ry |
| Finland | Oulainen | Cobrat |
| Finland | Pyhäjärvi | Pyhäjärven Pohti ry |
| Finland | Raahe | Teräs-Kiekko |
| Finland | Rauma | Rauman Lukko ry. |
| Finland | Riihimäki | Kiekko-Nikkarit ry |
| Finland | Säkylä | Lännen Kiekko |
| Finland | Sodankylä | Sodankylän pallo |
| Finland | Somero | Someron Pallon Juniorit RY |
| Finland | Tampere | Tappara Ry |
| Finland | Tampere | Tampereen Ilves |
| Finland | Teerijärvi | TUS - Terjärv Ungdoms Sportklubb |
| Finland | Turku | TPS Juniorijääkiekko ry |
| Finland | Vaasa | Vaasan Sportin Juniorit ry |
| Finland | Vantaa | Etelä-Vantaan & Kiekko-Vantaa |
| France | Anglet | Anglet Hormadi Amateur |
| France | Asnieres | Asnières IDF |
| France | Besancon | Besançon Doubs Hockey Club |
| France | Bordeaux | Boxers de Bordeaux Amateur |
| France | Caen | Drakkars de Caen |
| France | Chambery | SOC Hockey Chambery |
| France | Dammaries les Lys | Caribous de Seine et Marne |
| France | Dijon | HC Dijon |
| France | Fontenay sous bois | USF Fontenay sous bois |
| France | Joue les Tours | Les Herissons de Joué les Tours |
| France | Lanester | Béliers de Lanester |
| France | Limoges | Aspit Limoges |
| France | Megeve | Megève Hockey Club |
| France | Metz | Metz Hockey Club |
| France | Morzine-Avoriaz | Morzine-Avoriaz |
| France | Neuilly-sur-Marne | Hockey Club Neuilly-sur-Marne |
| France | Paris | Francais Volants |
| France | Saint Brieuc | Les Korrigans Saint Brieuc |
| France | Toulouse | TBHC |
| France | Vanoise | HCMP |
| France | Wasquehal | Lions de Wasquehal |
| Germany | Munich | Vitkovskiy Evelyn |
| Germany | Nuremberg | EHC 80 Nürnberg |
| Great Britain | Nottingham | Nottingham Vipers |
| Great Britain | Whitley Bay | Whitley Bay Squaws |
| Hungary | Budapest | Hungarian Ie Hockey Federation |
| Iceland | Reykjavik | Reykjavik Womens Ice Hockey Team |
| Indonesia | Kota Tangerang | Indonesia Ice Hockey Federation |
| Ireland | Belfast (UK) | Irish Ice Hockey Association |
| Italy | Bozen | Eagles Bolzano |
| Japan | Hachinohe | Japan Ice Hockey Federation |
| Korea | Seoul | Korea Ice Hockey Association |
| Kuwait | Kuwait City | Kuwait Winter Games Club |
| Latvia | Riga | HC "L&L" |
| Latvia | Riga | WHC "Lauvas" |
| Latvia | Riga | ICE Academy |
| Latvia | Tukums | SHK Tukums |
| Lithuania | Elektrenai | Hockey Lietuva |
| Malaysia | Johor Bahru | Blue Ice Skating Rink |
| Malaysia | Kuala Lumpur | Malaysian Ice Hockey Federation |
| Mexico | Mexico City | Mexican Ice Hockey Federation |
| Netherlands | Tilburg | IJshockey Nederland |
| New Zealand | Orakei | Auckland Ice Hockey Association |
| New Zealand | Queenstown | Queenstown Ice Arena |
| New Zealand | Queenstown | Rebecca Dobson |
| Norway | Halden | IHK Comet |
| Norway | Hønefoss | Ringerike Ishockeyklubb |
| Norway | Kongsvinger | Kongsvinger IL Ishockey |
| Norway | Kristiansand | Kristiansand Ishockey Klubb |
| Norway | Lillehammer | Lillehammer |
| Norway | Oslo | Vålerenga |
| Norway | Stavanger | Oilers Stavanger Hockey |
| Norway | Tromsø | Tromsø Ishockeyklubb |
| Norway | Skedsmokorset | Skedsmo ishockey klubb |
| Poland | Katowice | Kojotki Naprzod Janow Katowice |
| Romania | Bucharest | Triumf Bucharest |
| Romania | Gheorgheni | ACS Fox Hockey |
| Romania | Miercurea Ciuc | Sport Club Miercurea Ciuc |
| Russia | Dmitrov | Women's Hockey League |
| Russia | Krasnoyarsk | Women's Hockey League |
| Russia | Nizhni Novgorod | Women's Hockey League |
| Russia | St. Petersburg | Women's Hockey League |
| Russia | Yekaterinburg | Women's Hockey League |
| Serbia | Novi Sad | Serbian Ice Hockey Association |
| Slovakia | Liptovsky Hradok | Slovak Ice Hockey Federation |
| South Africa | Cape Town | South African Ice Hockey Federation |
| South Africa | Durban | KZN Ice Hockey Association |
| South Africa | Kempton Park | South African Ice Hockey Federation |
| South Africa | Port Elizabeth | Eastern Province Ice Hockey Association |
| Sweden | Älta, Stockholm | Älta IF |
| Sweden | Åmål | Åmåls SK |
| Sweden | Arvika | Arvika HC |
| Sweden | Åseda | Åseda IF |
| Sweden | Bålsta | Bålsta HC |
| Sweden | Björklinge | SK Iron |
| Sweden | Borås | Borås HC |
| Sweden | Danderyd, Stockholm | SDE HF |
| Sweden | Enköping | Enköpings SK HK |
| Sweden | Eskilstuna | Eskilstuna Linden HK |
| Sweden | Falkenberg | Falkenbergs HK |
| Sweden | Gävle | Brynäs IF |
| Sweden | Gävle | Gävle GIK |
| Sweden | Gnarp | Gällsta IK |
| Sweden | Gnesta | Gnesta IK |
| Sweden | Göteborg | Frölunda HC |
| Sweden | Göteborg | Göteborg HC |
| Sweden | Hallstavik | Hallsta IK |
| Sweden | Hammarö | Hammarö HC |
| Sweden | Haninge, Stockholm | Haninge Anchors HC |
| Sweden | Helsingborg | Helsingborg HC Ungdom |
| Sweden | Hovås, Göteborg | Hovås HC |
| Sweden | Järfälla, Stockholm | Järfälla HC |
| Sweden | Jönköping | HV 71 |
| Sweden | Karlskoga | Bofors IK Ungdom |
| Sweden | Karlskrona | Karlskrona HK |
| Sweden | Kumla | Kumla HC |
| Sweden | Linköping | Linköping HC |
| Sweden | Ljungby | IF Troja-Ljungby |
| Sweden | Luleå | Luleå HF |
| Sweden | Mariestad | Mariestad Bois HC |
| Sweden | Märsta | Wings HC Arlanda |
| Sweden | Mjölby | Mjölby HC |
| Sweden | Motala | Motala AIF |
| Sweden | Munkedal | Munkedals BK |
| Sweden | Nacka | Nacka HK |
| Sweden | Norrköping | HC Vita Hästen |
| Sweden | Olofström | Olofströms IK |
| Sweden | Örnsköldsvik | Modo HK |
| Sweden | Oskarshamn | IK Oskarshamn |
| Sweden | Österåker, Stockholm | IFK Österåker Vikings |
| Sweden | Piteå | Munksund-Skuthamn SK |
| Sweden | Rönnäng, Tjörn | Rönnängs IK |
| Sweden | Saltsjö-boo, Stockholm | Boo HC |
| Sweden | Södertälje | Södertälje SK |
| Sweden | Stockholm | Djurgårdens IF |
| Sweden | Sundbyberg, Stockholm | Sundbybergs IK |
| Sweden | Sundsvall | IF Sundsvall Hockey |
| Sweden | Täby, Stockholm | Täby HC |
| Sweden | Täby, Stockholm | Viggbyholms IK |
| Sweden | Trångsund, Stockholm | Trångsunds IF |
| Sweden | Trollhättan | Trollhättans HC |
| Sweden | Uddevalla | Uddevalla Blue Rocks IS |
| Sweden | Ulricehamn | Ulricehamns IF |
| Sweden | Umeå | Trixa HC |
| Sweden | Upplands-Väsby, Stockholm | Väsby IK HK |
| Sweden | Uppsala | Uppsala Young HC |
| Sweden | Vallentuna, Stockholm | IF Vallentuna Hockey |
| Sweden | Vännäs | Vännäs HC |
| Sweden | Värmdö | Värmdö HC |
| Sweden | Vimmerby | Vimmerby HC |
| Sweden | Virserum | Virserums SGF |
| Sweden | Visby | Visby Roma HK Ungdom |
| Sweden | Waxholm, Stockholm | IK Waxholm |
| Switzerland | Kloten | Florence Schelling |
| Switzerland | Kreuzlingen | EHC Kreuzlingen-Konstanz |
| Switzerland | Neuchâtel | Neuchâtel Hockey Academy |
| Switzerland | Thun | EV Bomo Thun |
| Turkey | Ankara | Turkish Ice Hockey Federation |
| Turkey | Erzurum | Turkish Ice Hockey Federation |
| Turkey | Istanbul | Turkish Ice Hockey Federation |
| Turkey | Kocaeli | Eray Atali |
| Ukraine | Kyiv | Ice Hockey Federation of Ukraine |
| USA | Allison Park (PA) | Pittsburgh Penguins Foundation |
| USA | Amherst (MA) | Amherst Hockey Association |
| USA | Ann Arbor (MI) | Ann Arbor Amateur Hockey Associations |
| USA | Annville (PA) | Palmyra Black Knights |
| USA | Arlington (VA) | Washington Capitals Girls' Hockey Weekend Clinic |
| USA | Beaver Dam (WI) | Beaver Dam Hockey Association |
| USA | Bethel Park (PA) | Pittsburgh Penguins |
| USA | Billings (MT) | BAHL |
| USA | Bloomington (MN) | Bloomington Girls Hockey |
| USA | Bolton (CT) | Eastern CT Hockey Organization |
| USA | Brainerd (MN) | Brainerd Amateur Hockey Association |
| USA | Brainerd (MN) | Brainerd Area Hockey Association |
| USA | Brewer (ME) | Brewer Youth Hockey |
| USA | Brewster (NY) | New York Rangers |
| USA | Brighton (MI) | Kesington Valley Hockey Association |
| USA | Burnsville (MN) | Burnsville Hockey Club |
| USA | Carol Stream (IL) | Admirals Hockey Club |
| USA | Centennial (CO) | Arapahoe Youth Hockey League |
| USA | Chaska (MN) | Chaska Chanhassen Hockey Association |
| USA | Chicago (IL) | Fifth Third Arena- Chicago Blackhawks |
| USA | Colmar (PA) | Lady Patriots / MAWHA Jamboree |
| USA | Columbus (OH) | Columbus Ice Hockey Club |
| USA | Coralville (IA) | Iowa City/Coralville Youth Hockey |
| USA | Danbury (CT) | New York Rangers |
| USA | Davenport (IA) | Quad City Hockey Association |
| USA | De Pere (WI) | Green Bay Area Youth Hockey |
| USA | Delano (MN) | Delano Area Youth Hockey Association |
| USA | Detroit (MI) | Detroit Red Wings |
| USA | Detroit (MI) | East Side Bulldogs Hockey Club |
| USA | Detroit Lakes (MN) | Detroit Lakes Youth Hockey |
| USA | Dickinson (ND) | Dickinson Hockey Club |
| USA | Dix Hills (NY) | Junior Rangers Girls Hockey |
| USA | Dublin (OH) | Columbus Blue Jackets |
| USA | East Falmouth (MA) | Falmouth Youth Hockey League |
| USA | Eden Prairie (MN) | Eden Prairie Hockey Association |
| USA | Escondido (CA) | San Diego Jr Gulls Girls Hockey |
| USA | Euless (TX) | Dallas Stars Youth Hockey |
| USA | Farmers Branch (TX) | Dallas Stars Youth Hockey |
| USA | Farmington Hills (MI) | HB Hockey Club |
| USA | Farmington Hills (MI) | Little Caesars Farmington Hills |
| USA | Fergus Falls (MN) | Fergus Falls Hockey Association |
| USA | Fort Wayne (IN) | SportOne Parkview Icehouse |
| USA | Garden city (MI) | Garden City Hockey Association mih2014 |
| USA | Geneva (NY) | Geneva Generals Hockey Organization |
| USA | Grand Rapids (MI) | GRAHA |
| USA | Greensburg (PA) | PAHL |
| USA | Gurnee (IL) | Warren Blue Line Hockey Association |
| USA | Hallowell (ME) | Skating Association of Maine |
| USA | Highgate Center (VT) | Missisquoi Amateur Hockey Association |
| USA | Hoffman Estates (IL) | Hoffman Estates Park District Wolverines |
| USA | Hudson (NH) | PWHPA |
| USA | Indian Trail (NC) | Charlotte Metro Hockey Association |
| USA | Indianapolis (IN) | Mid-am Indy and south pod event |
| USA | Irvine (CA) | The Rinks |
| USA | Isanti (MN) | Cambridge-Isanti Hockey Association |
| USA | Kalkaska (MI) | Kalkaska Area Hockey Association - K-Stars |
| USA | Kankakee (IL) | KVPD/Kankakee Youth Hockey Club |
| USA | Kenosah (WI) | Kenosha Komets |
| USA | Larchmont (NY) | Mamaroneck Youth Hockey |
| USA | Larchmont (NY) | Junior Rangers Girls Hockey |
| USA | Little Falls (NJ) | Junior Rangers Girls Hockey |
| USA | Littleton (CO) | Littleton Hockey Association |
| USA | Livonia (MI) | Livonia Hockey Association |
| USA | Long Beach (NY) | Junior Rangers Girls Hockey |
| USA | Maple Grove (MN) | Osseo Maple Grove Hockey Association |
| USA | McKinney (TX) | Dallas Stars Youth Hockey |
| USA | Medford (MA) | Melrose Youth Hockey |
| USA | Mequon (WI) | Ozaukee Youth Hockey Association |
| USA | Midland (MI) | Midland Amateur Hockey League |
| USA | Milwaukee (WI) | SHAW Youth Hockey |
| USA | Monmouth Junction (NJ) | ProSkate NJ Stars |
| USA | Mount Clemens (MI) | Mount Clemens Hockey Club |
| USA | New Jersey (NJ) | New Jersey Devils |
| USA | Newburgh (NY) | Junior Rangers Girls Hockey |
| USA | Northfield (MN) | Northfield Hockey Association |
| USA | Oakland (CA) | Oakland Bears Hockey Club |
| USA | Oxford (OH) | Miami Youth Hockey |
| USA | Pasco (WA) | Tri-Cities Amatuer Hockey Association |
| USA | Phoenix (AZ) | Valley Of the Sun Hockey Association |
| USA | Plano (TX) | Dallas Stars Youth Hockey |
| USA | Pleasanton (CA) | TVMHA - Lady Blue Devils |
| USA | Poughkeepsie (NY) | Junior Rangers Girls Hockey |
| USA | Prairie du Sac (WI) | Sauk Prairie Youth Hockey |
| USA | Raleigh (NC) | Carolina Jr. Hurricanes |
| USA | River Falls (WI) | River Falls Youth Hockey Association |
| USA | River Hills (WI) | Milwaukee Winter Club |
| USA | Rochester (MN) | Rochester Youth Hockey Association |
| USA | Rochester (NY) | Perinton Youth Hockey |
| USA | Saint Albans (VT) | St. Albans Skating Association |
| USA | Saint Paul (MN) | JCNSP Hockey |
| USA | San Mateo (CA) | Redwood City Black Stars |
| USA | Sartell (MN) | Storm'n Sabres (Sartell & Sauk Rapids) |
| USA | Shaker Heights (OH) | Shaker Youth Hockey Association |
| USA | Shakopee (MN) | Shakopee Hockey Association |
| USA | Shawnee (KS) | Kansas City Youth Hockey Association |
| USA | Shelton (CT) | Junior Rangers Girls Hockey |
| USA | Shoreline (WA) | Sno-King Amateur Hockey Association |
| USA | Shoreview (MN) | Mounds View Irondale Youth Hockey Association |
| USA | Sioux City (IA) | Siouxland Youth Hockey |
| USA | Sioux Falls (SD) | Prairie Region Girls Hockey Foundation |
| USA | Somerset (NJ) | Junior Rangers Girls Hockey |
| USA | Southgate (MI) | Downriver Hockey Club |
| USA | Sparta (WI) | Sparta Youth Hockey Association |
| USA | Spooner (WI) | Civic Center |
| USA | St. Clair (MI) | St. Clair Shores Hockey Association |
| USA | St. Clair Shores (MI) | St. Clair Shores Hockey Association |
| USA | St. Paul (MN) | St. Paul Capitals Hockey Association |
| USA | Stevens Point (WI) | SPAYHA |
| USA | Stockholm (NJ) | Junior Rangers Girls Hockey |
| USA | Stoughton (WI) | Stoughton Youth Hockey Association |
| USA | Strongsville (OH) | Ohio Junior Hockey |
| USA | Sun Prairie (WI) | Sun Prairie Youth Hockey Association |
| USA | Superior (CO) | Boulder Hockey Club |
| USA | Superior (WI) | Superior Amatuer hockey Association |
| USA | Syosset (NY) | Junior Rangers Girls Hockey |
| USA | Taylor (MI) | Belle Tire Girls Hockey Club |
| USA | Two Harbors (MN) | THYHA |
| USA | Union (NJ) | Junior Rangers Girls Hockey |
| USA | Vernon Hills (IL) | Glacier |
| USA | Voorhees Township (NJ) | AAHA |
| USA | Waldorf (MD) | Southern Maryland Sabres |
| USA | Waltham (MA) | Boston Bruins |
| USA | Warrendale (PA) | North Pittsburgh Youth Hockey Association |
| USA | Waseca (MN) | Waseca Hockey Association |
| USA | Wasilla (AK) | Matsu Amatuer Hockey Association |
| USA | Webster (NY) | Webster Youth Hockey |
| USA | West Bend (WI) | Washington County Youth Hockey Association |
| USA | West Saint Paul (MN) | Sibley Area Youth Hockey Ass. - SAYHA |
| USA | Williamstown (MA) | Williamstown Community |
| USA | Wisconsin Rapids (WI) | South Wood County Youth Hockey Association |
| USA | Yankton (SD) | Yankton Arae Ice Association |