World Girls' Ice Hockey Weekend 2018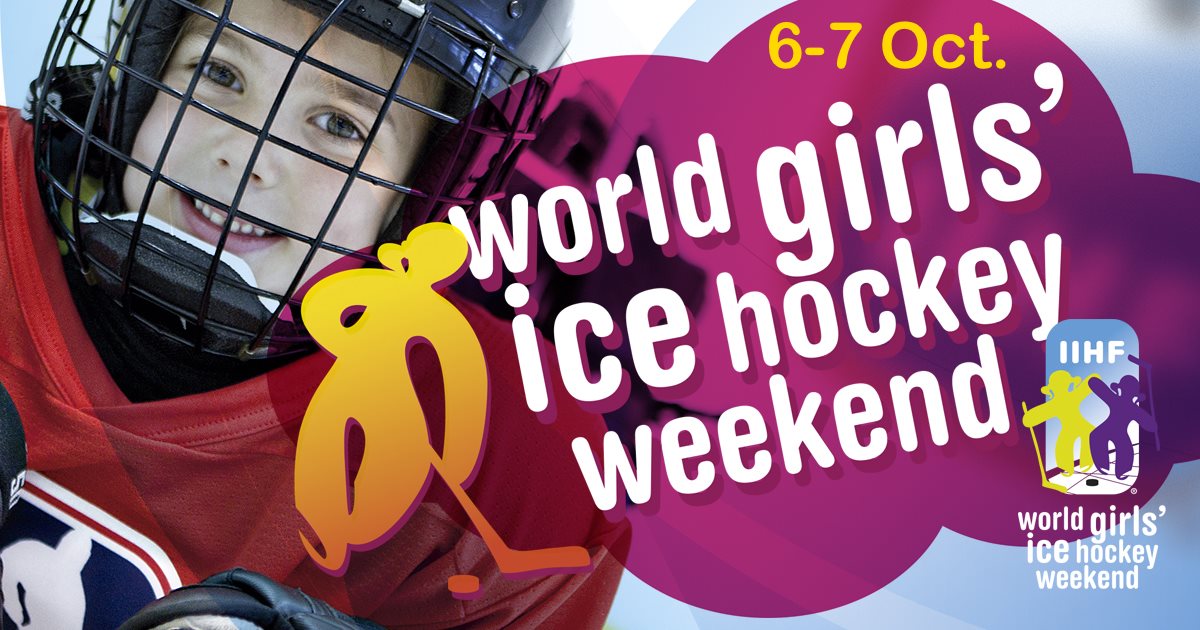 The 2018 World Girls' Ice Hockey Weekend is set for 6/7 October 2018 with over 500 organizers in 42 countries and on 6 continents!
Follow the
Tracker
during the weekend and many more pictures in our photo gallery on
Facebook
where you can help women's hockey by sharing them. You can also follow our activities on
Twitter
and
Instagram
, please use the hashtag #WGIHW when posting about the event.
Organizers please send the
Reporting Form
and photos to
[email protected]
as soon as your event is over to be included in the tracker during the weekend.
List of #WGIHW events
| | | |
| --- | --- | --- |
| Country | City | Organizer |
| Argentina | Buenos Aires | Asociacion Argentina de Hockey sobre Hielo y en Linea |
| Australia | Acacia Ridge / Brisbane | Ice Hockey Queensland |
| Australia | Adelaide | Ice Hockey South Australia |
| Australia | Docklands / Melbourne | Ice Hockey Victoria |
| Australia | Perth | |
| Australia | Sydney | |
| Austria | Linz | DHC IceCats Linz |
| Belgium | Hasselt | Limburg One |
| Bulgaria | Sofia | Vanesa Georgieva |
| Canada | Abbotsford BC | AFHA |
| Canada | Abbotsford BC | Fraser Valley Rush |
| Canada | Airdrie AB | Airdrie Atom A Travel Team & Roadrunners |
| Canada | Alliston ON | Individual |
| Canada | Alma QC | Hockey mineur alma / Les Rebelles |
| Canada | Almonte ON | Carleton Place Cyclones |
| Canada | Altona MB | Altona Minor Hockey Association |
| Canada | Ancaster ON | Ancaster Avalanche Girls Hockey Association |
| Canada | Armstrong BC | North Okanagan minor hockey |
| Canada | Arnold's Cove NL | Clarenville Area Minor Hockey Association |
| Canada | Baden ON | Wilmot Wolverines Senior B |
| Canada | Balzac AB | Airdrie, Alberta |
| Canada | Barraute QC | Forex Midget Féminin Val-D'Or |
| Canada | Barrie ON | Bear Creek SS Girls Hockey Team & students |
| Canada | Barrie ON | BWHA - Barrie Women's Hockey Association |
| Canada | Bay Roberts NL | Bay Arena Roverines |
| Canada | Beaumont AB | North Central Impact Bantam Female Elite |
| Canada | Belleville ON | Belleville Bearcats midget BB |
| Canada | Bolton ON | Caledon Women's Hockey League |
| Canada | Bonavista NL | Bonavista Trinity Minor Hockey Association |
| Canada | Bowmanville ON | Clarington Girls Hockey Association |
| Canada | Bradford ON | Bradford Minor Hockey Association |
| Canada | Brampton ON | Brampton Canadettes & Brownies |
| Canada | Brandon MB | Westman Wildcats Female Midget AAA Hockey Team |
| Canada | Brockville ON | Brockville Girls hockey Association |
| Canada | Brooks AB | Prairie Thunder Female Hockey- County of Newell |
| Canada | Buffalo Narrows SK | Buffalo Narrows Re-Creation Inc. |
| Canada | Burlington ON | Stoney Creek Sabres |
| Canada | Burnaby BC | Burnaby 8 Rinks, ASHL, Canlan Ice Sports |
| Canada | Burnt Islands BLP NL | Channel Port-aux-Basques Minor Hockey |
| Canada | Burtts Corner NB | Central Female Hockey Association |
| Canada | Caledon ON | 1st Southfields Sparks and Brownies |
| Canada | Caledon ON | Headwaters Hockey |
| Canada | Calgary AB | Calgary Jr Inferno |
| Canada | Calgary AB | Girls Hockey Calgary |
| Canada | Calgary AB | SAIT Trojans Women's Hockey |
| Canada | Calgary AB | Simons Valley Hockey Association |
| Canada | Cambridge Bay NU | Cambridge Bay Girls Hockey |
| Canada | Campbell River BC | Hurricanes |
| Canada | Candiac QC | Les Remparts du Richelieu - Peewee AA |
| Canada | Carleton Place ON | Carleton place Cylones. Fundies |
| Canada | Chatham ON | Académie des habiletés Hockey Canada - Pain Court |
| Canada | Chatham ON | Chatham Girls Hockey Association |
| Canada | Churchill Falls NL | Churchill falls minor hockey |
| Canada | Clarenville NL | Clarenville Minor Hockey Association Under15 Girls |
| Canada | Cobourg ON | West Northumberland Girls Hockey Association |
| Canada | Cochrane AB | Cochrane Minor Hockey - Female Committee |
| Canada | Collingwood ON | Collingwood Girls Hockey Association |
| Canada | Courtice ON | Oshawa Lady Generals Midget A |
| Canada | Cow Bay NS | Maritime Myst Women's Hockey Club and Development Progam |
| Canada | Creighton SK | Flin Flon Minor Hockey |
| Canada | Dalemead AB | Okotoks PeeWee Green |
| Canada | Dartmouth NS | Hockey Nova Scotia |
| Canada | Dartmouth NS | Newbridge Hockey Academy School |
| Canada | Dauphin MB | Parkland Minor Hockey Association |
| Canada | Deer Lake NL | Deer Lake Minor Hockey Association |
| Canada | Delta BC | South Delta Minor Hockey Association |
| Canada | Duck Lake SK | Beardy's and Okemasis Cree Nation |
| Canada | Edmonton AB | Midget EG714 |
| Canada | Edmonton AB | The Galaxy Cats - Whitemud West |
| Canada | Elginburg ON | Kingston Area Minor Hockey Association |
| Canada | Elmira ON | Woolwich Wild Peewee B |
| Canada | Elrose SK | Elrose Minor Hockey |
| Canada | Enterprise ON | Stone Mills Girls Hockey Association |
| Canada | Estevan SK | Estevan Senchuk Bearcats |
| Canada | Etobicoke ON | North York Storm Girls Hockey League |
| Canada | Falmouth NS | West Hants School |
| Canada | Fort McMurray AB | Fort McMurray Minor Hockey |
| Canada | Fort Nelson BC | Fort Nelson Minor Hockey Association |
| Canada | Gads Hill ON | Individual |
| Canada | Gananoque ON | Greater Kingston Girls Atom Black |
| Canada | Gatineau QC | Deschenes Community Centre |
| Canada | Gillam MB | Gillam School |
| Canada | Glace Bay NS | Bantam AA Cape Breton Female |
| Canada | Grand Falls-Windsor NL | Grand Falls-Windsor Minor Hockey Association |
| Canada | Grand Manan NB | Grand Manan Minor Hockey Association |
| Canada | Guelph ON | University of Guelph Women's Hockey |
| Canada | Hamilton ON | Hamilton Bulldogs Hockey Club |
| Canada | Happy Valley Goose Bay NL | Individual |
| Canada | Harbour Breton NL | Harbour Breton Minor Hockey Association |
| Canada | Hay River NT | Hay River Minor Hockey Association |
| Canada | Ingersoll ON | West Oxford Inferno Midget C |
| Canada | Inuvik NT | Inuvik Minor Hockey Association |
| Canada | Iqaluit NU | Iqaluit Amateur Hockey Association |
| Canada | Kanata ON | Capital City Condors |
| Canada | Kanata ON | Kanata Girls Hockey Association (KGHA) ATOM team 2 |
| Canada | Keenans NB | Greater Miramichi Female Hockey Association |
| Canada | Kensington PE | Kensington and Area Minor Hockey Association |
| Canada | Kerrobert SK | Kerrobert Girls Hockey presents World Girls Hockey Celebration |
| Canada | Keswick ON | Georgina Golden Hawks |
| Canada | Kitchener ON | Kitchener Lady Rangers Bantam BB |
| Canada | Labrador City NL | Labrador West Minor Hockey Association |
| Canada | LaSalle ON | Sun Parlour Female Hockey Association |
| Canada | Lethbridge AB | Lethbridge Minor Hockey |
| Canada | Lillooet BC | Lillooet Minor Hockey Association |
| Canada | Lively ON | Sudbury Lady Wolves Atom BB |
| Canada | London ON | Ilderton Bantam C Girls |
| Canada | London ON | Lambeth Lancers |
| Canada | London ON | London Devilettes |
| Canada | Long Settlement NB | Western Valley Female Hockey Association |
| Canada | Lorette MB | Lorette Minor Hockey |
| Canada | Lorette West MB | Ile Des Chenes Minor Hockey |
| Canada | Lucan ON | London Devilettes Bantam A |
| Canada | Lumby BC | JW Inglis Elementary School |
| Canada | Lunenburg NS | Western Riptide Female Hockey Association |
| Canada | Lunenburg ON | Cornwall typhoons Atom House |
| Canada | Manning AB | MAnning Minor Hockey Association |
| Canada | Manotick ON | Hockey Mama's |
| Canada | Marathon ON | North Shore Hockey Club |
| Canada | Markdale ON | Mount Forest Rams Minor Hockey |
| Canada | Massey Drive NL | Corner Brook Minor Hockey |
| Canada | Meadow Lake SK | Meadow Lake Minor Hockey |
| Canada | Meadowvale NS | 14 Wing Recreation |
| Canada | Medicine Hatc AB | MHMH World Female Hockey Celebration |
| Canada | Melville SK | Parkland Bantam Fire (Melville Minor Hockey Association) |
| Canada | Merrickville ON | Kemptville District Minor Hockey Association |
| Canada | Middleton NS | Valley Wild Peewee AA |
| Canada | Midland ON | North Simcoe Girls Hockey Association |
| Canada | Milton ON | Business |
| Canada | Mississauga ON | Ontario Women's Hockey Association |
| Canada | Mitchell ON | Mitchell Minor Hockey |
| Canada | Montague PE | School |
| Canada | Montréal QC | Les Canadiennes de Montréal |
| Canada | Montréal QC | LHEQ AAA féminin |
| Canada | Montreal-Ouest QC | NDG Hockey Association |
| Canada | Morden MB | Morden Minor Hockey |
| Canada | Morristown NS | Antigonish Minor Hockey |
| Canada | Nampa AB | Nampa Minor Hockey Association |
| Canada | Nanaimo BC | Nanaimo Minor Hockey Association |
| Canada | Nashwaak village NB | 1st Devon Sparks/guides, girl guides |
| Canada | New Liskeard ON | Findlay's Puckhounds |
| Canada | New Liskeard ON | Temiskaming Shores Minor Hockey Association |
| Canada | New waterford NS | Cape Breton atom A Blizzard |
| Canada | Newcastle ON | Clarington Flames Atom #2 Green Dragons |
| Canada | Niagara Falls ON | Niagara Girls Hockey Association |
| Canada | Nipawin SK | Nipawin Minor Hockey |
| Canada | North York ON | Individual |
| Canada | Notre Dame NB | Westmorland Kent Female Hockey Association |
| Canada | Oakbank MB | Springfield Icehawks Novice Girls |
| Canada | Okotoks AB | Okotoks Female Hockey Development |
| Canada | Oliver BC | TEN / OKF / OES HCSA |
| Canada | Oromocto NB | Oromocto Minor Hockey Association |
| Canada | Oshawa ON | UOIT Ridgebacks WOmen's Hockey Team (U SPORTS) |
| Canada | Ottawa ON | Nepean Wildcats PH2 |
| Canada | Ottawa ON | Ottawa Girls Hockey Assc (OGHA) Peewee |
| Canada | Paradise NL | Paradise Minor Hockey Association |
| Canada | Paradise NL | TomCats Women's Hockey League |
| Canada | Paradise NS | Valley Wild Female Hockey Association |
| Canada | Paris ON | Brantford Ice Cats |
| Canada | Penticton BC | Penticton Minor Hockey - ice Dragons |
| Canada | Petrolia ON | Lambton Centennial School |
| Canada | Pilot Butte SK | Prairie Storm Minor Hockey Association |
| Canada | Pincourt QC | Lac St-Louis Regional Girls Hockey |
| Canada | Port Alberni BC | Grindstone Award Foundation |
| Canada | Port Coquitlam BC | TriCities Female Ice Hockey Association PeeWee A1 |
| Canada | Port Hastings NS | Strait Richmond Minor Hockey |
| Canada | Port Moody BC | Pacific Coast Amateur Hockey Association |
| Canada | Prince George BC | Prince George Minor Hockey Assoc |
| Canada | Princeton BC | Princeton and District Minor Hockey Association |
| Canada | Quesnel BC | Quesnel minor hockey association |
| Canada | Red Deer AB | Sutter Fund Peewee A |
| Canada | Red Sucker Lake MB | Flurries Girls Hockey Day |
| Canada | Redwater AB | Redwater Minor Hockey |
| Canada | Regina SK | FNUC Women's Hockey Alumni Girl's World Hockey Day Huddle |
| Canada | Regina SK | Martin Academy - HCSA Member |
| Canada | Regina SK | University of Regina/Hockey REgina |
| Canada | Renfrew ON | School - St Joseph's High School |
| Canada | Revelstoke BC | Skate Like a girl |
| Canada | Richmond Hill ON | Aurora Panthers Atom Team Orange |
| Canada | Riverview NB | South East Female Hockey Association |
| Canada | Rothesay NB | Atlantic Challenge Cup 2018 |
| Canada | Saint John NB | RVSJFH Assoc |
| Canada | Sainte-Adèle QC | Les Palettes Roses |
| Canada | Sarnia ON | Sarnia Jr. Lady Sting Novice 'C' |
| Canada | Saskatoon SK | Saskatoon Comets Hockey |
| Canada | Sechelt BC | Sunshine Coast Minor Hockey |
| Canada | Smith Falls ON | Carelton Place Cyclones |
| Canada | Smiths Falls ON | Smiths Falls Girls Hockey Association |
| Canada | Sparwood BC | Elk Valley Wild |
| Canada | St.John's NL | St.John's Minor Hockey |
| Canada | St-Ambroise QC | Rebelles Saguenay-Lac-St-Jean |
| Canada | Starbuck MB | MacDonald hockey association |
| Canada | Ste-Catherine QC | Association de hockey mineur féminin du St-Laurent |
| Canada | Stephenville NL | Stephenville Minor Hockey |
| Canada | Stettler AB | Stettler pee wee storm |
| Canada | Stittsville ON | Kanata Rangers Atom AA Girls Hockey Team |
| Canada | Stoney Creek ON | Stoney Creek Girls Hockey Association |
| Canada | Stouffville ON | Markham Stouffville Stars |
| Canada | Stratford ON | Stratford Aces |
| Canada | Stratford PE | Hockey PEI |
| Canada | Summerside PE | Three Oaks Senior High School |
| Canada | Sydney NS | Cape Breton Blizzard Girls Hockey |
| Canada | Tatamagouche NS | Tatamagouche titans |
| Canada | Tecumseh ON | Académie des Habiletés Hockey Canada |
| Canada | Thornhill ON | Vaughan Flames Pee Wee B team |
| Canada | Tillsonburg ON | Tillsonburg Minor Hockey - Girls Lightning |
| Canada | Tobique NB | Victoria tobique minor hockey |
| Canada | Torbay NL | Northeast Minor Hockey Association |
| Canada | Toronto ON | Aurora Predators |
| Canada | Toronto ON | Community Matters Toronto |
| Canada | Toronto ON | Girl Guides of Canada - 120th Toronto Guides |
| Canada | Toronto ON | Skate Sister Hockey |
| Canada | Toronto ON | University of Toronto Varsity Blues |
| Canada | Twillingate NL | Individual |
| Canada | Vancouver BC | UBC Women's Hockey |
| Canada | Vancouver BC | Vancouver Female Hockey Association |
| Canada | Victoria BC | Saanich Minor Hockey Association |
| Canada | Victoria BC | The Lightning |
| Canada | Victoria Harbour ON | North Simcoe Girls Hockey Association |
| Canada | Victoria NL | CeeBees Minor Hockey Association |
| Canada | Wainwright AB | Wainwright Minor Hockey |
| Canada | Wasaga Beach ON | Individual |
| Canada | Wawa ON | Wawa Mustangs |
| Canada | Wetaskiwin AB | Wetaskiwin Minor Hockey Association |
| Canada | Whitby ON | Durham West Lightning Peewee A |
| Canada | Whitehorse YT | Individual |
| Canada | Wilcox SK | Athol Murray College of Notre Dame |
| Canada | Williams Lake BC | Williams Lake Minor Hockey Association |
| Canada | Wilmot NS | Greenwood Lady Bombers |
| Canada | Winnipeg MB | APHA Polar Bears |
| Canada | Winnipeg MB | Peewee AA Saints |
| Canada | Winnipeg MB | St James Atom Rockets |
| Canada | Winnipeg MB | St. Vital Victorias |
| Canada | Winnipeg MB | Technical Vocational High School |
| Canada | Winnipeg MB | University of Manitoba Bison Women's Hockey team |
| Canada | Winnipeg MB | Winnipeg East Female Stars Hockey |
| Canada | Woodmans Point NB | River Valley Saint John Female Hockey Association |
| Canada | Woodstock NB | Western Valley Female Hockey Association |
| Canada | Wyoming ON | Lambton Attac Atom C |
| Canada | Yellowknife NT | Yellowknife Minor Hockey |
| Croatia | Sisak | Medarda Pack |
| Czech Republic | Blansko | Czech Ice Hockey Association |
| Czech Republic | Pribram | Czech Ice Hockey Association |
| Denmark | Aalborg | AaB Ishockey |
| Denmark | Copenhagen (Ørestad) | Copenhagen Falcons |
| Denmark | Copenhagen (Østre) | Københavns Skøjteløberforening |
| Denmark | Odense | Odense Ishockey Klub |
| Finland | Ähtäri | Ähtärin Kiekko-Haukat |
| Finland | Alavus | Alavuden Peli-Veikot |
| Finland | Espoo | Espoon Kiekkoseura |
| Finland | Espoo | Espoon Kiekkoseura |
| Finland | Eura | Panelian Raikas |
| Finland | Hämeenlinna | HPK-JUNIORIJÄÄKIEKKO |
| Finland | Helsinki (Malmi) | Helsingin IFK |
| Finland | Helsinki (Malmi) | Oulunkylän Kiekko-Kerho |
| Finland | Helsinki (Salmisaari) | Helsingin Kiekko-Tiikerit |
| Finland | Iisalmi | Iisalmen Peli-Karhut juniorit |
| Finland | Jyväskylä | JYP Juniorit |
| Finland | Kerava | KJT Hockey |
| Finland | Kitee | Kiteen Jääsudet |
| Finland | Kokkola | Juniori Hermes |
| Finland | Kontiolahti | Kajastus |
| Finland | Kurikka | Kurikanhti - Jääkiekko |
| Finland | Lahti | JuniorPelicans |
| Finland | Lapinlahti | Lapinlahden Luistin 89 |
| Finland | Lappeenranta | Saimaan Pallo |
| Finland | Lieto | Taru Hockey |
| Finland | Lohja | Harjun Kiekko. |
| Finland | Loviisa | LJK |
| Finland | Luoto | IF Pucken |
| Finland | Mänttä-Vilppula | Koillis-Pirkan Kiekko |
| Finland | Mikkeli | Juniori-Jukurit |
| Finland | Nivala | Nivala Cowboys |
| Finland | Nurmes | Nurmeksen Sepot |
| Finland | Orivesi | Fortuna |
| Finland | Oulainen | Cobrat |
| Finland | Oulu (Oulunsalo) | Kiekko-Laser Juniorit |
| Finland | Oulu (Raksila) | Oulun Kärpät 46 |
| Finland | Parkano | Parkanon Kiekko |
| Finland | Pello | Pellon kiekko -82 |
| Finland | Pyhäjärvi | Pyhäjärven Pohti |
| Finland | Raahe | Teräs-kiekko |
| Finland | Riihimäki | Riihimäen Kiekko-Nikkarit |
| Finland | Rovaniemi | Rovaniemen Kiekko |
| Finland | Savonlinna | Juniori-SaPKo |
| Finland | Seinäjoki | S-Kiekko |
| Finland | Tampere (Tesoma) | Ilves |
| Finland | Tampere (Tesoma) | Tappara |
| Finland | Teerijärvi | TUS - Terjärv Ungdoms Sportklubb |
| Finland | Toivala | Juniori-KalPa |
| Finland | Tornio | Tornion Ice Hockey Club |
| Finland | Turku (Impivaara) | TPS Juniorijääkiekko |
| Finland | Turku (Varissuo) | TuTo |
| Finland | Vaasa | Juniorsport vaasa |
| Finland | Varkaus | Warkis Varkaus |
| Finland | Ylivieska | Ylivieskan Jääkarhut |
| Germany | Berlin | Eisbären Juniors Berlin e.V. |
| Germany | Bietigheim-Bissingen | SC Bietigheim-Bissingen Steelers e.V. |
| Great Britain | Nottingham | Nottingham Ice Hockey Club |
| Greece | Athens | Flying Chicks Athens Ice Hockey Team |
| Hong Kong | Hong Kong | Hong Kong Ice Hockey Association |
| Hungary | Budapest | Hungarian Ice Hockey Federation |
| Iceland | Reykjavik | Reykjavik Hockey Club |
| Indonesia | Tangerang Selatan | FHEI |
| Ireland | Belfast (UK) | Irish Ice Hockey Association |
| Ireland | Dublin | Irish Ice Hockey Association |
| Ireland | Dundalk | Irish Ice Hockey Association |
| Italy | Alleghe | Alleghe Hockey |
| Japan | Yokohama | Japan Ice Hockey Federation |
| Korea | Seoul | Korea Ice Hockey Association |
| Kuwait | Kuwait | Kuwait Ice Hockey Association |
| Latvia | Marupe | Ice Academy & L&L |
| Latvia | Tukums | Latvia Ice Hockey Federation |
| Lithuania | Kaunas | Hockey Lietuva |
| Malaysia | Kelana Jaya | Malaysia Ice Hockey Federation |
| Mexico | Leon | Club Bandidas |
| Mexico | Mexico City | Mexican Ice Hockey Federation |
| Netherlands | Eindhoven | IJshockey Nederland |
| Netherlands | Tilburg | IJshockey Nederland |
| New Zealand | Lower Hutt | Wellington Ice Hockey Association |
| Norway | Bærum | Jutul |
| Norway | Bergen | Bergen |
| Norway | Halden | Comet |
| Norway | Haugesund | Haugesund |
| Norway | Hønefoss | Ringerike |
| Norway | Kristiansand | Kristiansand |
| Norway | Kristiansund | Kristiansund |
| Norway | Lillehammer | Lillehammer |
| Norway | Lørenskog | Lørenskog/Skedsmo |
| Norway | Oslo | Manglerud Star |
| Norway | Sarpsborg | Sparta Sarpsborg |
| Norway | Stavanger | Stavanger |
| Norway | Tønsberg | Tønsberg |
| Norway | Trondheim | Astor Ishockeyklubb |
| Norway | Ullensaker | Ullensaker |
| Romania | Brasov | ASC Corona 2010 Brasov |
| Romania | Karcfalva | Szekelyfoldi Jegkorong Akademia |
| Romania | Otopeni / Bucharest | ACS Steaua Rangers |
| Romania | Otopeni / Bucharest | Triumf Bucharest |
| Russia | Bogorodsk / Nizhni Novgorod | SKIF |
| Russia | Krasnoyarsk | Biryusa |
| Russia | Moscow Region | Tornado |
| Russia | Podolsk | Sports school of the Olympic reserve on hockey |
| Russia | Ufa | Agidel |
| Russia | Yekaterinburg | SKSO |
| Serbia | Novi Sad | Serbian Ice Hockey Association |
| Singapore | Singapore | Singapore Ice Hockey Association |
| Slovakia | Bratislava | HC SKP Bratislava - Slovakia Selects |
| Slovakia | Liptovsky Mikulas | Winner centrum |
| Slovakia | Spisska Nova Ves | HC Osy Spisska Nova Ves |
| South Africa | Cape Town | Western Province Ice Hockey |
| South Africa | Centurion | South African Ice Hockey Association |
| South Africa | Durban | KZN Ice Hockey Association |
| South Africa | Port Elizabeth | Eastern Province Ice Hockey Association |
| Spain | Pulianas / Granada | Steven Gonzalez |
| Sweden | Älta / Stockholm | Älta IF |
| Sweden | Åmål | Åmåls SK |
| Sweden | Åseda | Åseda IF |
| Sweden | Bålsta | Bålsta HC |
| Sweden | Danderyd / Stockholm | SDE HF |
| Sweden | Enköping | Enköpings SK HK |
| Sweden | Eskilstuna | Eskilstuna Linden hockey |
| Sweden | Falkenberg | Falkenberg HK |
| Sweden | Farsta / Stockholm | FoC Farsta |
| Sweden | Gävle | Brynäs IF / Sandvikens IK |
| Sweden | Gnesta | Gnesta IK |
| Sweden | Gothenburg | Frölunda HC |
| Sweden | Gustavsberg / Stockholm | Värmdö HC |
| Sweden | Hällefors | Hällefors IK |
| Sweden | Halmstad | Halmstad HF |
| Sweden | Haninge / Stockholm | Haninge Anchors HC |
| Sweden | Hovås / Gothenburg | Hovås HC |
| Sweden | Huddinge / Stockholm | Huddinge IK |
| Sweden | Järna | Järna SK |
| Sweden | Jönköping | HV 71 |
| Sweden | Kalmar | Kalmar HC |
| Sweden | Karlskrona | Karlskrona HK |
| Sweden | Kiruna | Kiruna IF Ungdom |
| Sweden | Kungsbacka | Hanhals IF |
| Sweden | Limhamn / Malmö | Limhamn Hockey |
| Sweden | Linköping | Linköping HC |
| Sweden | Ljungby | IF Troja-Ljungby |
| Sweden | Luleå | Luleå HF |
| Sweden | Mariestad | Mariestad BOIS HC |
| Sweden | Märsta | Wings HC Arlanda |
| Sweden | Mora | Mora IK |
| Sweden | Motala | Motala AIF |
| Sweden | Nacka / Stockholm | Nacka HK |
| Sweden | Örnsköldsvik | Modo HK |
| Sweden | Österåker / Stockholm | IFK Österåker Vikings HC |
| Sweden | Partille / Gothenburg | Partille HK |
| Sweden | Piteå | Munksund-Skuthamn SK |
| Sweden | Rimbo | Rimbo IF |
| Sweden | Rönnäng | Rönnängs IK |
| Sweden | Södertälje | Södertälje SK |
| Sweden | Stockholm | Brinkens IF / Djurgårdens IF |
| Sweden | Sundbyberg / Stockholm | Sundbybergs IK |
| Sweden | Täby / Stockholm | IFK Täby HC |
| Sweden | Trollhättan | Trollhättans HC |
| Sweden | Uddevalla | Uddevalla Blue Rocks IS |
| Sweden | Ulricehamn | Ulricehamns IF |
| Sweden | Umeå | Trixa HC |
| Sweden | Upplands Väsby / Stockholm | Väsby IK HK |
| Sweden | Uppsala | Uppsala Young HC |
| Sweden | Vallentuna / Stockholm | IF Vallentuna Hockey |
| Sweden | Vänersborg | Vänersborgs HC |
| Sweden | Vimmerby | Vimmerby HC |
| Sweden | Vindeln | Vindelns HF |
| Sweden | Visby | Visby-Roma Ungdom |
| Sweden | Waxholm / Stockholm | IK Waxholm |
| Switzerland | Kloten | Florence Schelling |
| Switzerland | Kreuzlingen | EHC Kreuzlingen-Konstanz |
| Turkey | Ankara | Turkish Ice Hockey Federation |
| Turkey | Erzurum | Turkish Ice Hockey Federation |
| Turkey | Istanbul | Turkish Ice Hockey Federation |
| Turkey | Kocaeli | Eray Atali |
| Ukraine | Dnipro | Dnepr Queens HC |
| Ukraine | Dnipro | Hockey Club Dnepr Squirrels |
| Ukraine | Kyiv | The Ice Hockey Federation of Ukraine |
| United Arab Emirates | Abu Dhabi | UAEISF |
| USA | Abingdon MD | Harford North Stars |
| USA | Amherst MA | Amherst Hockey Association |
| USA | Angola IN | Trine Youth Hockey Association |
| USA | Ann Arbor MI | Ann Arbor Amateur Hockey Association |
| USA | Annville PA | Palmyra Area Minor Hockey Association Black Knights |
| USA | Appleton WI | Fox Valley Youth Hockey Association |
| USA | Auburn ME | Maine Gladiators |
| USA | Austin TX | Chaparral Ice Center |
| USA | Bad Axe MI | Huron County Hockey Association |
| USA | Battle Creek MI | GBCIHA |
| USA | Beaver Dam WI | Beaver Dam Hockey Association |
| USA | Beaverton OR | Portland JR. Winterhawks |
| USA | Blaine MN | Mounds View Irondale Youth Hockey Association |
| USA | Bolton CT | ECHO - Eastern CT Hockey Organization |
| USA | Bowling Green OH | Bowling Green Youth Hockey Association |
| USA | Bozeman MT | Bozeman Amateur Hockey Association |
| USA | Brainerd MN | Brainerd Amateur Hockey Association |
| USA | Breezy Point MN | Northern Lakes Youth Hockey Association |
| USA | Bremerton WA | West Sound Hockey Club |
| USA | Brewer ME | Brewer Youth Hockey |
| USA | Brighton MI | Kensington Valley Hocley Association |
| USA | Brownstown Twp MI | Downriver Otters |
| USA | Butte MT | Butte Amateur Hockey Associtaion |
| USA | Carol Stream IL | Admirals Hockey Club |
| USA | Cedarburg WI | Ozaukee Youth Hockey Association |
| USA | Chaska MN | CCHA Girls/Stormhawks High School Program |
| USA | Cheektowaga NY | Buffalo Stars Hockey |
| USA | Chicago IL | MB Ice Arena |
| USA | Chippewa Falls WI | Chippewa Youth Hockey Association |
| USA | Colorado Springs CO | Colorado Springs Amateur Hockey Association |
| USA | Columbus OH | Columbus Ice Hockey Club |
| USA | Crestwood IL | St. Jude Hockey Club |
| USA | Davenport IA | Quad City Hockey Association |
| USA | De Pere WI | Green Bay Area Youth Hockey Associaiton |
| USA | Delafield WI | Elmbrook Youth Hockey Association |
| USA | Delano MN | Delano Youth Hockey |
| USA | Detroit MI | East Side Bulldogs Hockey Club |
| USA | Dickinson ND | Dickinson Hockey Club |
| USA | East Haven CT | Shoreline Sharks Youth Hockey |
| USA | East Lansing MI | Lansing Hockey Club |
| USA | Eden Prairie MN | Eden Prairie Hockey Association |
| USA | El Paso TX | El Paso Hockey Association |
| USA | Fairport NY | Rochester Grizzlies |
| USA | Farmington Hills MI | HB Hockey Club |
| USA | Fergus Falls MN | Fergus Falls Hockey Association |
| USA | Fond du Lac WI | Fond du Lac Blue Line Hockey Club |
| USA | Fort Wayne IN | SportOne Parkview Icehouse/Canlan |
| USA | Grand Rapids MI | GRAHA |
| USA | Greensburg PA | Westmoreland Hockey Association Eagles |
| USA | Hallowell ME | Skating Association of Maine (SAM) Youth Hockey |
| USA | Hancock MI | Copper Country Junior Hockey Association |
| USA | Harbor Springs MI | Petoskey Area Hockey Association |
| USA | Hicksville NY | New York Islanders |
| USA | Highgate Center VT | Missisquoi Amateur Hockey |
| USA | Hillsborough NC | Triangle Youth Hockey |
| USA | Hudsonville MI | Grand Valley Amateur Hockey Association Stars |
| USA | Idaho Falls Id ID | Idaho Falls Youth Hockey |
| USA | Indian Trail NC | Charlotte Metro Hockey Association |
| USA | ISANTI MN | Cambridge/Isanti Hockey Association & SFYHA |
| USA | Janesville WI | Janesville Youth Hockey |
| USA | Kalkaska MI | Kalkaska Area Hockey Association |
| USA | Lakewood CA | The Rinks |
| USA | Las Vegas NV | Vegas Golden Knights |
| USA | Lehi UT | Jodi Weiss |
| USA | Littleton CO | Colorado Select Girls Hockey Association |
| USA | Livermore CA | TriValley Lady Blue De |
| USA | Maple Grove MN | Osseo Maple Grove Hockey Association |
| USA | Middlebury VT | Middlebury Amateur Hockey Association |
| USA | Milton FL | Pensacola Junior Ice Flyers |
| USA | Mount Clemens MI | Mount Clemens Hockey Association |
| USA | Newark NJ | New Jersey Devils |
| USA | Newark OH | Newark Ice Hockey Association |
| USA | Oakland CA | Oakland Bears Hockey Club |
| USA | Orlando FL | RDV Sportsplex Ice Den |
| USA | Oxford OH | Miami Youth Hockey |
| USA | Pasco WA | Tri Cities Amateur Hockey Association |
| USA | Pelham AL | Pelham Youth Hockey League |
| USA | Peoria AZ | AZ Ice |
| USA | Pittsburgh PA | RMU Island Colonials & Arctic Foxes Hockey Association |
| USA | Portland OR | Rose City Hockey Club |
| USA | Potsdam NY | Clarkson University |
| USA | Poway CA | The Rinks |
| USA | Prairie du Sac WI | Sauk Prairie Youth Hockey |
| USA | Princeton MN | Princeton Youth Hockey Association |
| USA | Richmond MN | River Lakes Hockey Inc |
| USA | River Falls WI | River Falls Youth Hockey Association |
| USA | Rochester MN | Rochester Youth Hockey |
| USA | Rochester NY | Monroe County Youth Hockey (Rochester Edge Girls Hockey) |
| USA | Rockland MA | South Shore Eagles |
| USA | Rockport ME | Midcoast Recreation Center |
| USA | Saint Paul MN | Johnson Como North Saint Paul Polar Devils |
| USA | San Diego CA | San Diego Ice Arena |
| USA | San Jose CA | Jr. Sharks |
| USA | Saratoga Springs NY | Saratoga Youth Hockey Inc |
| USA | Sartell MN | Sartell Youth Hockey Association |
| USA | Saugerties NY | Saugerties Youth Hockey Association |
| USA | Shawnee Mission KS | Kansas City Youth Hockey |
| USA | Sioux Falls SD | Prairie Region Girls Hockey Foundation |
| USA | Siren WI | Burnett Youth Hockey Association |
| USA | Somerset WI | Western Wisconsin Stars |
| USA | South Burlington VT | Burlington Amateur Hockey Association |
| USA | South Burlington VT | VSAHA Affiliate |
| USA | St. Albans VT | St. Albans Skating Association |
| USA | St. Paul MI | Sibley Area Youth Hockey Association |
| USA | Steven's Point WI | Steven's Point Area Youth Hockey Organization |
| USA | Stockholm NJ | Junior Rangers |
| USA | Superior CO | Boulder Hockey Club |
| USA | Superior WI | Superior Amatuer hockey Association |
| USA | Tampa FL | Tampa Bay Lightning |
| USA | Trenton MI | Trenton Hockey Association |
| USA | Two Harbors MN | Two Harbors Youth Hockey |
| USA | Vernon Hills IL | Ice Dogs |
| USA | Voorhees NJ | Philadelphia Flyers |
| USA | Wadena MN | Wadena Hockey Association |
| USA | Waldorf MD | Southern Maryland Sabres |
| USA | Warwick RI | RI Sting Girls Hockey |
| USA | Waseca MN | Waseca Hockey Association |
| USA | Wausau WI | Marathon County Storm |
| USA | Webster NY | Webster Youth Hockey Association |
| USA | West Saint Paul MN | Sibley Area Youth Hockey Association |
| USA | Weymouth MA | Weymouth Youth Hockey |
| USA | White River Junction VT | Upper Valley Hockey Association |