After the break-up of the Soviet Union, Belarus – like Kazakhstan and Latvia – had to start at the bottom of the pile and work its way up to the Elite. The country debuted at the top table in 1998 and has missed just three years since then. This list includes three players who graced the NHL, two long-serving stars who remained in Europe and the scorer of perhaps his country's greatest ever goal.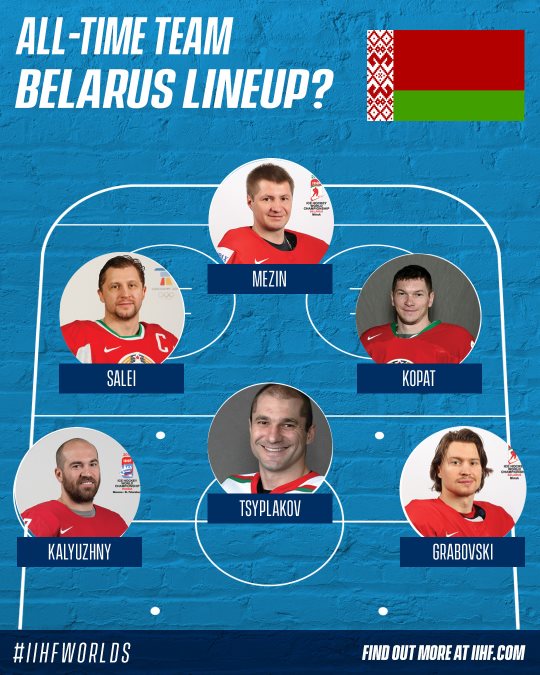 Goalie – Andrei Mezin (Born 1974, WM appearances 1998-2001, 2003, 2005-07, 2009-12, 2014)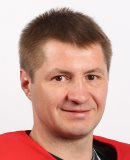 With 13 World Championship appearances in total, Mezin has played at more competitions than any other. Only the great Vladislav Tretiak and France's Cristobal Huet can match him for experience in IIHF play. Mezin also ranks third among goalies for games played (58, behind Tretiak and Czechoslovakia's Jiri Holecek), clocking up almost 3,270 minutes between the piping. In contrast with the likes of Tretiak and Holecek, though, Mezin also put in the hard yards in the lower tiers, twice playing his part in promotion campaigns from Division I.
Mezin was born in Chelyabinsk, Russia, but moved to Belarus as a youngster and began his career in Novopolotsk. His first major international action came in 1998, playing at the Nagano Olympics and then the World Championship later that season. That was the start of an 'Iron Man' streak that saw him represent miss just two international campaigns before his final game in 2014. Along the way, he starred in his country's greatest Olympic victory (against Sweden in 2002), twice featured in the Media All-Star team (2006, 2009) and was nominated as the top goalie in 2009 with a GAA of 1.72 as Belarus reached only its second quarter-final. Mezin's international career almost ended on a sour note after he dramatically quit the team in 2012, but he was able to return to make his final World Championship appearance in Minsk. Today he is a goalie coach with Dynamo Minsk.
Defence – Ruslan Salei (1974-2011, WM appearances 1998, 2000-01, 2008-10)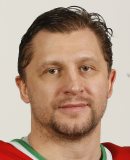 Arguably the greatest player Belarus has produced, Ruslan Salei was the epitome of defensive reliability. In club hockey, he clocked up 916 regular season appearances in the NHL across 14 campaigns, mostly with Anaheim. And on the international stage he was a key player for Belarus at three Olympic Games – playing in the bronze-medal game in 2002 and captaining his country on his final appearance in Vancouver – as well as playing his part in elevating the newly-independent nation towards the Elite Pool.
When Belarus made its first appearance in World Championship action in 1994, a 19-year-old Salei was there. One year later, while still playing in Minsk, he helped the team to its first promotion. Moving to North America brought playoff commitments, but he proudly rejoined the team at the top table in 1998 and played two more campaigns at the start of the new century. Relegation did not discourage Salei; in 2004 he was an established NHL star, but still competed in the second tier of the Worlds, contributing 7 (3+4) points in 5 games as Belarus bounced back in Oslo in 2004. Club commitments limited him to just three more appearances among the elite before his untimely death in the Yaroslavl air disaster of 2011. In 2014, at an emotional ceremony in Minsk, Salei was inducted into the IIHF Hall of Fame. He is the first Belarusian player to be honoured thus.
Defence – Vladimir Kopat (born 1971, WM appearances 1999-2001, 2003, 2005-06)
Swedish readers may wish to look away now. Vladimir Kopat was the man behind the most famous Belarusian victory in international hockey. Late in the Olympic quarter-final in Salt Lake City, Kopat launched a speculative shot from centre ice. It took Swedish goalie Tommy Salo by surprise, rattled his helmet and dropped into the net to give Belarus a sensational 4-3 victory. Kopat, a Minsk native struggling for game time in the Russian Superleague that season, earned his place in hockey history.
In World Championship play, though, Kopat was there from the start. He made his debut for Belarus in its first championship in 1994 and helped the country work its way up the rankings. The first of 35 Elite Pool appearances came in 1999, and he would play at the highest level in six more championships. In club hockey, Kopat started in the lower reaches of the Soviet league with Grodno and moved into the new Russian championship with Dynamo Minsk in the early 90s. After he left Russia in 2003, Kopat returned home and played eight further seasons in the Belarusian league, taking his tally to domestic titles to five and helping Yunost win the Continental Cup. Today he is assistant coach to another Belarusian star, Andrei Skabelka, working with Barys Nur-Sultan and team Kazakhstan.
Forward – Alexei Kalyuzhny (Born 1977, WM appearances 1998-2001, 2003, 2008-10, 2012, 2014-16)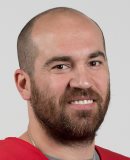 With 12 appearances in the Elite Pool, plus three promotion campaigns and three trips to the Olympics, Alexei Kalyuzhny outstrips even Mezin as the Iron Man of Belarusian hockey. In total, he played 118 competitive games for his country, compiling 101 points along the way. Not surprisingly, that puts this talented centre on top of the pile for games and points in a Belarusian jersey.
Kalyuzhny learned the game in his native Minsk, playing for the Yunost club. But he turned pro with Dynamo Moscow and spent much of his career in Russia. He twice won the Russian Superliga, first with Dynamo in 2000 then 12 months later with Metallurg Magnitogorsk, and returned to Yunost for the 2004 playoffs, helping his first club lift the Belarusian championship. By then, he was an established international, part of his country's finest Olympic campaign in Salt Lake City and the powerhouse behind the World Championship promotion in 2002. In 2013 he returned home to captain Dynamo Minsk for three seasons in the KHL and had the honour of wearing the 'C' as Belarus hosted the 2014 Worlds. Fittingly, his playing career ended in Belarusian jersey at the 2016 World Championship, where he once again captained the team.
Forward – Vladimir Tsyplakov (1969-2019, WM appearances 1999-2000, 2003, 2005)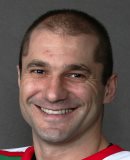 Vladimir Tsyplakov was not the leading scorer for Belarus in international play, but his strike rate was second to none. The left-sided forward scored 42 (20+22) points for his country in just 33 World Championship appearances, with 23 of those games in the Elite Pool and also played at the Olympics in Nagano and Salt Lake City. Tsyplakov might have added even more to that list had he not been among the first Belarusian players to go to North America. After Dynamo Minsk played its final season in the Soviet League in 1992, Tsyplakov crossed the Atlantic and spent a decade there. He compiled 331 NHL appearances with the LA Kings and the Buffalo Sabres before returning to Russia in 2001 to play for Ak Bars Kazan.
Yet Tsyplakov's Belarusian connections were almost accidental. He was born to a coalmining family in Inta, in northern Russia's Komi Republic. An impressive performance against Yunost Minsk in youth hockey brought him to the attention of Vladimir Krikunov, then head coach of Dynamo Minsk and brought young Vladimir and his brother Alexander to the Belarusian capital. Tsyplakov went on to win World Junior goal with the USSR in 1989 and stayed with Dynamo until 1992. Later, he returned home to win the Belarusian title with Yunost Minsk. After his playing career was over, Tsyplakov continued as an assistant coach and went to six more World Championships with Belarus. After leaving the national team in 2011, he coached extensively in the KHL before his death in December 2019 at the age of 50.
Forward – Mikhail Grabovski (Born 1984, WM appearances 2005-06, 2008-12, 2014)
Another Belarusian star who graced the NHL, Grabovski was also a key figure for his country in World Championship play. Grabo played in eight top level World Championships (plus one more in the second tier), collecting 45 (19+26) points in 50 games. Among the highlights, he led Belarus in scoring with 8 (4+4) points on home ice in 2014. On two other occasions, in 2006 and 2009, he was also the team's leading scorer; each time Belarus made the quarter-finals. In club hockey he was twice a champion of Belarus and won the Calder Cup with the Hamilton Bulldogs in 2007. He played 534 NHL games in more than nine seasons with Montreal, Toronto, Washington and the Islanders.
Health problems slowed Grabovski in the later years of his career. He missed the Vancouver Olympics due to injury, then a lingering concussion preventing him from playing at all in 2016/17. He was taken by Vegas in the expansion draft, and attended his physical for the Golden Knights, but was unable to return to action in the 17/18 campaign and was forced to end his playing career aged just 34. He returned to hockey this season as part of the coaching staff at Dynamo Minsk, working under head coach Craig Woodcroft.
Honourable mentions
Andrei Skabelka, another long-serving forward, is second only to Kalyuzhny for international appearances. He missed out on this list due to the greater NHL experience of Grabovski and Tsyplakov but remains active in international hockey as the current head coach of Kazakhstan. Vladimir Denisov, a rugged and reliable defenceman who played 55 World Championship games also deserves a mention. The brothers Andrei and Sergei Kostitsyn are other former NHLers who played for the Belarusian national team. And, in recent years, the country's policy of promoting dual-nationals has seen the likes of goalie Kevin Lalande and forward Geoff Platt help to reach the quarter-finals in 2014 and 2015.
The All-Time Teams
During the 100-year anniversary of the IIHF Ice Hockey World Championship we present you the all-time teams of the 16 countries that would have participated in the 2020 IIHF Ice Hockey World Championship. Click below for the other teams: