Latvians have been playing ice hockey for nearly a century and first played at the IIHF Ice Hockey World Championship in 1933. For many decades, however, Latvian hockey players could only aspire to play in the Soviet system and possibly make the national team. In the 1970s, one finally reached star status. With independence in the early 1990s came the freedom to play professionally anywhere in the world and to represent Latvia internationally, and many Soviet-trained Latvians now thrived.
The six players chosen to this team were all born within 22 years of each other. They all started playing hockey in the Soviet Union and were all active players – at some stage – at the time of independence.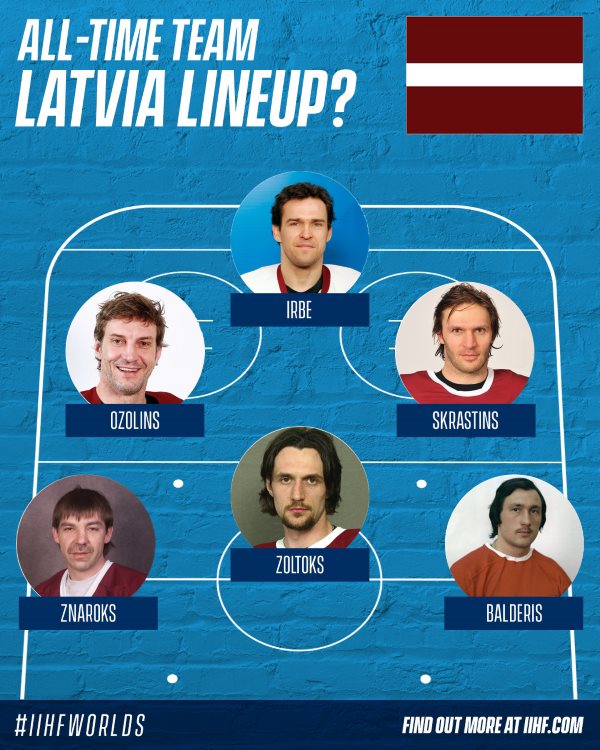 Goalie – Arturs Irbe (born 1967, WM appearances 1989, 1990, 1997, 1998, 1999, 2000, 2001, 2003, 2004, 2005)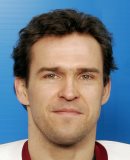 When Latvia regained independence and IIHF membership in the early '90s, the team had instant credibility thanks to a proven world-class goalie in Arturs Irbe. The diminutive Irbe had an impressive 1987/88 rookie season with Dinamo Riga in the Soviet national league, backstopping his team to a surprising second-place finish. A year later, he was on the Soviet national team, where he won two gold medals – once as a backup and once as a starter in 1990, earning the World Championship's Best Goalkeeper award in the process.
In 1991, as Latvia was regaining its independence, Irbe went overseas and within a couple years, established himself as the San Jose Sharks' starting goalie. "Archie", as he was affectionately known, played 13 NHL seasons, mostly with the Sharks and Carolina Hurricanes, and was a two-time all-star.
Internationally with Latvia, he was in goal in 1996 in Pool B to lift the team into the top level of the Worlds, and then played eight more World Championships and two Olympics, often facing a lot of rubber as the newcomers battled against hockey's giants. Irbe retired in 2007 and was inducted into the IIHF Hall of Fame in 2010.
Defenceman – Sandis Ozolins (born 1972, WM appearances 1998, 2001, 2002)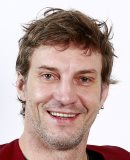 Sandis Ozolins didn't play in a lot of World Championships, but he's one of the most recognizable figures associated with Latvian hockey and is the best Latvian defenceman of all time.
In 1992/93, there were two Latvians in the NHL and they both played for a woeful team in San Jose. However, Ozolins and Irbe were two of the key players that transformed the Sharks into a playoff team the following season. But within a couple of years both were gone and in 1996, Ozolins was a Stanley Cup champion with the Colorado Avalanche. Using a great combination of size and skill, Ozolins played over 1,000 NHL games, regular-season and playoffs combined, recorded 654 points, 769 penalty minutes and was a seven-time all-star. In his best season, 1996/97, he hit career highs of 68 points and 88 penalty minutes.
Because his teams often went deep into the playoffs, Ozolins was often unavailable for the World Championships but when he did go, his blueline presence instantly made the Latvian team better. He recorded 11 points in 16 World Championship games and also played in three Olympics. He played his final years for Dinamo Riga in the KHL and retired in 2014.
Defenceman – Karlis Skrastins (1974-2011, WM appearances 1997, 1998, 1999, 2000, 2001, 2003, 2005, 2009)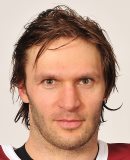 Shortly after Ozolins came Karlis Skrastins, who made his international debut as an 18-year-old at Latvia's first World Championship in 54 years in the C-Pool in 1993, where he registered seven points in seven games. With Skrastins on the blueline all the way, Latvia climbed the ladder to the top group in 1997 and he continued to represent the team at every World Championship until 2001. Overall, he played in seven top-level World Championships and three Olympics, and was the team captain at five of those tournaments. His last international appearance was at the 2010 Winter Olympics in Vancouver.
Skrastins started his NHL career with the Nashville Predators in 1999, and soon began to establish himself as one of the league's most durable rearguards. Over almost five seasons with Nashville and Colorado, he set a record of 495 consecutive games played by a defenceman between February 2000 and February 2007. After 832 NHL games over 12 seasons, Skrastins signed with the KHL's Lokomotiv Yaroslavl in the summer of 2011 but never saw the start of the season. Tragically, the entire team was killed in a plane crash en route to the team's season opener in Minsk. His number 7 was retired by the Latvian national team.
Forward – Helmuts Balderis (born 1952, WM appearances 1976, 1977, 1978, 1979, 1983)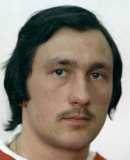 Helmuts Balderis didn't play for Latvia internationally until he was 40 years old and he never represented his homeland in a major international tournament. But he was the face of Latvian hockey to an entire generation, and is the only Latvian to win three gold medals with the Soviet Union. He also won two other World Championship medals and an Olympic silver in 1980. In 1977, he was named Best Forward of the tournament and led the 1978 tournament with nine goals.
Balderis was the only real Latvian star of the Soviet league, in which he played from 1973 to 1985, mostly with Dinamo Riga, winning two scoring titles and one MVP. After a four-year retirement, he then became the first Latvian-raised player in the NHL, suiting up for 26 games with the Minnesota North Stars in 1989/90 at age 37, recording nine points. Finally, when Latvia gained independence and the national team was restarted, he suited up for a few games as the team's captain in 1992. He played the last few years of his career in Latvia's domestic league and retired for good in 1996.
Balderis became Latvia's first IIHF Hall of Fame inductee in 1998.
Forward – Sergejs Zoltoks (1972-2004, WM appearances 1997, 1999, 2001, 2002, 2004)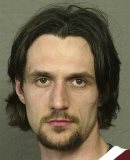 After Irbe and Ozolins, the next Latvian to establish himself in the NHL was Sergejs Zoltoks. A prolific scorer in the AHL and IHL, Zoltoks had a few call-ups to the Boston Bruins before becoming a regular. His best season was 2002/03 with the Minnesota Wild when he recorded 42 points in 78 regular-season games, and then was a key player in the team's run to the Western Conference Finals with 13 points in 18 games.
Internationally, Zoltoks was a teammate of Ozolins on the last hockey team to ever represent the Soviet Union – a gold-medal-winner at the 1992 World Juniors. At the senior level it was Latvia all the way – once in Pool B and five times in the top division, where he recorded 25 points in 30 games. In his last World Championship in 2004, he was Latvia's captain.
Unfortunately, Zoltoks is one of two players on this all-time team to have his career cut short by tragedy. Playing for HK Riga in the Belarusian Extraliga during the 2004/05 NHL lockout, Zoltoks left a game early and collapsed in the dressing room, where he died of heart failure a month shy of his 32nd birthday. His number 33 was retired by the Latvian national team.
Forward – Olegs Znaroks (born 1963, WM appearances 1997, 1998, 1999)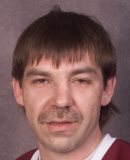 Balderis and Zoltoks were easy picks, but the third forward spot could be up for debate. Ultimately, that decision went in favour of Olegs Znaroks, who is best known as a coach to today's hockey fans.
Znaroks only played in three top-level World Championships when he was in his mid-30s, but his offensive numbers in those tournaments were outstanding, and he surely would have played in more had Latvia been in them. His first taste of international hockey came when he represented the Soviet Union at the 1981 U18 European Championship and led the tournament with 16 points in five games. After a career in the Soviet league, mostly with Dinamo Riga, he had a brief six-game stint in the AHL in 1991/92 where he registered four points, then finished his career in Germany, where he obliterated the 2nd Bunesliga, scoring at better than two points per game.
After posting 16 points in 12 games in two World Championship Pool B tournaments as Latvia climbed the ladder, he made his elite-level debut in 1997, where he led the team with 10 points as the Latvians finished 7th. In his last two tournaments, he was Latvia's captain.
As a coach, Znaroks (known as Znarok in Russian) has spent most of the last 12 seasons in the KHL, where he's been a four-time Coach of the Year and three-time Gagarin Cup champion. Internationally, he coached Latvia from 2004 to 2011, first as an assistant and then as head coach, and then coached Russia from 2014 to 2019, winning the 2014 World Championship and Olympic gold in 2018.
Honourable mentions
At 26 years of age, an argument could be made for the inclusion of forward Zemgus Girgensons on the team. The Buffalo Sabres' first-round pick in 2012, Girgensons had 30 points in 2014/15 – a year he made the NHL All-Star Game. Internationally, he's played in four World Championships and the 2014 Winter Olympics, but has yet to really stand out for Latvia. In time, perhaps his inclusion will be a no-brainer.
Another 26-year-old worthy of consideration is goaltender Elvis Merzlikins. During his time playing for HC Lugano in Switzerland's National League, Merzlikins established himself as Latvia's starting goalie and was particularly prolific at the 2018 World Championship, backstopping his team into the quarter-finals. This past season he went overseas where he was having a fine rookie season with the Columbus Blue Jackets at the time the season was interrupted. He doesn't quite have the body of work to overtake Irbe yet, but we'll see what the future brings.
The All-Time Teams
During the 100-year anniversary of the IIHF Ice Hockey World Championship we present you the all-time teams of the 16 countries that would have participated in the 2020 IIHF Ice Hockey World Championship. Click below for the other teams: