Although the USA has produced many great individual stars, its victories at the international level have been sporadic. Their only gold at the World Championship came in 1933, and their Olympic glory came in 1960 and 1980 (and, more recently, silver medals in 2002 and 2010). Their win at the 1996 World Cup stands alone as their greatest moment between today and the 1980 Miracle on Ice, but the roster of great players is long all the same.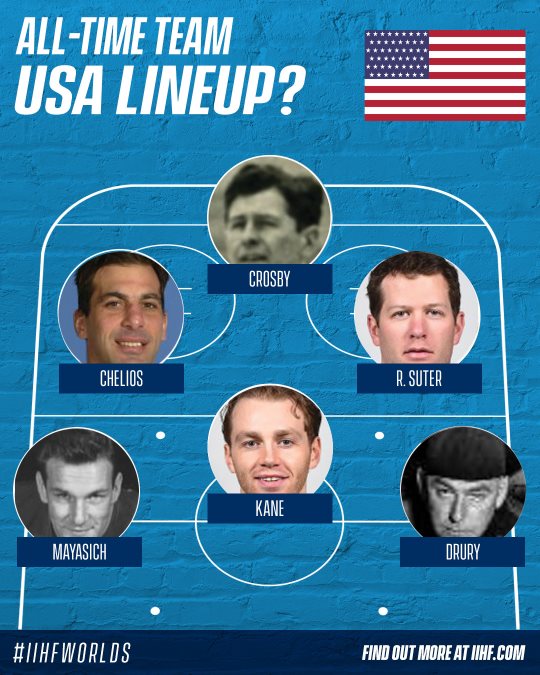 Goaltender – Gerry Cosby (1909-1996, WM appearances 1933, 1938)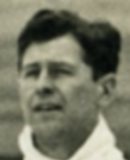 We have to go way back to find the best U.S. goalie of all time, but that's okay because Cosby represented his country with particular success. He played in only two World Championships in the 1930s, but in the first he led the Americans to their first – and still only – WM gold medal, in 1933. That year he played in all five games, gave up only one goal and had four shutouts, and made history. He also played five years later when the U.S. finished a distant 7th even though Cosby surrendered only five goals in six games and had a 3-1-2 record. He was inducted into the IIHF Hall of Fame in the inaugural class of 1997.
Defenceman – Chris Chelios (born 1962, WM appearance 1994, 4 OG-M, 5 WCH/CC)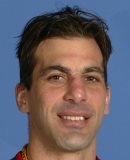 IIHF Hall of Famer Chris Chelios (2018) did it all during his incredible career. Although he played in only one World Championship, that was because he appeared in a record 266 NHL playoff games. Nevertheless, he played in virtually every best-on-best tournament during his career, namely four Olympics and five Canada Cup/World Cup events. He was part of the USA's historic win at the 1996 World Cup in Montreal.
Defenceman – Ryan Suter (born 1985, WM appearances 2005-2007, 2009, 2019, 2 OG-M, 2016 World Cup)
One of USA Hockey's most loyal players, Suter started his career playing at the U18 twice (2002, 2003) and at three World Juniors (2003-2005). He won gold in '02 and '04, and after embarking on a pro career in the NHL has been a consistent presence on the U.S. blue line for the past 15 years. As well, he played at the 2010 and 2014 Olympics, winning silver in Vancouver in 2010. His 32 WM games is among the leaders for the Americans.
Forward – John Mayasich (born 1933, WM appearances 1956, 1958, 1960-1962, 1966, 1969, 2 OG)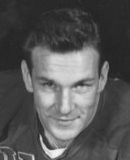 Arguably the single greatest international player in USA history, Mayasich was a high-scoring forward who led the Americans to a stunning gold medal at the 1960 Olympics in Squaw Valley, California. This was the culmination of half a decade of exceptional play for Mayasich, who also won Olympic silver in 1956. He later captained the Americans to bronze at the 1962 World Championship in Colorado Springs, the only time the Worlds has been played in the U.S.
Forward – Patrick Kane (born 1988, WM appearances 2008, 2018-2019, 2 OG and 2016 World Cup)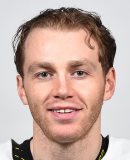 One of the top players in the NHL for the better part of a decade, Kane captained the Americans to a bronze medal at the 2018 WM, a tournament during which he scored 20 points, one of the highest totals in the last half century. He also played on the silver-medal 2010 Olympics team and earlier in his career won gold at U18 (2006) and bronze at the World Juniors (2007).
Forward – Herb Drury (1895-1965, OG/WM appearances 1920, 1924)
One of the game's early stars, Drury scored at will during the 1920 and 1924 Olympics. In just nine games over those two Olympics he scored 33 goals, including 23 goals in 1924 alone. He won two silver medals and was considered the U.S. equivalent of Canada's Harry "Moose" Watson, the greatest star of the first international era.
Honourable mentions
Jack McCartan, the hero of the 1960 Olympics, also deserves consideration in goal, as does Ryan Miller, who played in two World Championships and two Olympics, winning silver in Vancouver in 2010. Mike Richter played in three Worlds, three Olympics (silver in 2010), and two World Cup events (winning in 1996).
On the blue line, other top candidates include Phil Housley, who played in six World Championships as well as three Canada Cup/World Cups, and the 2002 Olympics. Jack Johnson played in five World Championships. He also won a silver medal in 2002 and last played for the U.S. at the 2016 World Cup.
From the early days, Joe McCormick and Taffy Abel rate consideration as great forwards. Moving to the nation's glory era of the late 1950s and early '60s, Bill Christian and Bill Cleary also rate among the greats, and more current stars include Eric Weinrich, Phil Kessel, and Zach Parise. In the end, the accomplishments of Mayasich and Drury were too great to pass over, though.
The All-Time Teams
During the 100-year anniversary of the IIHF Ice Hockey World Championship we present you the all-time teams of the 16 countries that would have participated in the 2020 IIHF Ice Hockey World Championship. Click below for the other teams: