The first European nations to really establish itself as a world hockey power, the Czechs have had three main eras of dominance. The first was in the late 1940s but that was cut short when several players were arrested and imprisoned on trumped-up charges by the Communist government of the time. In addition to cutting short many promising careers, it's also difficult to compare players from a time when the game was so different.
The players who made this all-time team come mainly from the latter two eras – from the Czechoslovak team that began building steam in the late 1960s and then went toe-to-toe with the Soviet Union throughout the 70s, winning the gold medal three times – and the from the so-called "Golden Generation" of Czech hockey, after the Velvet Divorce with Slovakia, that claimed six World Championship gold medals and one Olympic title between 1996 and 2010.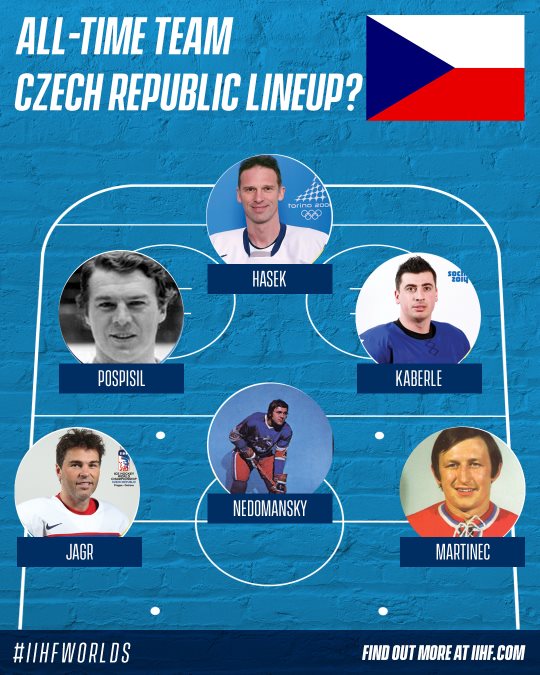 Goalie – Dominik Hasek (born 1965, WM appearances 1983, 1986, 1987, 1989, 1990)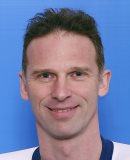 While Dominik Hasek may seem a clear choice to some, it really wasn't so obvious. If based solely on World Championship play, a strong case can be made for Jiri Holecek, one of the best goalies in hockey through the 1970s who backstopped Czechoslovakia to three World Championship gold medals and won the Best Goalkeeper award at the tournament five times. Meanwhile, Hasek's detractors would say his reputation is based on his play in the NHL and one Olympic tournament.
However, Hasek had an impressive World Championship career of his own, entering four tournaments as Czechoslovakia's starting goalie before he ever played an NHL game. Of those four, he made the tournament all-star team three times and was named Best Goalkeeper twice. In addition to his performance at the 1998 Winter Olympics – where he recorded a 0.97 goals-against average over six games to help achieve what is generally considered the most celebrated moment in Czech sports history – he also played in three other Olympic tournaments.
Besides that, his unorthodox goaltending style was significant in the transformation in the 1990s as to how the position is played. In an eight-year span, Hasek won the Vezina Trophy six times with the Buffalo Sabres, and then won two Stanley Cups with the Detroit Red Wings.
Defenceman – Frantisek Pospisil (born 1944, WM appearances 1967, 1969, 1970, 1971, 1972, 1973, 1974, 1975, 1976, 1977)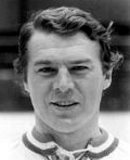 A product of Kladno (get used to that in this article), Pospisil was an excellent two-way defenceman throughout his career who could both skate and deliver punishing checks, and was captain of the Czechoslovak national team through the 1970s – a period that included three World Championship gold medals and a memorable Canada Cup debut.
A playmaking defenceman, he led the Czechoslovak Extraliga in assists in 1970/71 and 1971/72, winning the league MVP each year. In the mid-70s, he was also the leader of a Kladno team that won three straight domestic titles at a time when it was considered one of the top leagues in the world. Internationally, he was simply a rock – a formidable defenceman against the flashy forwards of the Big Red Machine of the Soviet Union or the NHL superstars in the Canada Cup. All told, he played nine major tournaments as captain of what was considered at the time the second-best national team in the world.
Defenceman – Tomas Kaberle (born 1978, WM appearances 2003, 2005, 2006, 2008)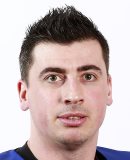 The all-Kladno defence tandem is completed by Tomas Kaberle, son of Frantisek Kaberle, who was born in 1951 and played in five World Championships himself, and younger brother Frantisek Kaberle, Jr., who was worthy of consideration himself. In fact, deciding which Kaberle brother to take is an interesting discussion on its own. In terms of longevity, Frantisek played in 10 World Championships and won five World Championships, although he was left off the roster of the 1998 Olympic team. He also had a respectable professional career and won a Stanley Cup in the 2005/06 Carolina Hurricanes.
Tomas only played in four World Championships but certainly left his mark, playing a major role on the gold-medal team of 2005 – the year of the NHL lockout – and was captain in 2008 – the year he had 10 points in seven games and made the tournament all-star team. He also played in four Olympics, winning a bronze medal in 2006.
That's all without getting into his NHL career, which was remarkable. Over 984 games, mostly with the Toronto Maple Leafs, he amassed 563 points as an elite-level playmaking defenceman. He also won a Stanley Cup with the Boston Bruins in 2011.
Forward – Jaromir Jagr (born 1972, WM appearances 1990, 1994, 2002, 2004, 2005, 2009, 2010, 2011, 2014, 2015)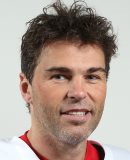 Olympic champion, World champion, two-time Stanley Cup champion, 11-time Czech player of the year, four-time NHL scoring champion, number-two scorer in NHL history … there isn't enough space here to recap the career of Jaromir Jagr, whose legend transcends sports in the Czech Republic. Currently the owner of Rytiri Kladno, a club that has produced so many Czech hockey stars over the decades, he still plays at the club level, although his national team career ended five years ago in quite spectacular fashion.
On home ice in Prague at the 2015 World Championship, 43-year-old Jagr scored the game-winning goal in the third period of the quarter-final against Finland to put the Czechs in the final four. Despite the team's fourth-place finish, he was voted tournament MVP. That was 25 years after his World Championship debut in 1990, where he won a medal for Czechoslovakia. All told, he amassed 102 points in 121 games in the World Championships, Winter Olympics, Canada Cup and World Cup. When he finally gets around to retiring, the Hockey Hall of Fame and IIHF Hall of Fame are waiting.
Forward – Vaclav Nedomansky (born 1944, WM appearances 1965, 1966, 1967, 1969, 1970, 1971, 1972, 1973, 1974)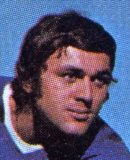 The only question about "Big Ned" was whether he would make the Czech or Slovak all-time team. He was born and raised in Hodonin, which is in present-day Czech Republic. The arena in that town that now bears his name is less than two kilometres from the Slovak border. His parents were Slovak and he played 12 seasons for Slovan Bratislava in the top Czechoslovak league, where he absolutely terrorized goalies with 354 goals in 320 games.
Internationally, he scored at pretty high clip as well with 78 goals in 93 games in nine World Championships and two Olympics, and was a tournament all-star three times. He was at his peak in 1972 part of the CSSR team that ended the Soviet Union's nine-year gold-medal streak amidst a highly politically-charged atmosphere in Prague. Two years later, at age 30, he defected overseas and played first in the WHA and then the NHL, showing North American audiences what they'd been missing. His best NHL campaign was 74 points for the Detroit Red Wings in 1979/80.
Nedomansky retired from playing in 1983. After coaching briefly in Germany and Austria, he worked as an NHL scout almost continuously from 1992 to 2019. He was inducted into the IIHF Hall of Fame in 1997.
Forward – Vladimir Martinec (born 1949, WM appearances 1970, 1971, 1972, 1973, 1974, 1975, 1976, 1977, 1978, 1979, 1981)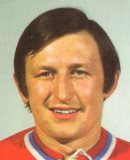 There are a lot of worthy Czech forwards from the 1970s, but what gets Martinec the nod ahead of the others is both his longevity and his prolific scoring. Plus, with Nedomansky at centre, it's better to pick a winger over Ivan Hlinka or Milan Novy.
Like Hasek, Martinec is a product of the Pardubice hockey factory, and over his career there which stretched from the late 60s to early 80s, he established himself as both a prolific goal-scorer and playmaker. He twice led the league in assists and once in goals and was named MVP four times.
His international career was perhaps more impressive, playing in 11 World Championships, three Winter Olympics and one Canada Cup, amassing 68 goals and 138 points over 119 games. He was a big part of all three gold medals the Czechoslovaks won in the 70s, particularly the back-to-back years of 1976 and 1977 when he had 48 points in 26 World Championship and Olympic games.
After retirement, Martinec remained involved with both the Pardubice club and the Czech national team, earning an Olympic gold and three straight World Championship gold medals as a national team assistant coach in the late 90s and early 2000s.
Honourable mentions
As with any of the "Big Six" hockey nations, there are numerous players worthy of consideration beyond the ones already mentioned. Comparing eras is always a difficult task, and when talking about a nation like the Czech Republic, that includes comparing eras where their best players stayed home and played primarily for the national team and when their best players went to the NHL.
In addition to Hasek and Holecek in goal, mention should also be given to Bohumil Modry, one of the great goalies of the 1940s and backstop of Czechoslovakia's gold-medal teams of 1947 and 1949. His career ended in 1950, along with several of his teammates. Another brilliant Czech player of that era was sniper Vladimir Zabrodsky, who scored 56 goals in 29 World Championship games between 1946 and 1955.
Defencemen worthy of consideration include Frantisek Tichal, Oldrich Machac, Jiri Bubla, Frantisek Kucera and Roman Hamrlik. And up front, besides Hlinka or Novy, how about brothers Jiri or Jaroslav Holik, Robert Reichel or Martin Rucinsky? Still only 30 years old, Jakub Voracek is very much in the conversation right now and, by the time he's done playing, maybe he'll be a no-brainer to make the team.
The All-Time Teams
During the 100-year anniversary of the IIHF Ice Hockey World Championship we present you the all-time teams of the 16 countries that would have participated in the 2020 IIHF Ice Hockey World Championship. Click below for the other teams: