Italy joined the IIHF in 1924, and in the nearly century since it has qualified for nine Olympic Winter Games and 28 World Championships, including 2020. Although the Italians have never won a medal, they have had periods of noteworthy play, particularly the decade 1992-2002 when it played in the top level every year. The nation's best players represent different eras but all are noted for their longevity to the team and whatever successes it has had.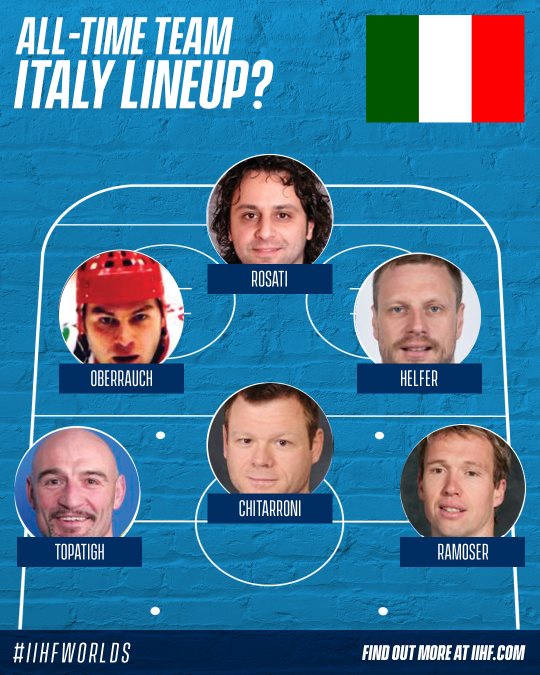 Goalie – Mike Rosati (b. 1968, WM appearances 1994-1998, 2000-2002)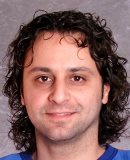 Rosati was the number-one goalie for most of Italy's greatest decade. He made his debut at the 1994 Olympics in Lillehammer and a few months later at the World Championship in Italy, the only time the country has hosted the WM since 1934. In eight World Championships during this time, Rosati played in 32 of the team's 50 games and claimed 12 of the team's 16 victories during these years. He had two shutouts and posted a respectable 3.42 goals-against average playing every night against the best of the best.
Defenceman – Robert Oberrauch (b. 1965, WM appearances 1992-1996, 1998)
A stud on the Italian blue line for most of the 1990s, Oberrauch was also team captain for all three Olympics of the decade (1992, 1994, 1998) and every World Championship excepting 1997. A stay-at-home defenceman, he often played against the opposition's best line, and the nine tournaments he played in this decade represented a total of 52 games.
Defenceman – Armin Helfer (b. 1980, WM appearances 2000-2002, 2006-2008, 2010, 2012, 2017, 2019)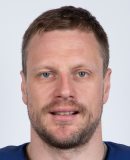 Still active, Italian fans can only hope that the cancelled 2020 World Championship was not Helfer's last chance to play for his country. The soon-to-be 40-year-old has played in eleven top-level events since 2000 as well as many WM when Italy played in Division I. He captained the team in 2018, for instance, when it played in Division I and finished first, earning promotion to the top pool last year. He also scored from the blue line the overtime goal that led Italy to promotion in 2011. His only Olympics came, happily, in 2006, in Turin, and in ten top-level Worlds the team's best finish in the top pool was in 2000 when the Azzurri finished in 9th place.
Forward – Lucio Topatigh (b. 1965, WM appearances 1993-2000, 2002)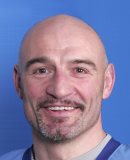 The first recipient of the Bibi Torrinai Award, in 2015, Topatigh played in ten World Championships at the top level, four Olympics, and four World Championships in B Pool. During the nation's golden era of eleven Worlds in a row (1992-2002), Topatigh played in ten, captaining his final WM appearance in 2002. His last hurrah came at the Italian Olympics of 2006, after which the 40-year-old retired from international hockey. He had 33 points in 56 World Championship games and another nine points in 23 games at the Olympics.
Forward – Mario Chitarroni (b. 1967, WM appearances 1992-2001, 2007-2008)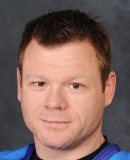 Making his international debut in the top pool in 2002 at the age of 24, Chitarroni went on to play some two decades for his country including 12 World Championships and two Olympics (1998, 2006). His last two events were the 2007 and 2008 Worlds, when he captained the team, and like Topatigh he was a leader during the team's great run in the 1990s. In all, he played for some 23 years before retiring in 2009.
Forward – Roland Ramoser (b. 1972, WM appearances 1994-2002, 2006-2008, 2010)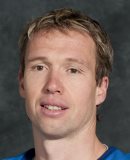 One of the most decorated Italian players, Ramoser played in an incredible 13 top-level World Championships as well as the 1994 and 1998 Olympics. He captained the team on three occasions, at the 2003 Worlds, Division I-B, as well as consecutive years in 2009 and 2010 (I-B and top level, respectively).
Honourable mentions
Goaltender David Delfino played in five World Championships and two Olympics in the 1990s. From another era, Giuliano Ferraris played at the 1956 Olympics and 1959 Worlds, compiling an impressive 6-1-2 record in those events. Going back even further, Augusto Gerosa played in four Worlds in the 1930s as well as the '36 Games.
Christian Borgatello last played defence for his country during 2015-16 Olympic qualification events, but played in seven Worlds for Italy between 2002 and 2014. As well, Chris Bartolone played in nine Worlds and the 1998 Olympics while Michael De Angelis played in three Olympics and nine Worlds. Lastly, Michele Strazzabosco also played in nine Worlds between 1998 and 2010.
Luca Ansoldi, Giuseppe Busillo, Maurizio Mansi, Gates Orlando, and Bruno Zarillo all had long careers with Italy and could have made the top list as forwards. Like the rest of the all-star team, they come from a small pool of talent, although others have been recruited from Canada because of their Italian heritage. Regardless, there is a commitment to the team that is particularly admirable within the Azzurri.
The All-Time Teams
During the 100-year anniversary of the IIHF Ice Hockey World Championship we present you the all-time teams of the 16 countries that would have participated in the 2020 IIHF Ice Hockey World Championship. Click below for the other teams: