Switzerland was one of the founding nations of the IIHF in 1908, but since that time it has had three main eras of success. It was one of the top nations in the 1920s and 1930s during the first two decades of Olympic and regular World Championship competition, picked up again in the late '40s and early '50s, and then after a long lull spent often in B Pool it has emerged as a top-8 nation in the 21sct century. As a result, its best players reflect the full spectrum of the nation's success spread out over a century of play.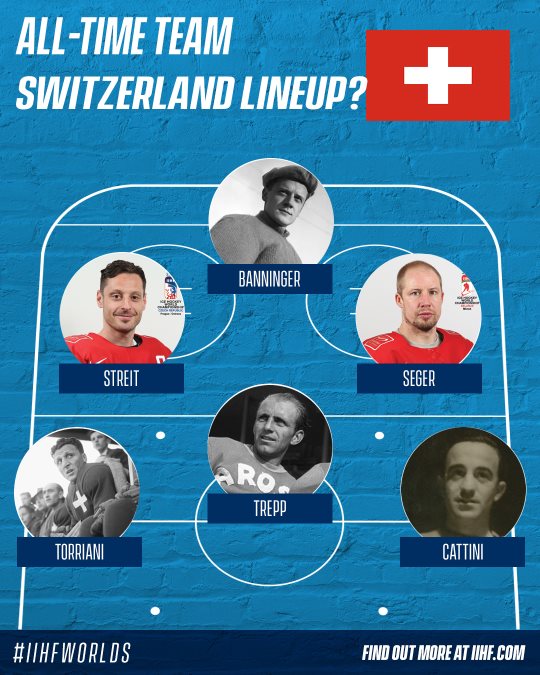 Goalie – Hans Banninger (1924-2007, 5 WM & 2 OG-M appearances)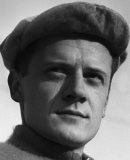 Banninger played in the late 1940s and early '50s when the Swiss were a force. The nation had come out after World War II with its hockey tradition intact, winning a bronze medal at the '48 Olympics. Banninger played in four games, giving up just six goals and posting two shutouts and a 3-0-1 record. He played again in 1952 in Oslo, and between 1947 and 1953 also played in five World Championships, wining three bronze medals (1950, 1951, 1953). His four medals are most for any Swiss goalie.
Defenceman – Mark Streit (born 1977, 13 WM & 4 OG-M appearances, 2016 World Cup)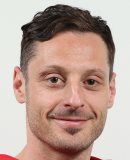 The gold standard of Swiss defencemen is Streit. He was the first Swiss player to become a star player in the NHL, the first skater to have his breakthrough and the first Swiss to captain an NHL team. But before, during, and after his career in North America he anchored the Swiss blue line and showed his readiness for the best league at World Championships before having his debut as a 27-year-old. He played in 13 World Championships and four Olympics, as well as the 2016 World Cup, and he acted as captain in three of the four Games and another nine Worlds, wearing the C in his career more often than any other Swiss player.
Defenceman – Mathias Seger (born 1977, 16 WM & 4 OG-M appearances)
Seger played a world-record 16 top-level IIHF Ice Hockey World Championships and captained Switzerland at four tournaments, notably in 2013 when the team won its first nine straight games to advance to the gold-medal game against Sweden. Not an offensive threat, he was at his best inside his own blue line, but few countrymen could equal his intensity while contributing leadership over such a long career and was appreciated by fans countrywide for his down-to-earth attitude.
Forward – Richard "Bibi" Torriani (1911-1988, 7 WM & 3 OG-M appearances)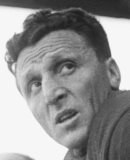 Maybe one day the names Nico Hischier and Nino Niederreiter and other stars of the current era will be in one of these three spots, but for now we have to go back about 80 years to find Switzerland's greatest forward. Torriani, a member of the IIHF Hall of Fame, was one of the world's top scorers in the 1930s. He played in seven of eight World Championships between 1930 and 1939, scoring 55 goals in just 49 games and leading the Swiss to a silver (1935) and three bronze medals (1930, 1937, 1939). He also played at three Olympic Games (1928, 1936, 1948), winning two more bronze. His six total medals are the most of any Swiss player.
Forward – Ferdinand "Pic" Cattini (1916-1969, 7 WM & 2 OG-M appearances)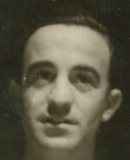 Pic Cattini played on the greatest Swiss line of all time, with his brother Hans Cattini and Bibi Torriani. The line was called "ni-Sturm" in German because all players' names ended in "ni" and together they formed a "storm" around the enemy goal. Pic scored 51 goals in 49 World Championship games and was also part of the silver medal team in 1935 as well as two bronze teams with Torriani (1937, 1939).
Forward – Hans-Martin Trepp (1922-1970, 5 WM & 2 OG-M appearances)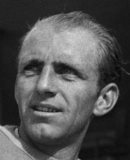 From the great post-war teams, Trepp was to the late '40s and early '50s what Torriani was to the 1930s. He scored 32 goals in 29 World Championship games, and equally impressively added 18 in just 14 Olympics games. The born playmaker was part of the Olympic bronze-medal team in 1948 as well as three bronze teams at the World Championship (1950, 1951, 1953).
Honourable mentions
Reto Berra won the two historic silver medals with Switzerland in 2013 and 2018, highlights among his seven World Championships and 2014 Olympics. David Aebischer backstopped Switzerland to its only World Junior medal (bronze in 1997) and had an outstanding career in the NHL, becoming the first Swiss to get his name on the Stanley Cup with Colorado in 2001. He also played in five World Championships and two Olympics. Martin Gerber's swan song was winning silver at the 2013 Worlds, his last of nine WM with the team. He also played at both the 2002 and 2006 Olympics. Albert Kunzler was the goalie of record for much of the 1930s, winning a silver and three bronze medals in five Worlds. He also played at the 1936 Olympics.
Roman Josi is still padding his resume. The 29-year-old has played in eight Worlds as well as the 2014 Olympics and 2016 World Cup. Emil Handschin was a star during eleven top-level tournaments after the war while Julien Vauclair and Severin Blindenbacher are from the modern era but nonetheless annual competitors for the Swiss for a long time.
Hans Cattini easily could have joined his brother and Torriani to make a clean sweep of the forwards, that's how good he was as well. Uli Poltera scored 66 goals in 53 games in the Worlds and Olympics between 1947 and 1954 and teammate Fredy Bieler was also a top scorer despite being under-appreciated much of the time. More recently, Ivo Ruthemann had a long and fruitful career, as did Martin Pluss and Sandy Jeannin. And recently Switzerland has started to produce more NHL forward such as the aforementioned Hischier, Niederreiter or Timo Meier.
The All-Time Teams
During the 100-year anniversary of the IIHF Ice Hockey World Championship we present you the all-time teams of the 16 countries that would have participated in the 2020 IIHF Ice Hockey World Championship. Click below for the other teams: